That's the news from the Chronicle of Higher Ed today here by Kristin Doerer (gated if off campus, some clips below) complete with a photo of some squirrelly looking economist: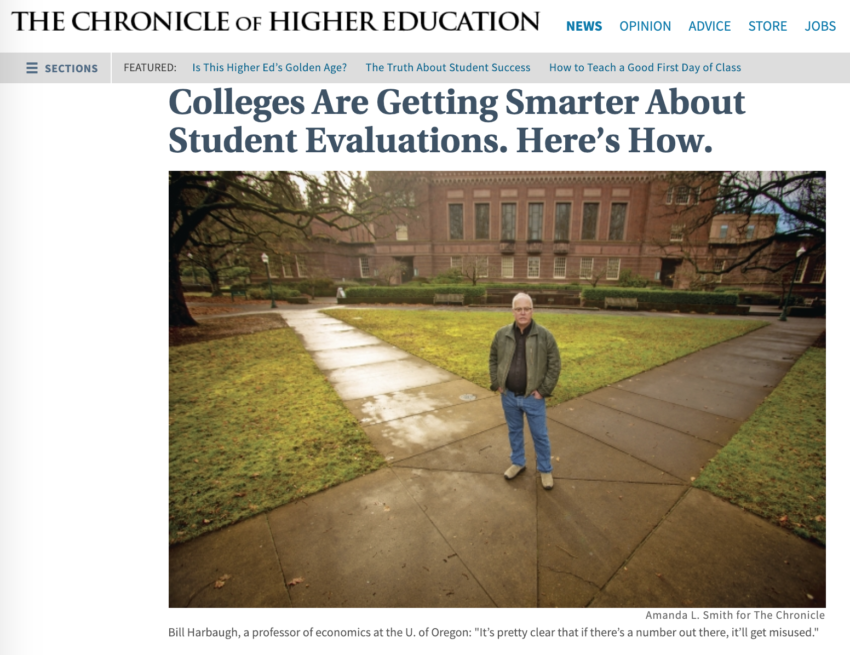 Well, economists do have some experience with the misuse of metrics. From the article:
Emily Wu and Kenneth Ancell, two students at the University of Oregon, approached their honors research professor, Bill Harbaugh, a few years ago about studying the relationship between student evaluations and grade inflation. Harbaugh, a professor of economics, was enthusiastic. Wu and Ancell dived into the university's extensive data on evaluation and transcripts, focusing on its two largest schools, journalism and business.
What they found surprised them.  Having a female instructor is correlated with higher student achievement," Wu said, but female instructors received systematically lower course evaluations. In looking at prerequisite courses, the two researchers found a negative correlation between students' evaluations and learning. "If you took the prerequisite class from a professor with high student teaching evaluations," Harbaugh said, "you were likely, everything else equal, to do worse in the second class."
The team found numerous studies with similar findings. "It replicates what many, many other people found," said Harbaugh. "But to see it at my own university, I sort of felt like I had to do something about it."
He did. In the spring of 2017, Harbaugh assembled a task force on the issue and invited Sierra Dawson, now associate vice provost for academic affairs, to join.
The UO Provost's website on the reform process is here. We are piloting new surveys now and the Senate expects to have them in place by next fall. Back to the Chronicle article:
Legal Pressure
Doing nothing to revise or phase out student evaluations could be a risky proposition not just educationally, but also legally.
In August, an arbitrator ruled that Ryerson could no longer use student evaluations to gauge teaching effectiveness in promotion-­and-tenure decisions. The Ryerson Faculty Association brought the arbitration case and argued that because of the well-documented bias, student evaluations shouldn't be used for personnel decisions.
"This is really a turning point," said Stark, who testified on behalf of the Ryerson faculty group. He thinks the United States will see similar cases. "It's just a question of time before there are class-­action lawsuits against universities or even whole state-university systems on behalf of women or other minorities, alleging disparate impact." …