Post meeting synopsis:
Agenda here, video in a few days. It was a very well run, productive, and well attended meeting. Nothing brings out UO's administrators like an attempt to take away athletic subsidies, except a bowl game junket. Lorraine Davis even showed up – perhaps it's part of her job description?
President Gottfredson's speech emphasized how thrifty and genuinely concerned about academics the Duck athletic department was. This was met with silence, but he did get a round of applause for the hard work of the UO staff in dealing with the aftermath of the weekend storm, which left downed trees all over campus.
After some very frank and heartfelt discussion by Senators about the glaring disparities between the academic side and athletics, and the revelation that Interim Provost Coltrane has not seen the gift contract for the Jaqua Center (below), I moved that the Senate give the Senate Ad Hoc Committee on Ending Athletic Subsidies (SAHCOEAS) time to digest President Gottfredson's 2/7 report, which he had never sent to the Committee. I found it on his website Friday, thanks to a friendly web-bot, and then sent it to the Senate, which just got it this Monday. The motion asked Senate President Paris help the Committee get the data needed to make their report on what to do next, due March 12.
The motion on adding elected Senators to the Senate Budget Committee also got a thorough hearing. It passed with minor amendments, 24 to 11, just enough for the 2/3 majority needed to change the by-laws. (Thanks to Dave Hubin for calling for a re-vote.) Senate President Paris will hold the election within 2 weeks.
The Senate had a preliminary discussion of the Stahl/Tublitz motion on  open meetings for Senate committees. Most comments were positive, Frank and Nathan agreed to meet with the Committee on Committees to hammer out details. Very productive.
Interim Associate Dean Bruce Blonigen reported that his RIGE report would be available shortly, and Paris announced she would post it on the Senate website as soon as it was.
Paris discussed the legal services policy. Serious questions were raised about the redactions by General Counsel Randy Geller, particularly his removal of Senate language saying UO employees have the right to get lawyers. Geller took this out with no explanation. Perhaps the Senate should hire a lawyer to get a second opinion. Oh, right, never mind. At this point Geller's policy is a butchered, bleeding mess. It remains to be seen if the Senate committee can put it back together. You can find some information on the Senate web page here, page down and check the links. Randy Geller has finally agreed to meet with the Senate committee (Paris, Lininger, Sayre) on Feb 28. Presumably that meeting will be open to Senators, if not to the public?
Academic Freedom: Another Randy Geller inflicted disaster for President Gottfredson. Yet another Senate Committee, this one chaired by Michael Dreiling, has been trying to patch this up into workable form. A lot of progress has been made, I'm guessing there will be a vote in March on a reasonably good policy.
The call for self-nominations for next year's Senate President was announced, the vote will be at the March 12 meeting.
I think I have the flu, I'll post more eventually, including a pdf of Dev Sinha's handout for those who had trouble following his remarks. Yes, it does start with "Saying "Oregon is under-performing" is a lie."
2/7/2014: Gottfredson rejects Senate proposal for an end to athletic subsidies
The UO Senate has voted for an end to subsidies for the Duck athletic department many times. The latest resolution was last May, and it was endorsed (as legislation) by 4 former UO Senate Presidents.
After President Gottfredson did nothing, the Senate took it up again as legislation, which is much harder to ignore. I made the motion in December, and then agreed to postpone the vote until February in hope of a constructive response from the administration. President Gottfredson is still ignoring the legislation, but has now posted a more complete rejection of the May resolution, here. He says no to ending the subsidies, and no to a contribution from athletics for academic scholarships. Now the Senate will have to take up this problem yet again, at the meeting this Wednesday.
Don't despair. While it took many petitions to the Oregon DOJ and some embarrassing stories in the state and local press, President Gottfredson has already cut the subsidies by $555K , by raising the AD's payments to UO for administrative overhead costs in 2012. (However these payments are still well below what they would have been under the 7% rate that was originally proposed for 2013.)
UO's athletic budget is now a record 15% of total spending, even ignoring what's kept off the books. It has almost tripled since the 2004 Task Force report calling for contributions to the academic side. Compensation for the 230 AD employees now costs ~$35M. So there is plenty more money in the AD's well. (For comparison, salary and benefits for UO's 1900 faculty are about $120M.)
The Senate legislation has about $2.7M at stake, plus the scholarship money. $2.2 million hinges on Gottfredson's argument that the academic budget – specifically Provost Scott Coltrane – should pay for the athlete-only Jaqua Center for keeping athletes eligible to play NCAA sports. Gottfredson's message to the Senate doesn't mention it (perhaps Randy Geller forgot to tell him?) but Phil Knight's Jaqua Center gift contract with UO requires that this should be run by, and presumably paid for by, the Athletic Department:


Another $455K hinges on the argument that the academic side should have to pay the athletic department for the right to use Matt Court for classes. We aren't and we shouldn't. Matt Court was famously built with student funds, on UO land. And after we gave Phil Knight the Jock Box land for $1, it seems a bit churlish for the athletic department to then turn around and charge the students $455K a year for what already belonged to them.
Gottfredson's letter to the Senate says: "The consensus is that our athletics department receives no general fund support from the university. (The 2004 Task Force Report (attached) reached the same conclusion, calling the notion that the campus subsidizes athletics "a myth" (page 22).)"
However, when that task force report was written in 2004 the cost of athletic tutoring was $560K a year. Now, with the Jaqua Center, it is $2.2M a year – up another $300K just last year. These costs are in part because of the general extravagance of the center, and in part because of the intensive tutoring needed to keep academically underprepared athletic special admits eligible to play for the NCAA.
Several years ago Robin Jaqua donated $2.5M to help cover the Jaqua costs. The athletic department seems to have hijacked that gift, and uses the revenue from it to pay for maintenance costs on the building (the only cost they pay) and not the growing tutoring costs, which the academic side is still stuck with, in full.
Additionally, the President is now required to pay ~$475K a year to athletics for the President's Autzen skybox and basketball tickets: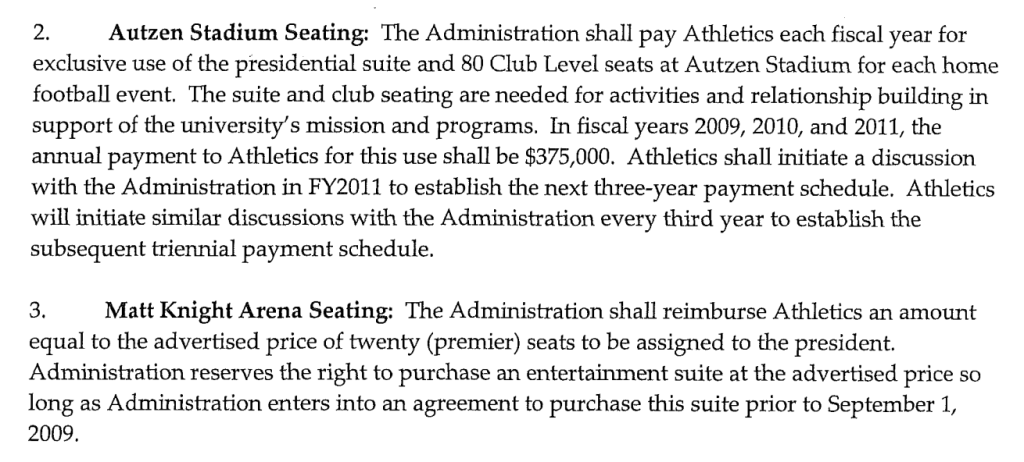 From what I can tell in 2004 there were no such payments. As mentioned above the academic budget now pays athletics ~$455K a year for the Knight Arena land costs. In 2004 there were no such payments.
It is true that as President Gottfredson says, athletics pays the tuition for its athletes, and that a larger proportion of them are out-of-state than is the case with regular students. However, this higher proportion of out-of-state student-athletes hurts UO when it comes to helping meet Governor Kitzhaber's 40-40-20 goals and justifying state subsidies for student tuition.
Likewise, the extravagant excess of UO's athletic buildings, including the Jaqua Center, the widely mocked "Football Operations Center", and the $235M in state bonds used to build Knight Arena – the most expensive college arena in history – hurt us when we go to the legislature and plead poverty, seeking state funds for much needed academic buildings.
The issue of academic control over the Jock Box tutoring operations is particularly problematic given recent events at UNC. This includes a professor indicted for fraud, for running sham courses for jocks. UO's athlete-only classes, taught in the Jaqua Center by athletic department employees, for academic credit but without faculty approval, seem pretty questionable.
I'm on the Senate committee charged with oversight of athletics, so as a matter of due diligence, I asked UO who was in charge of the Jaqua Center and what they were in charge of doing. Apparently it's Lorraine Davis, but her mission is top secret:
PR Office email for the latest contract:
Attached are the records responsive to your request made 08/01/2013.  Some information is exempt under OAR 571-030.  The univesity has searched for, but was unable to locate, a job description for Ms. Davis.
The office considers these documents to be fully responsive to your request, and will now close your matter.  Thank you for contacting the office with your request.
Sincerely,Lisa Thornton
Office of Public Records