In June 2015 UO projected that debt expense payments for 2021 would be about $43M a year: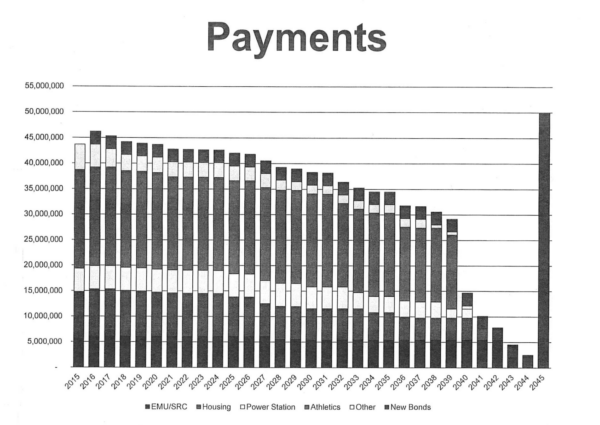 Now in June 2020 they are projecting debt expense payments for 2021 will be about $58M a year – a $15M increase:
Why the increase? Mostly for 30 year bonds sold to build new dorms, part of the "Athlete's Village" that Phil Knight needed for the IAAF Track and Field Championships bids. We'll be paying them off for a long time.
For perspective, the average student brings in about $20K a year in tuition, so it would take about 750 new students to cover this $15M in new debt.
Enrollment increases are unlikely, so the current plan from President Schill and Provost Phillips is to cut wages for faculty and staff to cover this debt expense increase and any revenue declines from cuts in state contributions and enrollment.
In any case the party is over. In March – before the impact of the coronavirus – Moody's had already revised UO's credit outlook to negative, citing the increased debt, spending, resistance to tuition increases, low reserves, etc. (Thanks to a helpful reader for sharing this public record, which took Kevin Reed's office 3 weeks to provide. Full report here. So far as I can tell Angela Wilhelms and Chuck Lillis never showed it to the Trustees, nor was if discussed in their public meetings. Not exactly due diligence.)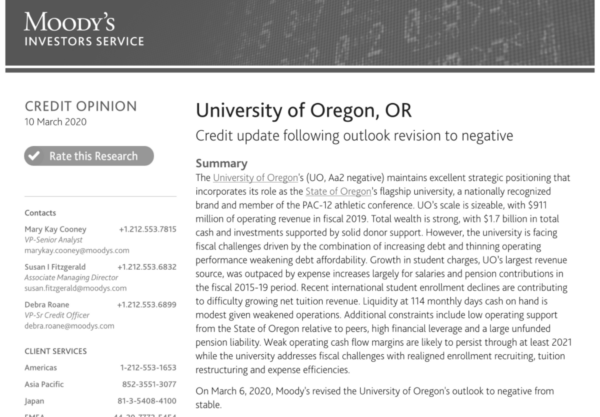 The tables are from the back pages of the Trustees agenda materials. June 2015 here, 2020 here. It seems unlikely that the Trustees will do their due diligence on this at their June 4th meeting, given that they are the people who approved all the decisions that got us here.