11/21/2019: Your periodic reminder that UO Board of Trustee Chair Chuck Lillis has yet to deliver on the promise that an independent UO Board would benefit UO's academic mission and our students. Apparently this is the fault of the faculty union, PERS, and of course China. I'm sure he'll give more excuses at the next BoT meeting, Dec 9-10.
8/15/2019:  Former UO President Richard Lariviere has just announced that he will retire from his job as Pres of Chicago's Field Museum next year after completing what seems to have been a successful rescue mission, if you're into dinosaurs.
If you are interested in public higher education and what happened during Lariviere's brief two years at UO, you should start by reading this article from Brent Walth in the Oregon Quarterly, about why he came to UO. The Around the O link is broken, but here's the gist:
Lariviere recalls having dinner one night with two major UO supporters, who were then trying to woo him to accept the University's presidency. Lariviere says he was intrigued about coming to the UO but was not yet convinced. At one point, one of the donors turned to the other and asked, "Shall we talk to him about the freedom movement?"
Lariviere perked up. His dinner companions told him the UO's current relationship with the State of Oregon—the very relationship that spawned and fostered the University for more than a century—was a wreck. The state's repeated cuts to Oregon's public higher-education system and the UO in particular had gone so far that the University might as well be private. Lariviere says he told his hosts he didn't want to take the UO private. They told him they wanted to keep the UO public but find a way to bring it the financial stability it now lacked. "That," Lariviere says, "was something I could get behind."
 … The plan has already run into opposition in the legislature. That's not surprising, given that the plan—at its core—is about power. Lariviere's plan would give the University more power than it's ever had to control its own fate. Under his plan, the UO would be overseen by its own board, appointed by the governor. The board would have final say over major UO decisions, such as hiring top officials, its budget, and setting tuition.
This did not work out well.
2018: Is UO better off now than it was in 2011? Better off than if Kitzhaber hadn't fired Lariviere? Better off with our independent Board of Trustees? I don't know. The Board has not delivered yet.
I do know that I continue to be amazed and inspired by how then Senate President Rob Kyr and the faculty, students, and UO supporters handled Lariviere's firing and the subsequent chaos.
2017:  I think nostalgia for Lariviere peaked under Mike Gottfredson, and has fallen to historical lows under Mike Schill. Here's the post from 2015, with a few updates:
2011:
Break out your hats and mark the day. On November 21st 2011, three four five six years and four five UO presidents ago, OUS Chancellor George Pernsteiner and Board Chair Matt Donegan came down to UO with their ultimatum and told Lariviere to resign, for trying to implement his "New Partnership" plan to combine $1B in state bonds and $800M in private donations to create a sustainable funding model for UO, run by an independent UO Board. The endowment income would have, in theory, produced enough income to more than replace the state's annual appropriations, and have allowed UO to keep in-state tuition low.
He also ignored the governor's call for a pay freeze, and passed out a round of secret raises to faculty and staff. Lariviere refused to leave, so they fired him, on instructions from Governor Kitzhaber. Nigel Jaquiss broke the news on the 22nd.
Six years later, where are the principals in this sad event?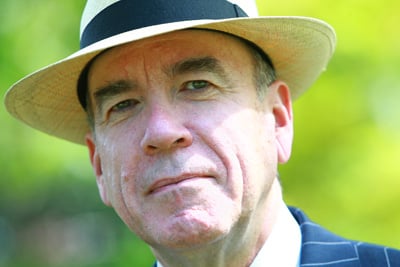 UO President Richard Lariviere: Now president of Chicago's Field Museum, and apparently well on his way to completing a turnaround of that troubled institution.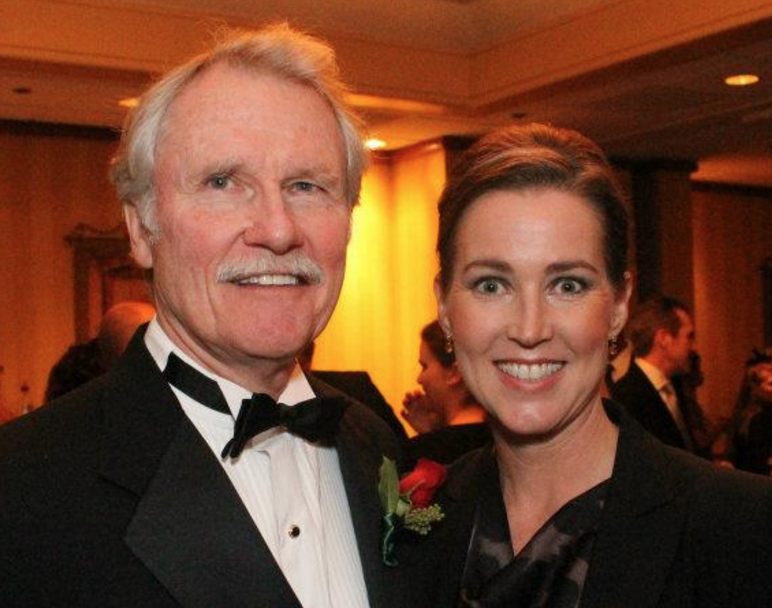 Oregon Governor John Kitzhaber: Resigned after getting caught trying to destroy his email archives, and found guilty of violations of Oregon ethics law.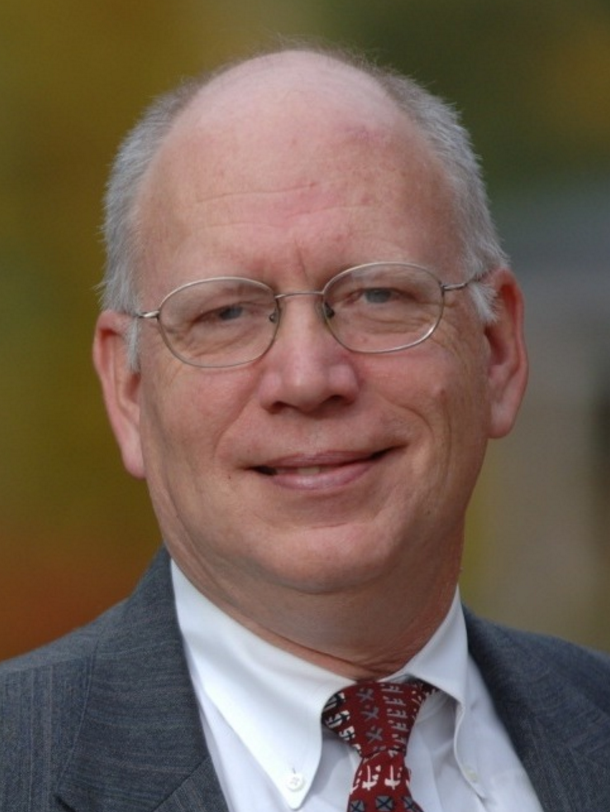 OUS Chancellor George Pernsteiner: Still living at Treetops and using Oregon students' tuition money to pay for his kids' maid service. Just kidding, the croissant chancellor went on to a $300K sinecure as president of SHEEO, a little known non-profit higher ed policy group in Colorado. He's now retired from that, and is on the board at Bridgeport, a scandal ridden for-profit university system.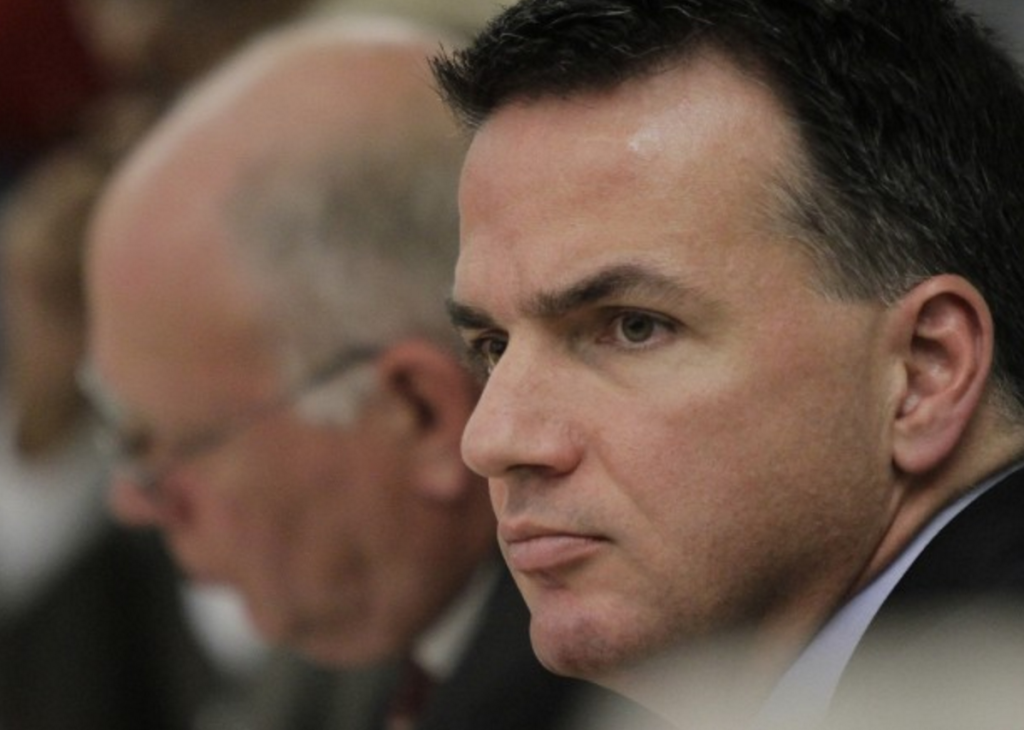 OUS Board Chair Matt Donegan: After a very nasty divorce he sold his timber business, then sent out some feelers on restarting his political career. The response was not good, and he's dropped out of public life to work on counting his money.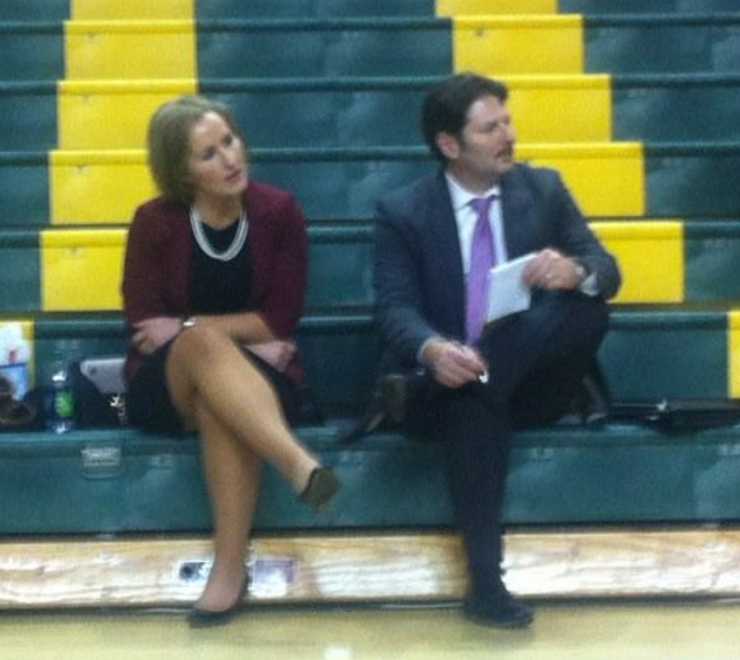 (Bridget Burns and Chuck Triplett at the 2011 Mac Court meeting.)
OUS Board Secretary Chuck Triplett: Triplett's role in setting up the secret discussions that led to the board's decision to fire Lariviere may never be fully known, unless I can get my hands on the OUS digital email archives. Meanwhile he has parlayed his $72K job for Pernsteiner into a $130K job for UO, and then a promotion from Scott Coltrane. All without an affirmative action compliant search. He's currently JH liason to the UO Senate – an appointment made without consulting the Senate with which he is supposed to liase. He's currently UO liason to the HECC, the putative replacement to OUS.
Pernsteiner's Chief of Staff Bridget Burns: She and Triplett were quite the team. After OUS collapsed she set up a consulting business, which just got a $9.8M grant from the DoE. According to her website,
… she led the successful legislative effort to free Oregon'€™s seven universities from state agency status, for which she received the national award for innovation in government relations from colleagues spanning the national higher education landscape at AASCU, APLU, AACC, and CASE.
Wow, and to think Mark Haas and Mike Gottfredson have been claiming all the credit for SB 270.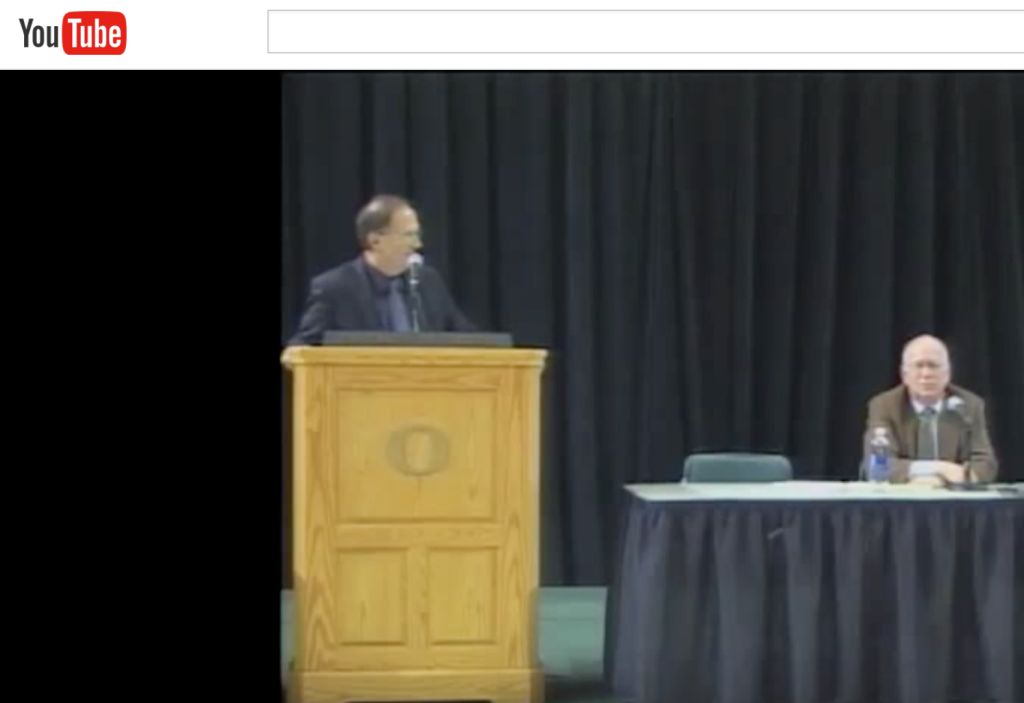 UO Senate President, Protector and Defender of the University, Slayer of Chancellors, and Professor of Music Robert Kyr: "Mr. Pernsteiner, answer the question as a human being would answer it."
Kyr is now back at his regular job, composing and teaching music theory.