According to today's WSJ story, Richard Lariviere is busy. But you know the UO Trustees want him, or someone like him, to lead UO. And I'm guessing that plenty of the 6700 faculty, staff, alumni and boosters who signed the petition to protest the 2011 firing of Lariviere are telling UO's new Trustees that a timid paper pusher like Gottfredson is not what they want: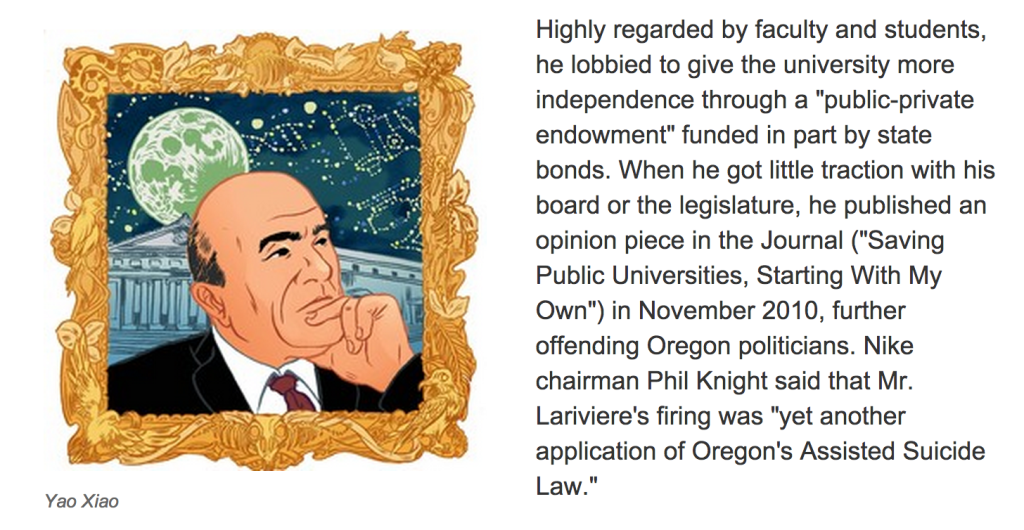 But first we've got to get rid of the interminably passive-aggressive Mike Gottfredson:
5/19/2014 update: Why Mike Gottfredson will be resigning as UO President 
How much have Gottfredson and Altman hurt UO's bond rating? Not yet clear. Obviously the fallout will cost UO millions in direct costs, but the bond raters are in this for the long game. The ratings report on UO from last year is here – it took a public records request to Ted Wheeler's office to get it. Meanwhile, that latest rumor is that many JH staff have, unofficially, joined the unofficial "Take back our university" coalition. Apparently Gottfredson gives them even less respect than the faculty gets.
5/17/2014 update: Because he was already on thin ice, and then he gave the rape investigation report to his athletic director, instead of his police chief.
5/16/2014: Why Mike Gottfredson will be resigning
President Gottfredson's imminent resignation is not about whether what happened on March 8th and 9th is eventually determined to be a gang rape. (And District Attorney Alex Gardner's decision not to prosecute is just the first step in that long process.)
Bad things happen at universities. They will happen again at UO. Presidents are expected to be able to deal with bad things, competently.
The stated reason for his resignation will be "For the good of the University of Oregon, and in order to expedite the healing that must now take place …" That's a guess, I haven't seen the drafts yet.
The real reason will be that his attempts to keep the allegations secret, and his responses to their public disclosure, have caused immense damage to UO. More damage than timely public disclosure of the sexual violence itself would have done, if only Gottfredson had dealt with it competently.
The parents who send their children to us know that no university can completely protect them. But they expect us to do everything we can to try, and to be honest when we fail. Simple decency requires this. And thanks to the parents of Jeanne Clery, so has federal law, since 1990. And under Title IX, UO also had to follow the rules of the USDOE Office of Civil Rights. The rules published in 2011 are clear. UO must investigate allegations of sexual violence or harassment immediately, and "… the school's inquiry must in all cases be prompt, thorough, and impartial."
Gottfredson and the Eugene Police Department have conflicting explanations for the 16 day gap between when the EPD told UO it's investigation report was complete and UO finally obtained the report, on April 24th. Perhaps more significantly, UO's official timeline says that Gottfredson got the report from his General Counsel, Randy Geller, on April 28th.
The next day Geller submitted his resignation, and Gottfredson met with Athletic Director Rob Mullens to go through the investigation.
Also on the 29th, Gottfredson announced he would no longer require Mullens, or Faculty Athletics Representative Jim O'Fallon, to co-operate with the faculty Intercollegiate Athletics Committee. In it's charge, derived from the UO Constitution, "the IAC is to be consulted by "The faculty athletics representative about all ongoing investigations …." The next day Mullens showed the report to basketball coach Dana Altman.
In contrast, Gottfredson never told his UO police chief or investigator that the EPD report was complete. The UOPD only learned this from the newspapers, and they only got the report when they downloaded the pdf from the Register Guard's website. Sharing the city police report with your athletic director and basketball coach, but not your own police chief, is not a "prompt, thorough" investigation.
So Gottfredson could have survived the rape, or whatever it will be called, by doing the right thing afterwards, or even by coming clean about the mistakes. Everyone knows he's got a tough job. But he still hasn't explained the mistakes, or even admitted that they were made. The contradictions are enough to drive a long and damaging public investigation of UO's sitting president, while the press combs through the public records for more. But even that is not why he will resign.
He's now been UO President for nearly two years. Plenty of time to build trust with the alumni, the donors, the Duck boosters, the faculty, the students, their parents, and the new trustees. He never really tried. His list of failures, and failed explanations, grew steadily longer.
His only real supporters were a small group of administrative insiders, on his payroll. Few of them had connections to the UO constituencies. So when this news finally broke, Gottfredson had no true friends, and a fair number of enemies.
UO's supporters, reading about the delays in revealing the rape allegations, and Gottfredson's post-hoc claims about the investigation and what he had been doing to address sexual violence, had to wonder what other leadership failures, related or unrelated, might next become public. I can think of several, and I'm guessing they know of others.
But our supporters knew that another failed presidency would hurt the university they loved. So they swallowed their disgust and mistrust, for the good of the university. They gave Gottfredson time – and very substantial support – to try and explain his actions.
And then, when his carefully crafted timeline and scripted speech to the Senate and his efforts to shift the blame weren't convincing, these people decided that there was only one path forward for UO. And that's why Mike Gottfredson will be resigning.
5/15/2014: Gottfredson's last days are near
Word on the street is that his Executive Leadership Team and Academic Leadership Team no longer support Gottfredson. Earlier this week they were willing to wait. I can't tell if they have learned something new about the cover up, or if they have learned that the Trustees' patience is at an end, and now it's time to try and save their own careers. For reference, the org chart is here, and leadership names here. [The names of those on the ELT and ALT are no longer on Gottfredson's webpage, but they include his GC, Provost, VPFA for the ELT and the VP for Academic Affairs and the deans for the ALT.]
5/14/2014: "Take back our University" organizes to reboot UO:
That seems to be the catch-phrase. It's a loose coalition of people and groups with diverse agendas, united by that desire. Donors, faculty, staff, students, and some administrators and politicians and Duck boosters. The only certainties so far are that it's not going to include Mike Gottfredson, and that I'm not going to be it's spokesperson, or even told about most of what is being planned. Which is fine with me. I'm a muckraker, and while UO needs a muckraker, it also needs good leaders out front, and others willing to work hard in private. That is starting to happen – with this horrible event and the current administration's unacceptable response as the catalyst.
As for the rumors that step one is to "Bring Back the Hat"?
Totally unsubstantiated. Though I do remember that Phil Knight sort of liked the guy.