[reposted because of reserve and media contract stuff]
3:00 p.m. Finance and Facilities Committee https://trustees.uoregon.edu/sites/trustees2.uoregon.edu/files/meeting_packet_-_ffc_final_12.3.18.pdf
1. Audited Financial Statements: Jamie Moffitt, Vice President for Finance and Administration and CFO; Kelly Wolf, Associate Vice President and Controller; Scott Simpson, Partner, Moss Adams
Here's one metric where UO is not at the bottom of the AAU – reserves: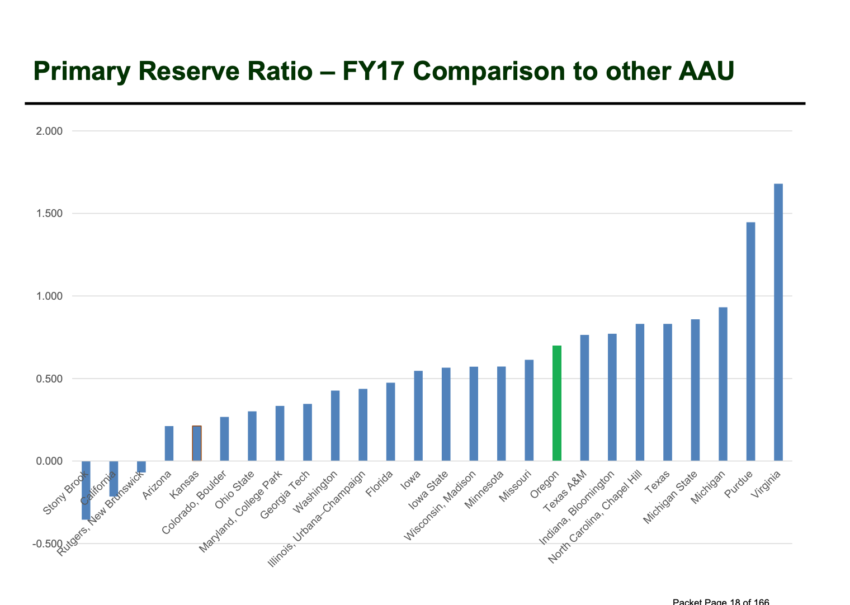 2. Quarterly Financial Reports and Annual Treasury Report: Jamie Moffitt, Vice President for Finance and Administration and CFO; Karen Levear, Director, Treasury Operations
All these business people on the board, and the only trustee who found the error in the report is the UO staff trustee, Jimmy Murray, a librarian. Controller Kelly Wolf thanks him.
As usual these reports do not include any information on the athletics budget, or the various tax changes affecting it, or their subsidies, or their debt obligations. This is despite the fact that in the past trustees have specifically asked to see this.