11/20/2019 repost: These are old data, but I doubt they've changed much.
8/9/2015: My understanding is that UO administration bargainer Bill Brady has said that the reason full professor pay for some UO departments lags the AAU averages is that some UO departments just aren't that good. So I got curious if there was a correlation between UO department quality and pay.
The horizontal axis is the National Research Council's 2010 ranking of UO PhD programs, see below for methodology. The vertical axis is average pay for UO full professors by department as a percentage of average pay at AAU publics for 2014-15. From UO IR, here.
I'm no econometrician, but the slope coefficient looks like zero to me. And lets not talk about the variance. There's probably better data for department rankings but I doubt it changes the conclusion much: whatever system the UO administration is using to set faculty pay, it's not about quality.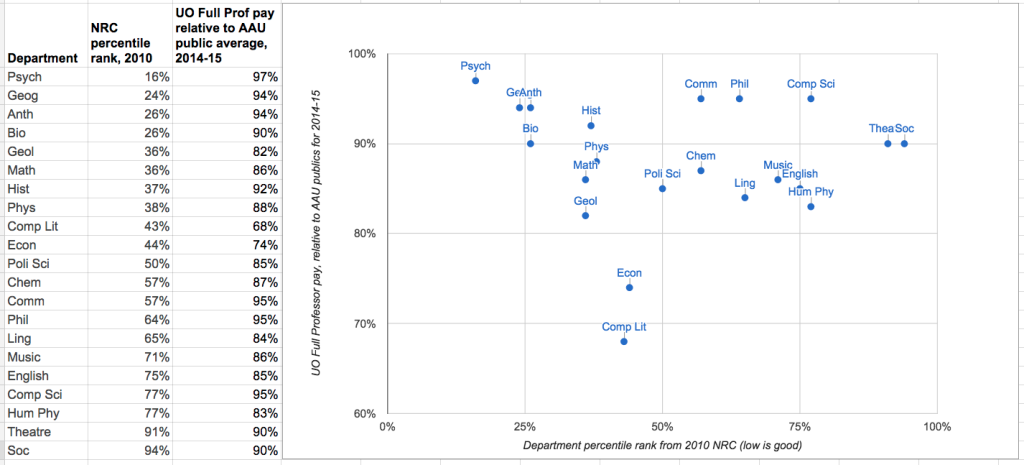 The National Research Council rankings were released in 2010, the data was from 2007. Quoting from a description of the methodology here, "The NRC used 20 variables that it considers "indicators of program quality." Variables include measures of faculty research activity, student support and outcomes, and faculty and student demographics. The indicators come from the extensive data provided by the institutions themselves as well as some data collected by the NRC (e.g., faculty awards, publications, and citations)." US News has more recent rankings for departments, but in contrast to their data driven undergrad rankings, the grad rankings are crap – entirely reputational, and the survey has simplistic questions and very low response rates. UO has current data on productivity from Academic Analytics by department (and faculty member) for ourselves and comparators, but the UO administration has chosen to keep even the UO department data secret. Maybe the administration's bargaining team will show it at Wednesday's bargaining session though, in an effort to justify their low-ball raise proposal?
9/29/2010: Idiots guide to NRC rankings of graduate programs: