Ted Sickinger has the story in the Oregonian here:
Employees hired after Aug. 28, 2003 who make more than $30,000 a year are now sending 0.75% of salary to support the pension fund, with the remaining 5.25% of salary still flowing to individual accounts.
The employee cost-sharing is expected to offset about $300 million in employer contributions statewide. It is expected to reduce employees total retirement benefits by about 1% due the the reduction in ending balances in their individual accounts.
The impact of Senate Bill 1049 falls mostly on longer-term employees, as well as those at the very top of the state's pay scale.
The law redirected a portion of the required retirement contributions that employees make to an individual, 401(k)-like account that supplements their pension benefits to support the pension fund.
Employees making more than $30,000 a year and hired on or before Aug. 28, 2003 are now required to send 2.5% of their salary to support the pension. The remainder of their required retirement contributions – another 3.5% of salary – will still flow to the individual account.
This seems confusing, but what is actually happening is simple: PERS is reducing the amount of money that goes into employees' individual accounts and putting it into the overall pension fund, so that the state (and school districts, universities, etc) can reduce their own payments to that fund, and the supreme court has now decided that's OK.
For more see "PERS by the Numbers" here. For those who remember how generous PERS was to people like Lorraine Davis and, famously, Mike Bellotti, it may come as a shock to see that the average 30 year retiree is now barely getting 50% of their final salary: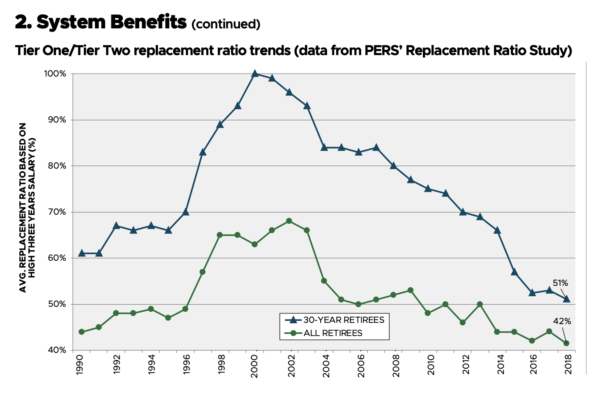 For example, Lorraine Davis, who retired in 2004, has been getting more than her final salary ever since:

While Brad Shelton has to scrape by with only 67% of his:

The Oregonian's database of payouts is here.