Saul Hubbard has the sad news in the RG here, along with a list of the current top 100.
Ted Sickinger's amazing 2011 story on how the people of Oregon came to be paying former Duck football coach Mike Bellotti $500K a year in pension benefits is here. In essence, Bellotti's PERS payout was based on a calculation that included all the money he got in bonuses and Nike deals, even though UO never paid anything from those payments into PERS. (This on top of the buyout deal he got after former UO GC Melinda Grier neglected to get a written contract for him, and then assistant GC Doug Park helped hide that from reporters.)
As Sickinger explained, a large part of the amount that state agencies (and UO) must pay for PERS isn't going into investments that will support retirement costs for current workers, it's going to pay current retirees, because the state agencies didn't put in enough back when those retirees were working.
This situation has gotten worse. The PERS by the Numbers report for April 2016 notes that 40% of PERS costs now go to make up that deficit: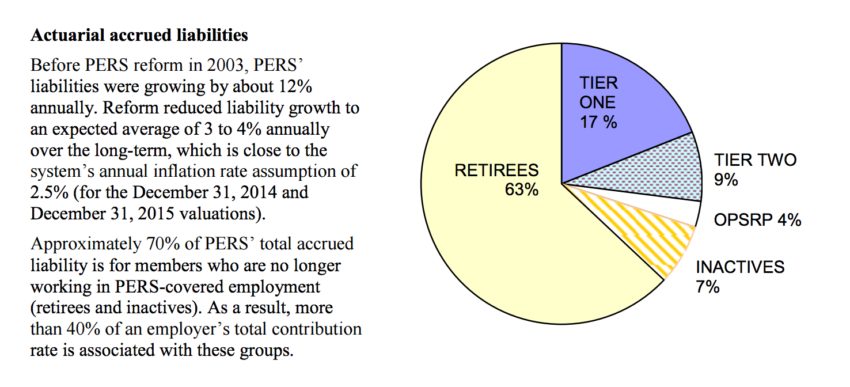 And this is despite the fact that PERS reforms have cut the amount of money that new retirees get to sensible levels:
But that's not enough to put the system in balance, given the high payouts to earlier retirees. PERS is now only 71% funded, and the expectation is for a large new increase in how much UO and other state agencies will have to contribute. As Hubbard notes:
The latest calculations by the PERS actuary, released last week, showed that Oregon public agencies will have to shoulder an additional $885 million in pension costs in the 2017-19 biennium, a 44 percent increase.
Part of that increase was expected after the Oregon Supreme Court threw out some cost-curbing PERS changes in mid-2015. Those changes included a reduction in PERS cost-of-living increases, particularly on large pensions.
Just don't make the mistake of counting those costs as a benefit to current workers, as VPFA Jamie Moffitt does.