Update: Sorry, there is no such offer for real UO faculty. UO is planning to lay off ~75 non-tenured and pro-tem faculty in RL, AAD, CoE, and the SOJC with no buyout at all.
But things are a little different over in Rob Mullens' heavily subsidized Duck athletic empire. The Oregonian's Andrew Greif has the follow-up to the Emerald report that the $175K volleyball coach (or, in the preferred nomenclature of our General Counsel's office, the volleyball professor) was being fired for cause, here:
… When asked about the letter and the allegations of abusive behavior, senior associate athletic director Craig Pintens said Oregon wouldn't comment. …
And it now seems that Mullens will pay the coach a few months salary to leave quietly – let's call it $45K – and will also find alternative work for his assistant/spouse. Emerald reporter Jonathan Hawthorne spikes it:
The [shameless PR flack Craig Pintens press release] added that Moore will work remotely to craft a transition plan to ensure the the program's success going forward.
Meanwhile, Provost Coltrane's academic budget is still subsidizing the Jock Box to the tune of $2.4M a year, we're paying Mullens $500K a year for Frohnmayer's Mac Court land scam, and don't get me started on the overhead.
Update: The Oregonian's Andrew Greif has made a PR request for a list of self-reported NCAA infractions involving volleyball, here. At many schools these are posted on the web, but the Duck athletic department does its best to hide them. Not always successfully. Here's the 1981 opinion from the Oregon DOJ, written when Dave Frohnmayer was AG, ordering a partial release of the report from some long forgotten 1979 scandal. Very interesting reading which bears on many current issues, including FERPA and the claim that coaches are faculty: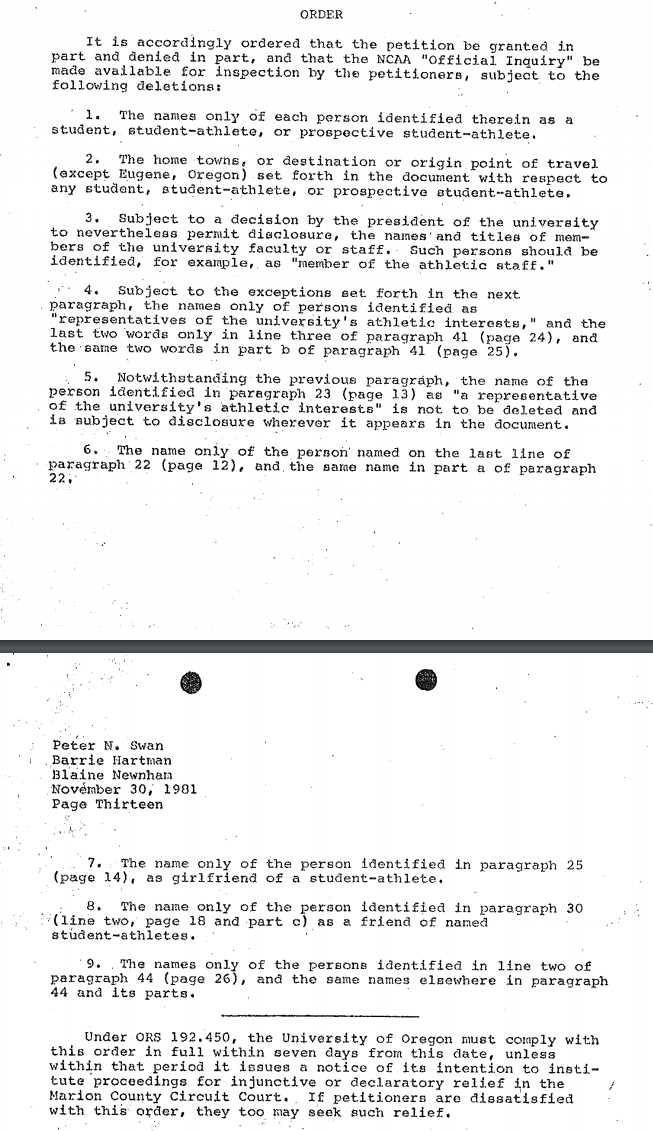 This opinion was very useful back when Gottfredson was President, and UO was trying to hide information about the Willie Lyles scandal.
3/13/2014: Two more UO faculty fired, apparently "for cause."
The Daily Emerald has the scoop here.  But they're only UO faculty in the alternative-fact world of our General Counsel's Office, so that they can hide their personnel records from public records requests. They're really Duck volleyball coaches.