UO GC and Board of Trustees Counsel Randy Geller tried to sneak a hack-job delegation of authority policy past the university and the board over spring break. He got caught, the board rejected it, and they called for the Senate to provide input on a new policy for adoption in June.
The Senate appointed committee has now held many open meetings on a new draft policy aimed at fixing Geller's many factual and legal errors. In addition, while state law dictates most ultimate power to the board, the new draft policy proposes a more practical division of working responsibility between the board, the president, and the faculty. I'm no lawyer, but the result so far looks far more consistent with state law, history, common practice, and the rules of UO's federal accrediting agency.
The committee website, with full copies of the drafts, is here. As you can see from the email below the Senate is asking for input on the latest draft by Friday. Here's page one: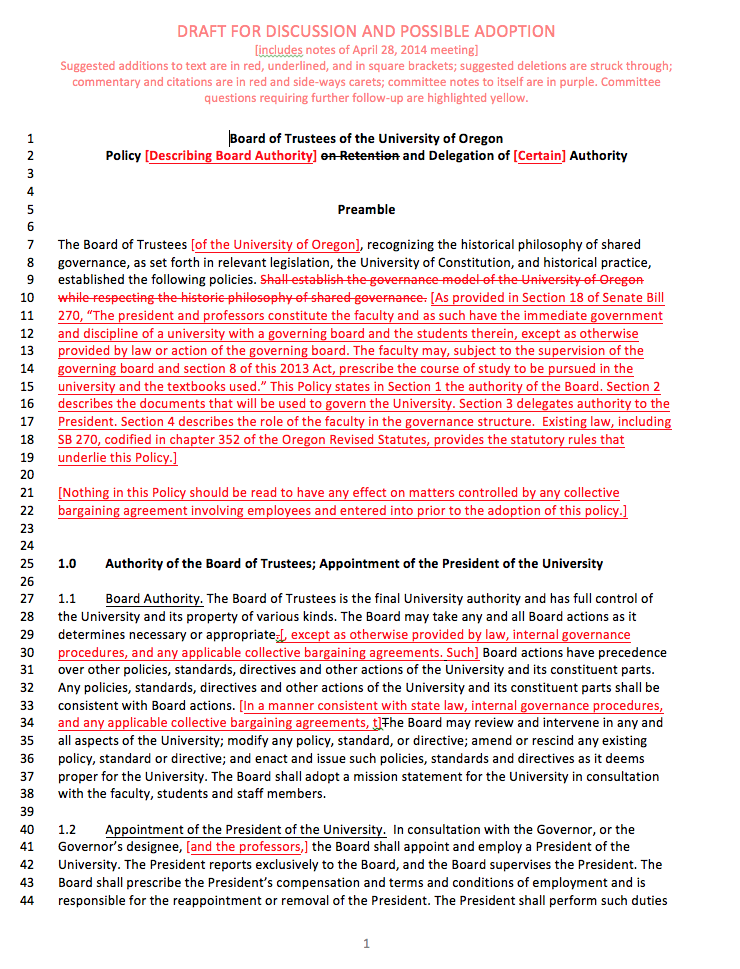 Dear Campus Community,
As you know, the UO Board of Trustees is seeking input on a policy related to the retention and delegation of authority, the final version of which will allow the trustees to authorize others to act on their behalf.
The Ad Hoc Committee on Delegation of the Authority, convened by the University Senate and Senate President Margie Paris to follow up on this issue, has been reviewing the Policy on Retention and Delegation of Authority, integrating comments from various constituents and making suggested changes. The committee is once again seeking your feedback regarding this policy and the committee's most recent draft edits:
Policy on Retention and Delegation of Authority with Ad Hoc Committee draft edits as of April 28
Please email your feedback about the Policy on Retention and Delegation of Authority to Senate President Margie Paris at [email protected] no later than this Friday, May 2. This will allow the Ad Hoc Committee to incorporate feedback into their redlined draft version of the policy, which will be passed on to the Board along with all comments from campus.
Please do not hesitate to contact me if you have any questions.
Sincerely,
Lisa Mick Shimizu
Executive Coordinator
University of Oregon Senate