6/10/2014 update:  Transparency is lacking at the UO (Letter to the RG) 
In his June 4 letter, David Hubin, the supervisor of the University of Oregon's Public Records Office, chastised The Register-Guard for omitting information from its May 31 editorial about the pages and pages of colorful redactions his office made to documents concerning the UO's response to March 8-9 sexual assault allegations.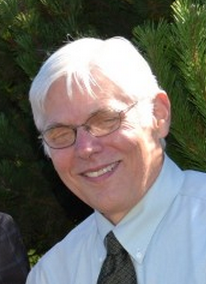 Hubin said he was "disappointed" the editorial "didn't provide all the facts about why the university can't release certain information. The newspaper's readers deserve to understand the university isn't hiding the information but is following laws that protect student privacy."
But, as was explained in the May 30 news report by Josephine Woolington, the UO redacted many of the pages to protect administrators, not students. Those redactions included "frank discussions" between UO officials and emails covered by "attorney-client privilege." The pages were helpfully color-coded in marigold and blue by Hubin's office.
The redacted communications are presumably between President Michael Gottfredson, his administrators and "his" attorneys in the UO's general counsel's office. Actually, those attorneys are supposed to represent all the university, not just the president. In any case, Gottfredson could waive that privilege and disclose those "frank discussions." He didn't.
Such secrecy is part of a pattern. In February, the university even tried to charge our student journalists for budget information on expenditures for sexual assault prevention.
I believe it's too late for Gottfredson's administration, but our next president will need to improve transparency and build some trust in the UO community.
BILL HARBAUGH
PROFESSOR OF ECONOMICS
FORMER CHAIRMAN, UO SENATE TRANSPARENCY COMMITTEE
6/5/2014 update: UO releases 323 more pages of redacted docs on rape allegation cover-up
PDF of today's release here. A zip file of all the records I've obtained so far is here. The public records office's response included a disclaimer that this is just a partial release. I'll update when they decide to release more. The office's log file is here.
UO has gone with more blue and marigold this time – the colors for redacting documents because they contain "attorney client privilege" or "frank discussion". Green means Hubin's office is claiming the redactions are needed for student privacy.
I've haven't looked through this much, but there is some frank discussion between Intercollegiate Athletics Committee Rob Illig (Law school prof) and the IAC members about President Gottfredson's April 29 decision to dismantle the committee for asking too many tough questions. The day after he saw the EPD report, and was still hoping he could cover it up. The faculty emails are unredacted, but the ones between UO's administrators are in marigold. An interesting double standard!. The cover-up timeline is here.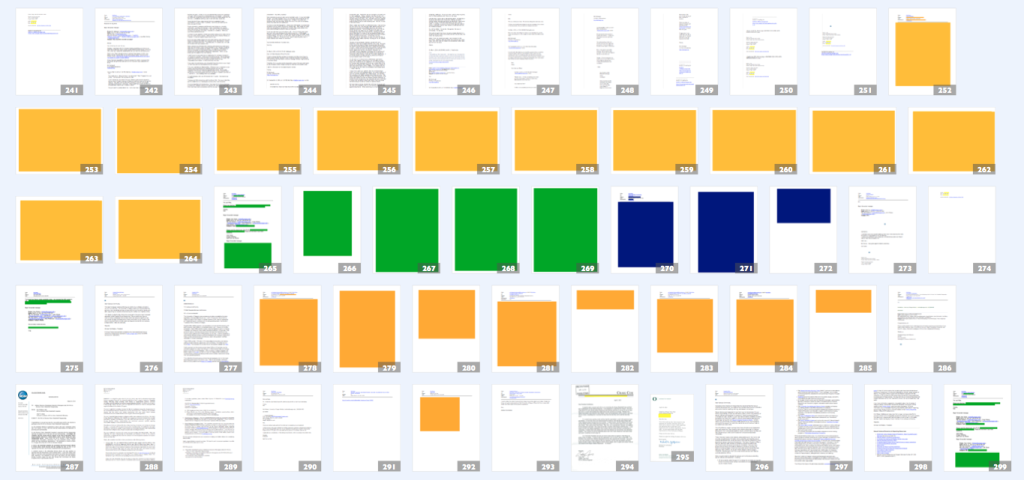 6/4/2014 update: Dave Hubin takes the dive for Gottfredson's redactions. Shame on you, Dave.
This is worse than when Hubin tried to charge the student newspaper to see the budget numbers on how much UO was spending to address sexual assault prevention:

His letter to the RG editors, in response to their "Redaction Run Amok" editorial is here. All about protecting student privacy:
As the person who supervises the University of Oregon's Office of Public Records, I was disappointed that a May 31 editorial didn't provide all the facts about why the UO can't release certain information. The newspaper's readers deserve to understand the university isn't hiding the information but is following laws that protect student privacy.
Sure it is. Hubin does not mention the many redactions made because they include "frank discussions" between UO officials, or "attorney-client privilege". These are helpfully color-coded in marigold and blue, respectively, as explained by Josephine Woolington in her May 30 RG story here.
The redacted emails are presumably between Mike Gottfredson and "his" attorneys in UO's General Counsel's office. Actually those attorneys are supposed to represent UO, not Mike Gottfredson. And in any case Gottfredson can waive that privilege if he wants, and disclose his "frank discussions". So what are Hubin and Gottfredson hiding?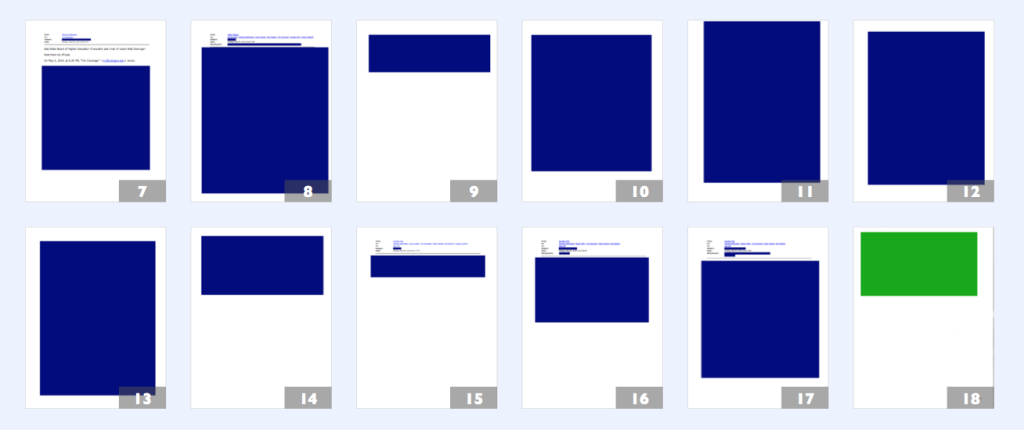 5/31/2014 update: Register-Guard editorial board on Gottfredson's "Redaction run Amok"
I'm not sure why, but today's "Redaction Run Amok" editorial in the Register Guard stops short of calling for Gottfredson's resignation:
… UO officials also want those same members of the public to trust, with hardly a shred of documentation, University President Michael Gottfredson's reassurances that the university responded to the sexual assault allegation in a proper, responsible and timely manner. To do otherwise — to suggest that the university may have inappropriately handled an 18-year-old student's assault allegations, or for that matter the rights of the accused students — would, in Gottfredson's words, be "patently false" and "very, very inappropriate."
Good luck with that, as well.
A president can't govern without trust. The faculty doesn't trust Gottfredson, and now the rest of the state doesn't either. He needs to leave.
5/29/2014 update: Gottfredson redacts the hell out of reporters' public records requests on rape allegation cover up, and he still hasn't released a lot more.
Josephine Woolington has a story in the RG, with a helpful color-code:
The redactions were color-coordinated, with each color representing a different legal exemption. Text covered in "dark blue," Thornton said, is redacted for attorney-client privilege. Text covered in green is redacted for federal privacy law, she said. Text redacted in marigold is exempt from disclosure based on an Oregon statute that allows government agencies to keep some communications secret if they can prove that the public interest in encouraging "frank communication" between government officials outweighs the public interest in disclosure.
No explanation for the bright yellow used to redact the Mullens/Knight address below. And still no documents showing how Gottfredson, Geller, Holmes, etc. actually dealt with the allegations themselves. These are all about the response to the story going public.
5/29/2014 update: I've put all the documents with any content (even just an email header) into one pdf, here.
Note that Gottfredson has still not released any records from before the story broke May 5. These documents are all about UO's reaction to the fact the story finally made it into the public eye. Many more public records requests are still pending. Dave Hubin's public records office has now been sitting on those for more than three weeks.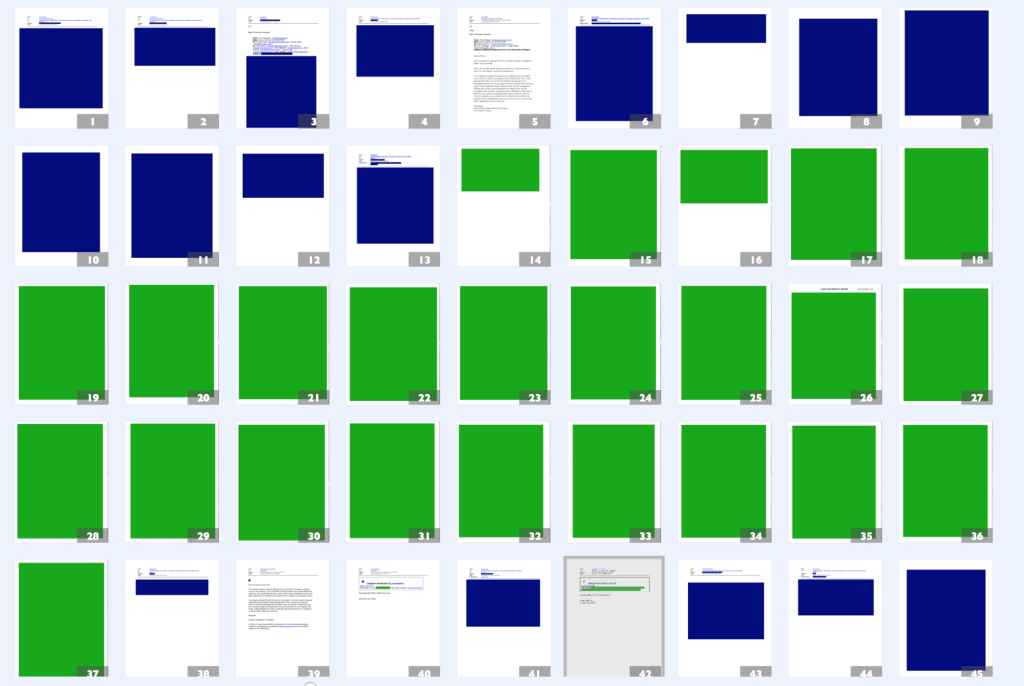 5/29/2014 update: Thanks to a reader for noticing this Phil Knight / Rob Mullens email below. Page 68 in #9, https://dl.dropboxusercontent.com/u/971644/uomatters/sexassault/PRR234Hunt%20CombinedFiles%20-%20Redacted%20FINAL.pdf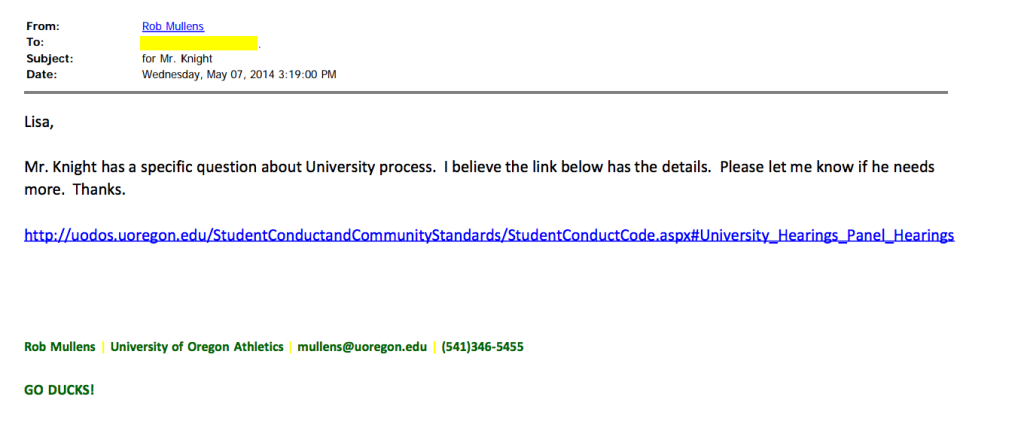 And from page 57: On March 17 FAR Jim O'Fallon was in the loop, but UO GC Randy Geller was already out in favor of his assistant GC Sam Hill.
5/28/2014, 10PM update: This has now gone viral on twitter. The documents below have been downloaded hundreds of times. All in 61 minutes. The internet is an amazing thing.
5/28/2014, 8:59PM: They've redacted almost everything except official statements and requests from reporters. Very colorfully. All with no explanation. Needless to say, this is of questionable legality under Oregon public records law. But at this point a public records lawsuit is the least of UO President Mike Gottfredson's worries – legal and otherwise – over his efforts to cover up the basketball rape allegations. Links below, updated with explanations added when I have time.
One reader already notes one unredacted email from the EPD detective in charge of the investigation, challenging Gottfredson's carefully constructed timeline. Why didn't John Ehrlichman's Dave Hubin's public records office redact this too? Presumably because they knew it would come to light from requests to the EPD. How calculating. I wonder what else is hidden under the blue and green:
From: MARTES Kris M
To: Julie Brown
Cc: HANKEMEIER John T; MCLAUGHLIN Melinda V Subject: press release
Date: Tuesday, May 06, 2014 12:10:00 PM
I was just contacted by John regarding the press release that you are intending on distributing at 1215. I am disappointed in the contents considering our conversation. There is no mention of the collaboration that occurred in this investigation between UO and EPD to keep UO apprised of our steps in a timely manner to allow for you to proceed with UO requirements. It appears the release is exactly the same as the one originally presented.
Det Hall was very accommodating in keeping UO apprised every step of the way. By April 8, Det Hall advised to go ahead and move forward with student conduct as his investigation had been completed and sent to the DA office.
Sgt Kris Martes
Violent Crimes Unit Eugene Police Department
(541)682-5182 PROTECT.SERVE.CARE.
First dump from UO's public records office as a zip file, here. Pdf's below. There will be more, eventually. Pending requests here.
1. https://dl.dropboxusercontent.com/u/971644/uomatters/sexassault/Combined%20Hunt%20responsive%20to%20VaughanRedacted.pdf
2. https://dl.dropboxusercontent.com/u/971644/uomatters/sexassault/PRR241Hunt%20CombinedLeederFiles%20-%20Redacted%20FINAL.pdf
3. https://dl.dropboxusercontent.com/u/971644/uomatters/sexassault/Combined%20Partial%20Responive%20to%20Brynelson227_Redacted.pdf
4. https://dl.dropboxusercontent.com/u/971644/uomatters/sexassault/PRR244CombinedFilesFINAL_Redacted.pdf
5. https://dl.dropboxusercontent.com/u/971644/uomatters/sexassault/PRR239%20HuntCombinedPresFiles%20-%20Redacted%20FINAL.pdf
6. https://dl.dropboxusercontent.com/u/971644/uomatters/sexassault/PRR238Hunt%20CombinedTobinTexts%20-%20Redacted%20FINAL.pdf
7. https://dl.dropboxusercontent.com/u/971644/uomatters/sexassault/PRR238Hunt%20Tobin%20CombinedFiles%20-%20Redacted%20FINAL.pdf
8. https://dl.dropboxusercontent.com/u/971644/uomatters/sexassault/ResponsiveHunt%20235AltmanCombined%20-%20Redacted%20%20FINAL.pdf
9. https://dl.dropboxusercontent.com/u/971644/uomatters/sexassault/PRR234Hunt%20CombinedFiles%20-%20Redacted%20FINAL.pdf
10. https://dl.dropboxusercontent.com/u/971644/uomatters/sexassault/PRR231CampuzanoCombinedFiles%20-%20Redacted.pdf
11. https://dl.dropboxusercontent.com/u/971644/uomatters/sexassault/PRR228%20Woolington%20CombinedFiles%20-%20Redacted.pdf