6/15/2014: Diane Dietz has the story in the RG, here. These days a university president's main job is fundraising, and Gottfredson is not doing well at it. While OSU just wrapped up a $1B academic fund drive, the Duck Athletic Fund continues to use the UO Foundation to launder tax donations for Duck athletics donors, and Phil Knight's $500M gift to OHSU – which still needs $300M in matching money – is diverting donors away from UO science research, towards giving to help OHSU cure for cancer. I believe the biggest gift announcement on Gottfredson's watch has been $10M for softball. Seriously.
VP for Development Michael Andreasen has made clear his frustrations with the Duck's poaching of academic donations, but so far has been unable to put a stop to it. Maybe Lillis – a generous donor to UO academics – will be able to convince Gottfredson, or better yet a new President, to get UO priorities straight. The Foundation endowment is currently about $880M. They won't say how much is for sports. Gottfredson's Chief of Staff Greg Rikhoff is claiming UO doesn't have a copy of Robin Jaqua's gift letter, which the administration claims precludes them from using her donation for the academic side's Jock Box costs. The Foundation did recently release this totally unhelpful breakdown of recent gifts: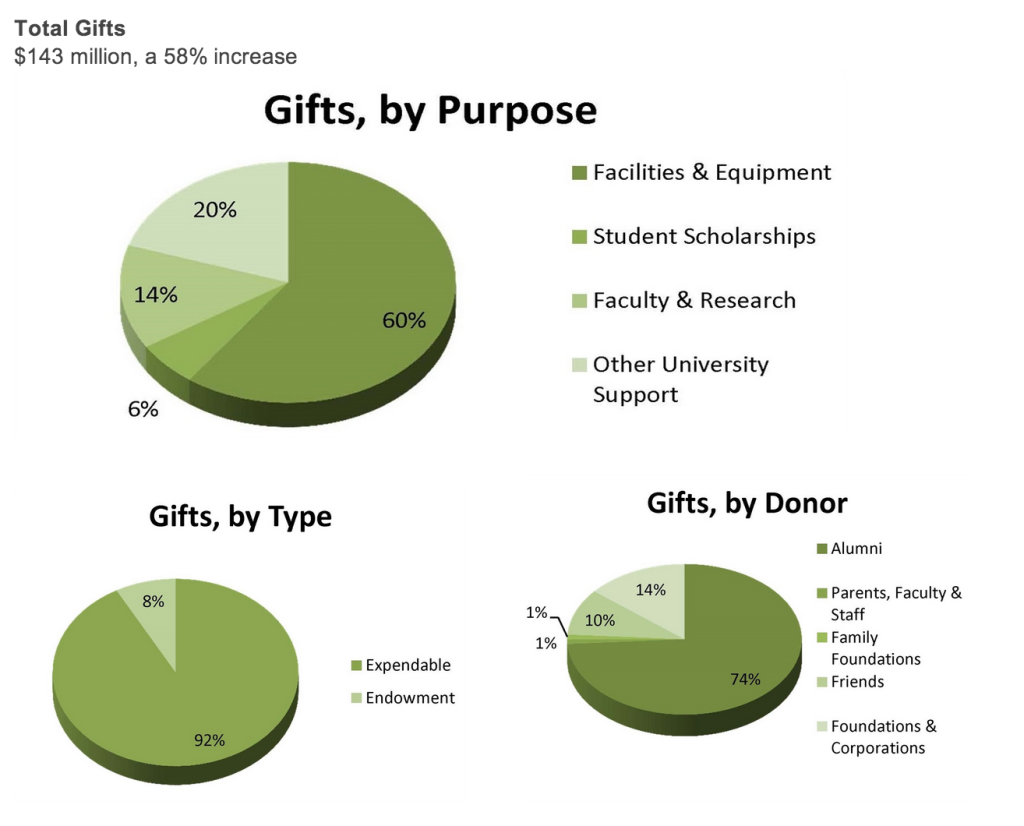 Lillis's goal is $2-$3 Billion. A large part of that will probably be for buildings and emergency spending on research and new faculty, to try and stay in the AAU. Each $1B in the endowment yields $40M a year. The total UO budget for next year will be about $900M, with about $100M for the Ducks. So $2B in new endowment – if it's really for academics – would mean a 10% increase in academic spending.
Significant, if targeted correctly. But if it goes to things like Bean's sports product initiative, it might make for some happy donors, employable students, and wealthy administrators, but the AAU is not going to give a shit.
In other news, the RG has a fascinating report on the growing power of popular revolt to overturn underperforming authoritarian regimes, here.