Sorry to be so blunt, but it's hard to see how else to interpret this. Cocktail party version: I was trying to get some info about Gottfredson's sexual assault review panel. Dave Hubin tried to charge me $508 for the public records, so I made requests to the universities where the panelists worked. Ohio State gave me the docs gratis, but the Michigan panelist, Ted Spencer, told Michigan he hadn't received anything, even though he had – including info about his $10K honorarium. I pointed out to Michigan that he wasn't telling the truth, and they've now provided all the docs, also at no charge.
On July 7th I made this FOIA request to Patricia Sellinger at the University of Michigan's FOIA office, asking for documents involving UM employee Ted Spencer's service on Gottfredson's sexual assault review panel.  I cced Mr. Spencer at his official tsz@umich address:
Subject: public records request, records related to Theodore Spencer's service on UO review panel
Date: July 7, 2014 at 12:24:25 PM PDT
To: [email protected]
Cc: [email protected]
Dear Ms Sellinger:
This is a public records request for public records (including emails etc.) related to Mr. Spencer's appointment to the University of Oregon "External Review Panel" listed at http://president.uoregon.edu/content/panelists-named-review-uo-sexual-misconduct-prevention-and-response.
Specifically I am requesting documents from 6/6/2014 to the present, and dealing with the charge, meeting schedule, agenda, and rules for expense reimbursement (not individual receipts or invoices).
I ask for a fee waiver on the basis of public interest.
A week or so later I received a letter from Ms Sellinger, saying that UM had no responsive documents and denying my request. I then made a follow-up FOIA request for the communications between Ms Sellinger and Mr. Spencer. The emails I received showed Mr. Spencer had met with Ms Sellinger, and that after this meeting she had emailed a variety of UM employees about this FOIA request, saying: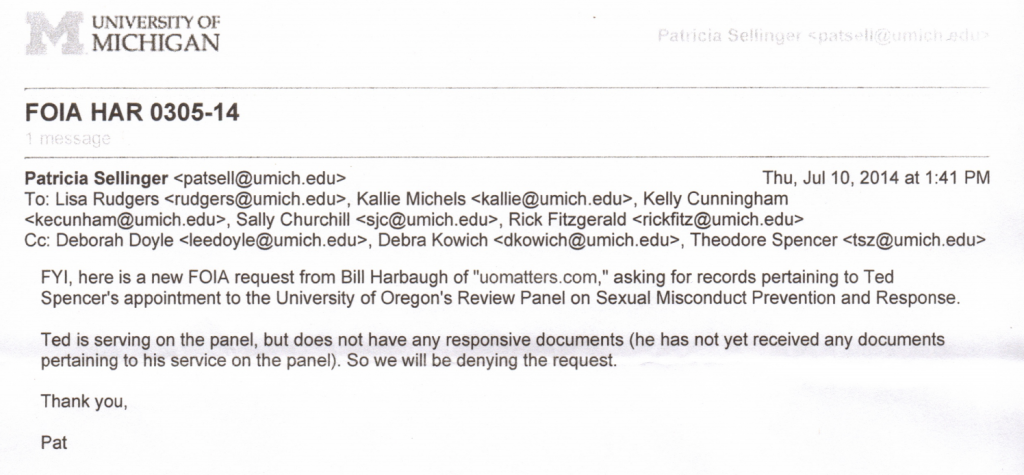 As it happens, former President Gottfredson had also appointed Ohio State employee Javaune Adams-Gaston to this panel, and I had made a similar FOIA request to Ohio State. They provided these documents, which showed that, actually, Mr. Spencer had received emails from UO at his [email protected] email address on June 19th, June 23rd and June 26th, and that these emails contained information were clearly about the panel. Here's one example of these documents, which includes information on contacting Greg Rikhoff about the "financial elements of this work" (On this note I should point out that UO has finally revealed that Gottfredson was offering $10,000 "honoraria" for agreeing to serve on his review panel.):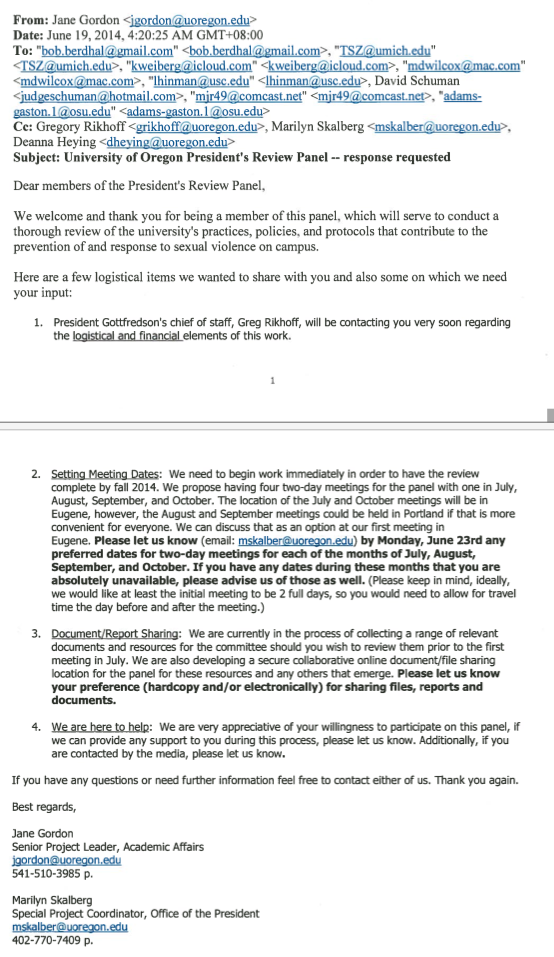 I pointed this obvious discrepancy out to the University of Michigan General Counsel Tim Lynch, and today Ms Sellinger responded with a full set of Mr Spencer's UO related emails, here, and this note: