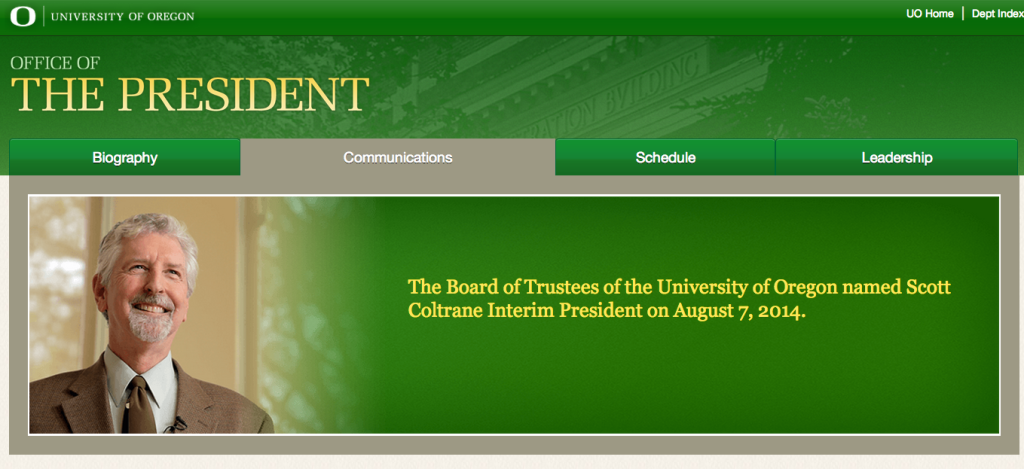 From: "President's Office" <[email protected]>
Subject: Message from Scott Coltrane
Date: August 8, 2014 at 2:16:42 PM PDT
Reply-To: [email protected]
Colleagues,
The fact that I am greeting you as interim president is as surprising to me as it may be to you.
When I stepped into the provost role a year ago, I was looking forward to spending the next several years focusing on the university's needs as chief academic officer. However, even though higher education is slow to embrace it sometimes, things change. The university's needs have changed and we again find ourselves in the midst of a transition.
However, this transition is not exclusively related to who occupies the office of the president. It is driven by this institution's need to define what it will be in the future. And in that way, many things remain the same as they were a week ago. Our goals for this academic year have not changed.
In the coming year, we will make great strides in our important work on strategic and academic planning, fundraising and the search for a permanent president, in partnership with the new board of trustees. My goal in this interim period is to lead the campus through these critical efforts, while adhering to our enduring commitments: access to educational opportunities and excellence in research and teaching.
We will do this by being a collaborative university, where the important perspectives of our many passionate faculty, staff, students, trustees, alumni and donors are a part of the conversation. Our need to come together as a university has never been greater as we work to find greater stability and define the University of Oregon for the future.
During this time of transition, I will offer what stability I can by continuing to approach the needs of this university as I have in the past, by listening and having the greatest respect for the work you do every day.
As I take on this interim role, I will need to rely on a strong senior vice president and provost. It is my sincere pleasure to announce that Frances Bronet has agreed to serve in this role on an interim basis.
In my years as dean of the College of Arts and Sciences and during my time as provost, I have developed a tremendous respect for Frances. More importantly, however, Frances has earned the respect of the campus community, and I believe she will be a breath of fresh air in Johnson Hall.
We have much work to do in the coming months and I believe we are well-positioned for success, if we all pull together.
Thank you in advance for your support and hard work.
Sincerely,
Scott Coltrane
Interim President