8/9/2014 update: Christian Wihtol reports in the RG that UO was not obligated to pay Gottfredson $940K.
8/8/2014 2:30 pm update: Still a beautiful day out there.
Gottfredson's separation agreement, here. $940K, half in cash within 5 days. Dr. Gottfredson agrees not to sue The University or its employees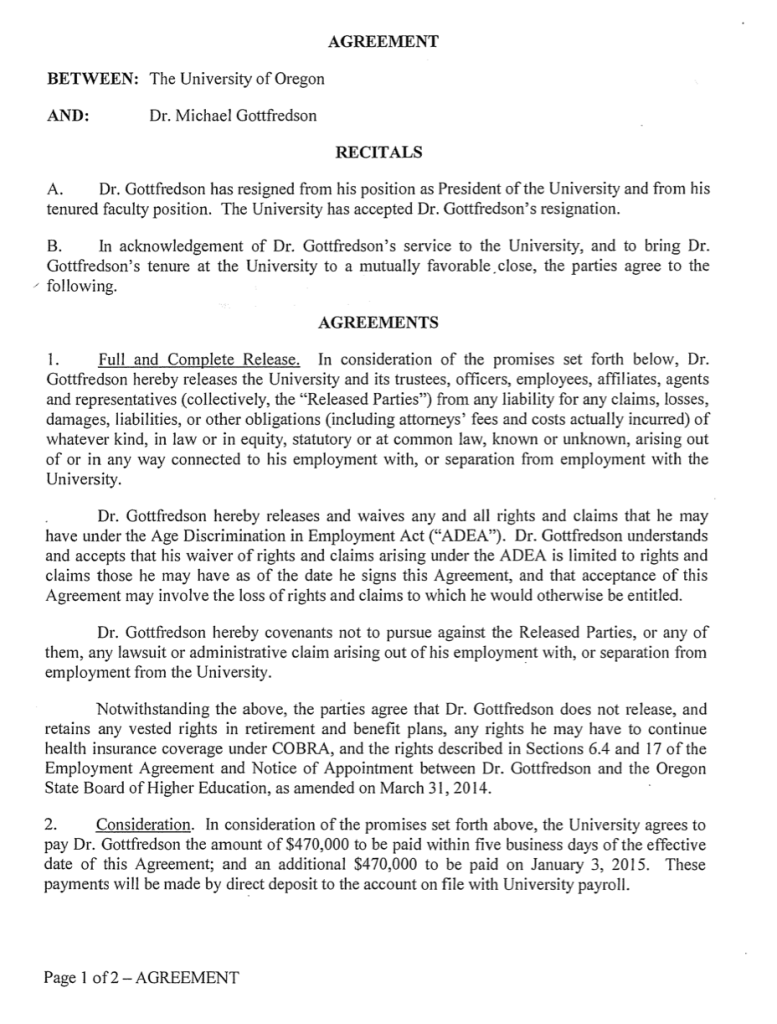 8/8/2014 update, on a beautiful Eugene summer morning:
Eric Kelderman of The Chronicle has a long (gated if off campus) report, here, and apparently written before the Board released the news that they'd paid Gottfredson $940K to leave early. It's followed by a helpful timeline. Some excerpts:
There has long been a sense among faculty members that athletics has overshadowed the academic mission of the University of Oregon—an idea fueled by the millions of dollars spent on sports facilities by Philip H. Knight, an alumnus who is a founder of Nike. The money has helped make the athletics department financially independent of the university, according to athletics officials. But that independence has also raised questions about whether there is any accountability for how the department is run.
That has played out in recent years as the success of the university's athletics teams, financially and in competition, has been frequently marred by scandals involving players, coaches, and administrators, producing plenty of presidential agita.
… But at the root of much of this is still the fear, expressed in a 2007 newspaper opinion article signed by 92 faculty members, that the university was gambling with its academic future to become "a minor-league training ground for elite athletes."
That article dates to the tenure of David B. Frohnmayer, who led the university from 1994 to 2009. Mr. Frohnmayer was a popular former state attorney general and gubernatorial candidate. But his leadership spurred harsh criticism from some faculty members who blamed him for what they saw as a decline in the university's academic quality.
Mr. Lariviere, on the other hand, was largely praised by professors and seen as someone who was looking out for the interests of the instructional staff. …
One of [Gottfredson's] most outspoken critics, William Harbaugh, a professor of economics who runs an influential blog about university matters, has maintained a steady drumbeat of criticism against Mr. Gottfredson.
"There were the botched administrative hires, the pointlessly contentious relations with the faculty over academic freedom, and the union contract and the secrecy about the basketball rape allegations," Mr. Harbaugh said in an email on Thursday.
Robert Kyr, the president of the University Senate and a professor of music, said Mr. Gottfredson had "served during one of the most difficult times in the history of our university."
Mr. Kyr also praised Mr. Gottfredson for working with the legislature and the university system to create an independent Board of Trustees—"the most significant part of the vision that was articulated by his predecessor, Richard Lariviere."
This year the university did gain the independence Mr. Lariviere had pushed for when a state law, supported by Mr. Gottfredson, created a new Board of Trustees to govern the institution.
But it was, apparently, that same body that has now pushed Mr. Gottfredson to resign, said Mr. Harbaugh. "Our new board is doing the right thing," he said, "by getting rid of a failed president as quickly as possible."
Mr. Kyr, for his part, is focusing on the future, with the board's announcement that Scott Coltrane, the university's provost, will take over as interim president. "His appointment is a sign of the stability and strength of the institution, and a vote of confidence from the board in our longstanding tradition of shared governance," Mr. Kyr wrote in an email.
KEZI has some video from the board meeting here.
8/7/2014 10:00 pm update: Reports from "credentialed reporters" roll in:
Troy Brynelson and Alex Cremer in the Emerald (Dominic Allen photo):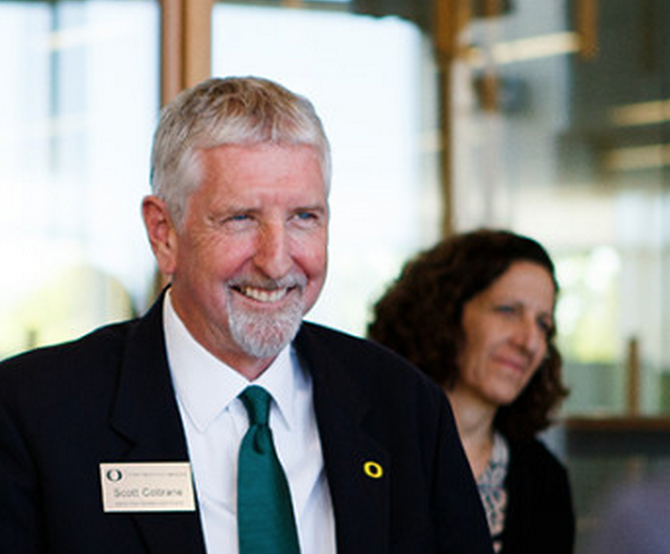 [Unclear what noted tobacco company lawyer Sharon Rudnick is so smiley about, but it sure makes me worry about Coltrane's future.]
Former University of Oregon President Michael Gottfredson is leaving the university entirely — giving up a tenured faculty position — in exchange for $940,000, according to an agreement finalized on Thursday.
Hanna Hoffman in the Statesman-Journal:
Neither Gottfredson nor board chairman Chuck Lillis cited a specific reason for his departure. However, his tenure was peppered with struggles and problems. The most public of them has been the sexual assault allegations. The men accused were dismissed from the basketball team and eventually expelled from the school, but not before the university faced public scrutiny over whether it appropriately investigated the incident.
It then released 119 pages of emails and other correspondence between Gottfredson and athletics director Rob Mullens at the request of newspapers around the state. All but six pages were fully redacted, and the Eugene Register-Guard filed a lawsuit against the university in late June over the records.
Gottfredson had an equally poor relationship with faculty and students, said economics professor Bill Harbaugh. … Fundraising fell in the second year of his presidency, and he struggled to connect with his campus. "He was just tortured by the most basic part of his job where he had to communicate with people," Harbaugh said. "The main job of a university president these days is to raise money…this guy was the world's worst schmoozer."
Betsy Hammond in the Oregonian (The outraged comments are well worth reading):
EUGENE — Former University of Oregon President Michael Gottfredson will receive $940,000 in severance. The UO's Board of Trustees voted 12-0 Thursday to approve the terms of Gottfredson's departure a day after he abruptly resigned.
8/7/2014 4:20PM live-blog from the UO Board meeting:
Short version: The board will pay Gottfredson $940K to resign the presidency and give up his academic tenure in sociology. Scott Coltrane will be the Interim President. The search for a permanent is president expected to take a year. Lillis expects the board to take charge of fundraising. No word on who will be interim provost.

Sharon Rudnick walks in, of all people. Presumably we paid her $300 an hour, to negotiate the $940K buyout.
Official Agenda: Accept Gottfredson's sudden resignation, appoint interim. Nothing about search, no public comment.
Coltrane takes his seat, presumably he's our guy. Room starts filling up. Lillis wonders if we're going to need a bigger room. Doug Park, Coltrane, Ginevra Ralph, Chuck Lillis, Susan Gary. No UO student at the table, because there is no student trustee at the moment. 10 or so students in the audience. Calling the roll: Here, Here, President Gottfredson, excused.
Lillis: He is resigning as president, and as a faculty member. Board will vote on a separation agreement, with terms, then vote on interim. Separation agreement will be distributed to public at end of meeting.
Angela Wilhelms, Secretary of the University, reads motion. No discussion of separation agreement? Roll call vote starts. Unanimous yes. (Ann Curry is not on the call.)
Lillis: Now we vote on an interim. Wilhelms reads motion, which is to appoint Provost Scott Coltrane. Lillis thanks Coltrane for being willing to serve. Notes he is respected by the faculty, will provide continuity. [Ed: I agree on both points.] Board votes, give unanimous support with 2 not present in person or on phone.
Lillis notes Gottfredson's accomplishments, at a difficult time. Says he believes Gottfredson's secrecy over the rape allegations was appropriate, though he knows others disagree. Says Board has enormous faith in Coltrane.
Moves to adjourn formal meeting, board will take questions from "credentialed media". The infamous Tobin Klinger manages the process.
Q: When did the board learn of the resignation? Lillis: Monday.
Q: Was he asked to to leave? Lillis: He was very gracious about it.
Q: But you're paying him $500K [Ed: Actuallly, $940K, 1/2 in 5 days]?! Lillis: It was a fair amount. And he resigned from his tenure job too – at which he would have been paid well.
Q: Will the turnover harm UO? Lillis: It's not ideal, but we have spectacularly unbounded opportunities. We need to deliver – looking at Coltrane.
Q: Search? Lillis: We want to hire someone who might not be looking. We expect it to take a year.
Q: Any discussion with Alumni Association? Lillis: Not that I know of.
Q: What kind of qualities in new Pres? Lillis: Great academic credentials will be #1. Experience with how universities operate, has been in trenches. Someone who is not easily misled, with communications skills, can handle external constituencies.
Q: By my math you spent $940K on the buyout. How do you justify it? Lillis: No state or tuition funds [Ed: Lillis is being evasive, this is foundation money we could have spend on scholarships, etc.] It's fair, in the sense that it was mutually agree on.
Q: Why did he resign? Lillis: I won't speculate. It's a tough job.
Q: Did you encourage him to stay? Lillis: Evades.
Q: So it wasn't about how he handled the rape allegations? Lillis: No, the laws were very complicated, not clear how it should have been handled.
Q: What does Coltrane bring to the table? How will it be different? Lillis: We are telling him his job is to focus on internal management, be a "super provost". Board will work with development to fundraise.
Q: What are you going to do? …
Q: So what you will be paid? Coltrane: Same as Gottfredson.
Q: Problems with athletics? Coltrane: We have a very well run athletics department, and President's and Senate committees checking up on them.
Update, 2PM: Word is that Gottfredson never gave up his tenure at UC-Irvine, and will return there forthwith. His placeholder website is here.
Update: Bob Berdahl's disastrous choice for U of Hawaii president later demanded $2M to resign. Will our new board make the mistake of going to Berdahl for advice on Gottfredson's replacement?
What will we pay Gottfredson? $1.1M to buy him out of the remaining 2 years? Or $0, which is what his contract specifies even if he'd give 30 days notice of his resignation, instead of just 36 hours?

On the other hand we've apparently given him a back-up job as the world's most overpaid Sociology Professor, at $360K a year, with tenure:

Update: Diane Dietz has the story in the RG (with assistance from Ian Campbell):
… Gottfredson faced a lot of criticism over the handling of a sexual assault allegation involving three UO basketball players that surfaced in May.
At about the same time, Gottfredson talked with the University Senate about the university's handling of the assault, a biology professor, Nathan Tublitz, proposed a vote of "no confidence" for the president, citing a series of alleged leadership failures that caused great concern among university faculty, staff and employees.
Some students also complained about a perceived lack of leadership.
"A lot of students were really upset about the basketball scandal and that there wasn't a lot of openness," said [UO student] Friedman.
"I know some people are pretty shocked about (Gottfredson's resignation), at least the people who keep up with politics on campus….Frankly, I don't know what a president does on a day-to-day basis, and I don't know why he resigned, but I assume most people will speculate it's about the basketball stuff."
Harbaugh, one of the administration's harshest critics, provided a laundry list.
"There were the botched administrative hires," he wrote, "the pointlessly contentious relations with the faculty over academic freedom and the union contract, and the secrecy about the basketball rape allegations.
"But I'm guessing the final straw for the Board of Trustees was that the donors didn't seem to think much of his leadership, either. Instead of the expected UO independence surge, donations actually fell, from $200 million last year to $100 million."
The process used to hire Gottfredson sparked controversy because it was a closed process, meaning the job candidates identified by a Philadelphia headhunter were kept secret until they were winnowed to one. Only the name of the winning candidate was revealed. UO faculty have advocated for an open hiring process at past changes in administration.
Allyn Ford, a timber executive who is now on the UO Board of Trustees, led a 22-member committee that spent six months identifying and interviewing candidates until it recommended Gottfredson.
"That didn't work out well," Harbaugh wrote. "The faculty will give the new board a huge amount of credit for executing Gottfredson's speedy departure, but we'll expect to be thoroughly in the loop in finding his replacement."
Also see Troy Brynelson in the ODE (awesome photo by Taylor Wilder), and Betsy Hammond in the Oregonian.
Update: The Board of Trustees will hold an apparently public meeting at 4:30 Thursday, announcement here:
The Board of Trustees of the University of Oregon will hold a meeting on the date and at the
location set forth below. The subject of the meeting will be a discussion of administrative
leadership and personnel.
The meeting will occur as follows:
THURSDAY, AUGUST 7, 2014 AT 4:30 pm
FORD ALUMNI CENTER, ROOM 403
8/6/2014: Effective tomorrow:
From: President Gottfredson
Subject: Transition
Dear Campus Community,
Today it is with mixed emotions that I announce my decision to depart the UO as President and pursue other opportunities in academia.
I accepted the job as President of this great institution with the clear objective of helping the University manage through a period of uncertainty and get to a place of stability. We have accomplished those objectives and I know that the UO is on the right course.
With a new governance structure for higher education, new clear benchmarks for academic excellence, and an expanding world-class faculty, the UO is on path to enhanced status as a leading public research institution. My scholarly interests beckon and Karol and I are eager to spend more time with our family. With our outstanding campus leadership and new strategic planning underway, it is appropriate for a new president to continue the legacy of this great University.
It has been an honor to serve as President of the University of Oregon. The caliber of faculty and staff, and the wonderful students and community represent the endless opportunities ahead for the University and the state. Many thanks to our outstanding students, terrific academic leadership, supportive and engaged community, dedicated staff, supportive legislature and amazing faculty colleagues.
Thank you for the privilege to serve at the University of Oregon. I know that the next president will find the same welcome that I did and I look forward to ever more greatness at the UO.
Go Ducks!
Sincerely,
Michael R. Gottfredson
President, University of Oregon
From UO Board Chair Lillis:
UO Board of Trustees Chair, Chuck Lillis, issued the following message today in response to President Gottfredson's decision to step down as President of the University of Oregon:
President Gottfredson entered into the role as President of the University of Oregon at a critical time in our university's history and led the institution from a state of uncertainty to a path of stability.
When President Gottfredson accepted the position two years ago, he inherited a pending NCAA investigation, which was cleared, a statewide debate about the future of higher education governance, and a new faculty union without a labor contract.
The challenges before him and the University were no small feat — but he successfully concluded the NCAA issue, worked and repaired relationships with the other University presidents, Governor and State Legislature to establish a new system of higher education governance for Oregon, including institutional boards, and negotiated a fair labor contract with the faculty union.
Despite the competing challenges, President Gottfredson never lost sight of the mission of the University of Oregon and continued to push to move the UO toward even greater academic excellence.
He identified national talent to serve as the Provost and other key leadership positions. He did a top-to-bottom review of UO operations, including how we budget and manage fiscal responsibilities. He established a Presidential Panel to review policies on sexual misconduct and adopt best practices. And he led a comprehensive space-needs assessment to make sure the UO is planning for and positioned to accommodate the growing demands to serve more students into the future.
President Gottfredson also took a critical look at where we are today — and where we need to be — establishing new ambitious but attainable benchmarks to make the UO a leading public research university that can compete on a world stage.
On behalf of the Board of Trustees, we are grateful for the leadership of Michael Gottfredson to put the University of Oregon on a path of excellence in every area that we compete. We wish him the best in his next endeavors. The Board looks forward to seeking new leadership at this time to continue the work he started and continue to build on the legacy of the University of Oregon.
Chuck Lillis
Chair, Board of Trustees of the University of Oregon
And the last word, from the comments in the RG:
Gottfredson is off "down the road"
All his idea, so the public is told.
That 940K?…why t'was just a gift.
nothing to do with any rift.
See, we've got two funds, one code name "slush"
One even bigger, code name "hush".
and we can spend the dough as we see fit,
not a damn thing you can do 'bout it.
We're the 'new sheriff in town', so give us space,
as we choose, to run this place.
and if our actions, you don't like
go join Michael on his well-paid hike.