9/18/2014 update: Excluding duplicates, UO has received roughly 40 public records requests in the 90 days since June 18. Log here. That's roughly two requests every three working days. They've got two staff, plus help from the GC's office on redactions. Some requests are complicated, but many are simply asking for bids, contracts, or accounting statements, which require almost no PRO time. (And many requests are never filled, after reporters see the high fees Dave Hubin wants to charge them).
The Oregon AG's Public Records and Meeting Manual gives one week as a reasonable time for public agencies to respond – but according to this letter UO's PRO is now 6 weeks behind. They've got plenty of time to spend on writing long excuses, however.
9/14/2014: Dave Hubin's public records office charges KATU TV $779 for retaliation docs
To his credit Scott Coltrane has already spent more time talking to the press than Mike Gottfredson did in two years. Unfortunately he's had to use most of that air time to deal with Gottfredson's reeking aftermath. And as the latest story makes clear, that's unlikely to change until El Jefe tells Dave Hubin it's time to return to Richard Lariviere's transparency policies.
The current UO administration is willing to spend piles of tuition money on PR flacks to write stories that make them look good, and to help reporters get information that puffs up administrator's resumes. Tim Clevenger gets $195K, Tobin Klinger gets $115K, and Ann Wiens gets $110K for writing stories like this. I can't wait to read her Coltrane hagiography. (For contrast, look at the excellent story Brent Walth wrote for the Oregon Quarterly about Lariviere's New Partnership Plan. If you can find it – the OQ seems to have deleted the editions from before Ms Wiens was hired from their archives.) Dave Hubin gets $140K to help hide public records – page down for details.
And here's the petty trust destroying punishment these expensive administrators inflict on journalists who dare to criticize Johnson Hall: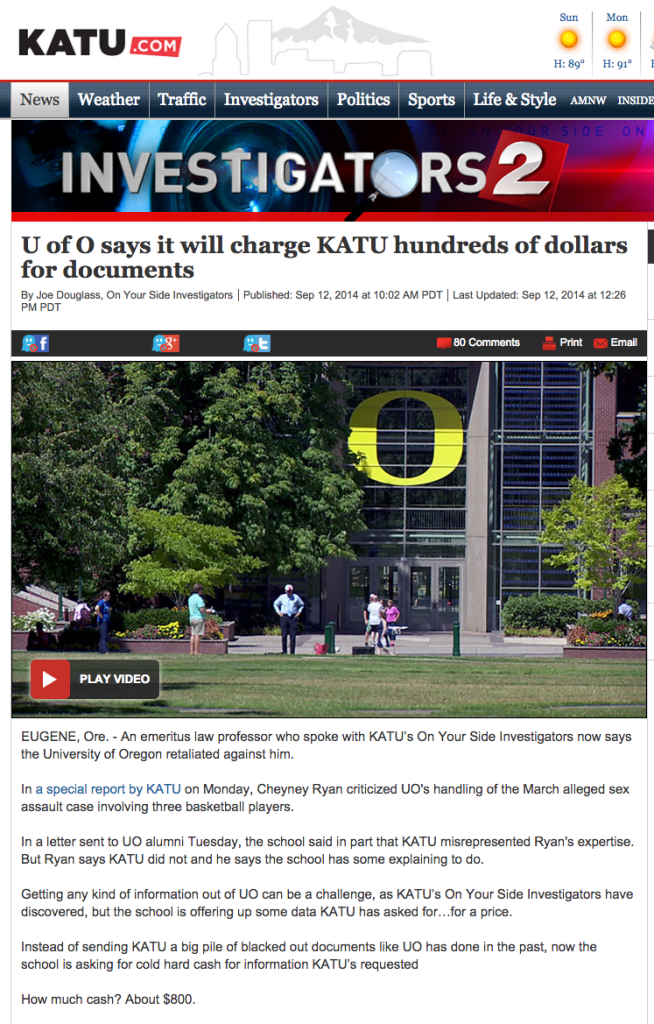 Original KATU story here, UO response here, KATU evisceration of the UO response here.
How does UO decide to deny a fee waiver request? UO Public Records Officer Lisa Thornton explains, here. (Paraphrased with a little editorializing on my part, not direct quotes, but I think a pretty accurate reflection of the March 2013 meeting, and so far as I remember never disputed by her supervisor and Assistant to the President Dave Hubin):
Fee waivers:
Dave Hubin: I believe we are operating within the law, which says "may waive". But the optics are not good.
Lisa Thornton: We apply the three-part test on page 20 which gives us broad discretion to delay and frustrate, and we drive a truck through that.
Tim Gleason: Explain.
Thornton: I apply my judgement to ask if the citizen's of Eugene would benefit from reading about this. (My god).
Q: Do you explain your denials? Thornton: No.
Craig Pintens: Can't you have drop down boxes or something?
Thornton: We google the requester to see what they are up to. (My god).
Even Gleason sees this is trouble: "It's problematic to give you this discretion."
John Bonine: Oregon law was based on federal law, which contrasts public benefit with private benefit. Commercial is out. If it's not just for yourself, it's public benefit.
Gleason: Back on his thing about the burden on the institution.
Bonine: First test for public interest, then ask if the extent of those benefits exceeds the cost.
Thornton: So I'm going to have to do benefit-cost analysis? Can I hire an economist?
Bonine: Not only that, I want you to put your decision and reasons on the web. Provides guidance to requestors, reduces your unbounded authority.
Thornton: We do have discussions and back and forth with requesters about public interest.
Harbaugh: No, you don't.
Thornton: Let me backtrack on my previous statement. Randy Geller has advised me not to explain fee waiver denials.
Bonine: WTF? Hubin should go back to Geller and change this.
Bonine: There should not be secret law. It is not appropriate for an agency to hide the reasons for a denial. If explanations harm the university, that's because the university is not behaving well.
Hubin: Is there a consensus that we should give better explanations, and post them? I would have to take that to Geller, and Gottfredson.
Bonine: Not appropriate for Geller to hide his opinions – so if we ask this, we want to get his opinion in writing.
Hubin: We will write some language for transparency about our denials of fee-waivers for transparency requests.