Update: Troy Brynelson and Alex Cremer make it criminally plain, in the ODE:
The University of Oregon purposely delayed the expulsion of three basketball players in order to preserve its academic standing with the NCAA and financial incentives for members of the athletic department, according to an exhaustive investigative piece from KATU News.
Update: A long, substantive report tonight by reporters Dusty Lane and Joe Douglass, with many explosive allegations, including a well documented claim that UO delayed reporting the rape allegations to UO students in order to game the NCAA's APR rules, and prevent penalties against Altman's basketball program. Sick stuff.
So far, Interim President Coltrane is sticking with Gottfredson's decisions to
not release the documents showing how UO responded,
shut down the Senate's watchdog Intercollegiate Athletics Committee
appoint the remarkably complacent Tim Gleason as the replacement for FAR Jim O'Fallon – the man responsible for keeping track of UO's NCAA "Academic Progress Rating".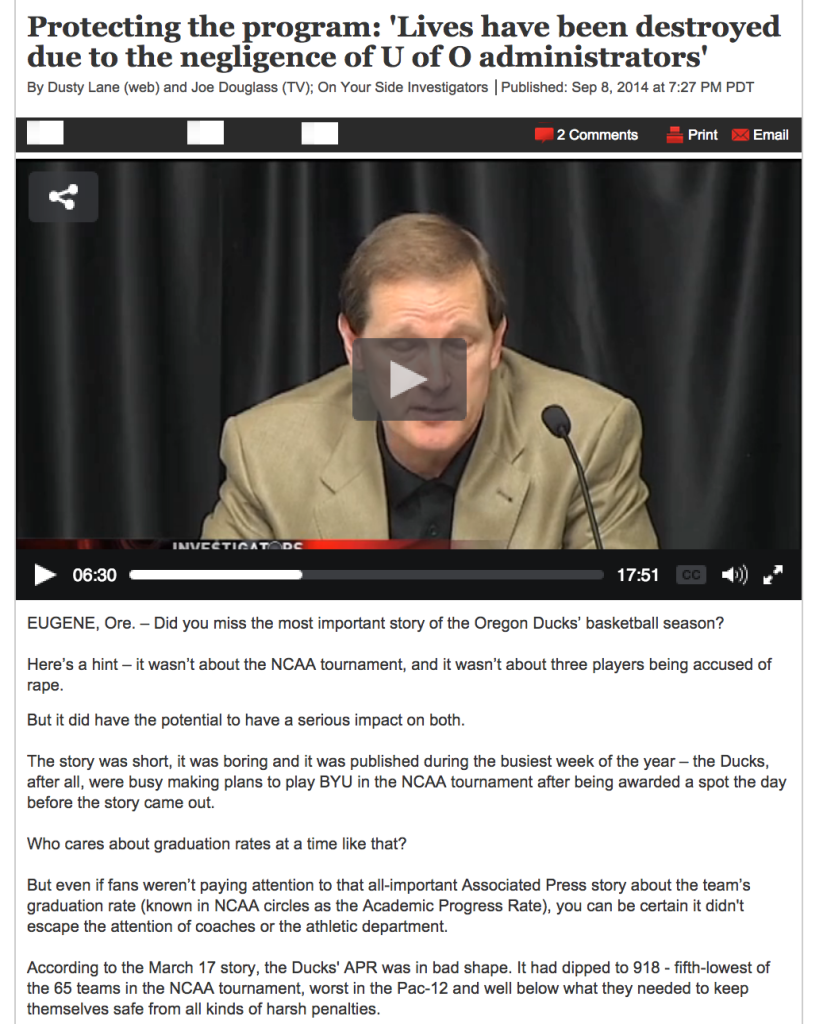 9/8/2014: KATU reports on UO's legal liability for alleged rapes – more tonight

Here's last night's story, including interviews with Cheyney Ryan (Law) and Interim President Coltrane. The report closes with the note that KATU will have more hitherto undisclosed info tonight about UO's pattern of failing to appropriately respond to sexual assault reports.
Any bets on how Coltrane will split the cost of dealing with all this between the academic and athletic sides of the budget? Presumably the academic budget has been stuck with bill for the $10K honoraria and expenses of Gottfredson's review panel, but that's likely to be the least part of it.