9/30/2014: Now with a report from KATU News. UO's well-paid PR flacks Craig Pintens and Tobin Klinger were apparently not willing to talk about this one on camera: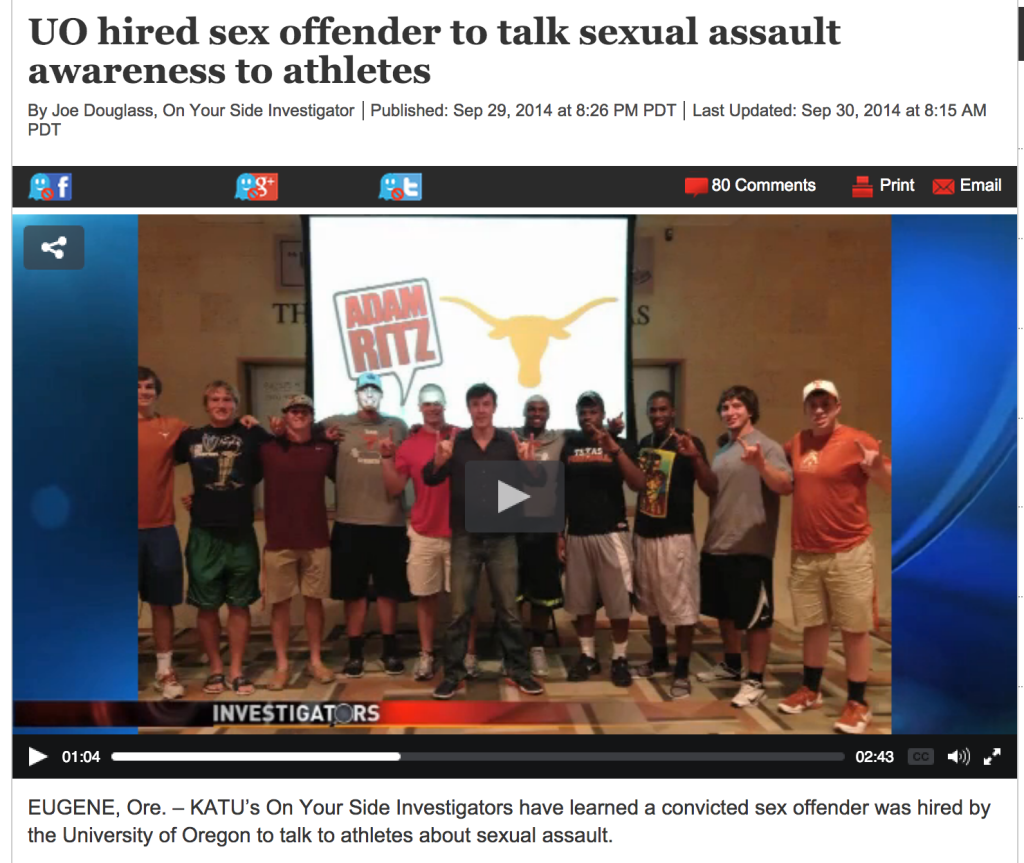 928/2014: It is, of course, common for repentant criminals to give "scared straight" talks about how their bad choices ruined their lives. But is a $4K payment for a keynote talk on sexual assault prevention really an appropriate consequence for trying to rape your daughters' babysitter, in your house, while your kids are asleep? (Apparently he pled it down to sexual battery). And is Adam Ritz really the best poster-child for the athletic department to trot out? The AD's accounting of their Sexual Violence Prevention programs is here. It's pretty thin, as Coach Altman has admitted. Here's one example – motivational speaker Adam Ritz:
"Keynote speaker for Football. Contractor to provide Alcohol Awareness/Sexual Assualt (sic) Decision Making. May 8, 2013"
Mr Ritz's mug-shot: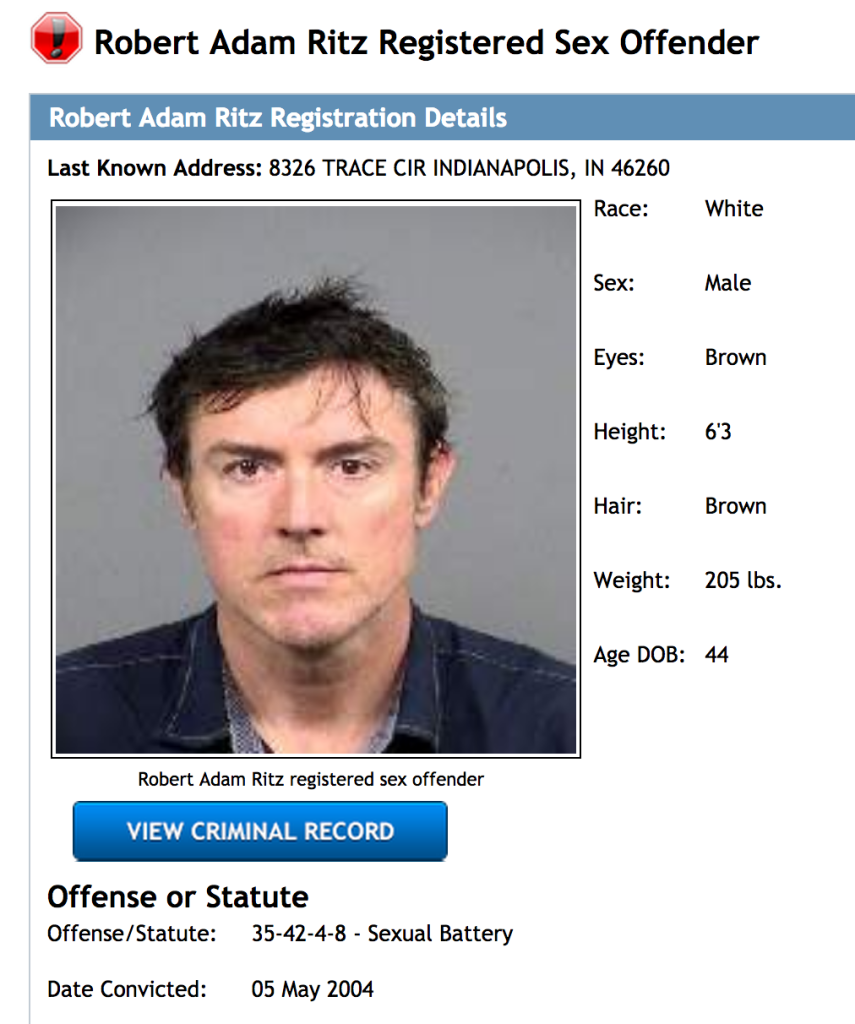 Adam Ritz's contract with the Ducks (the pdf includes contracts for other "sexual assault prevention speakers" Elaine Pasqua, Tony Dungy and Lee Gordon):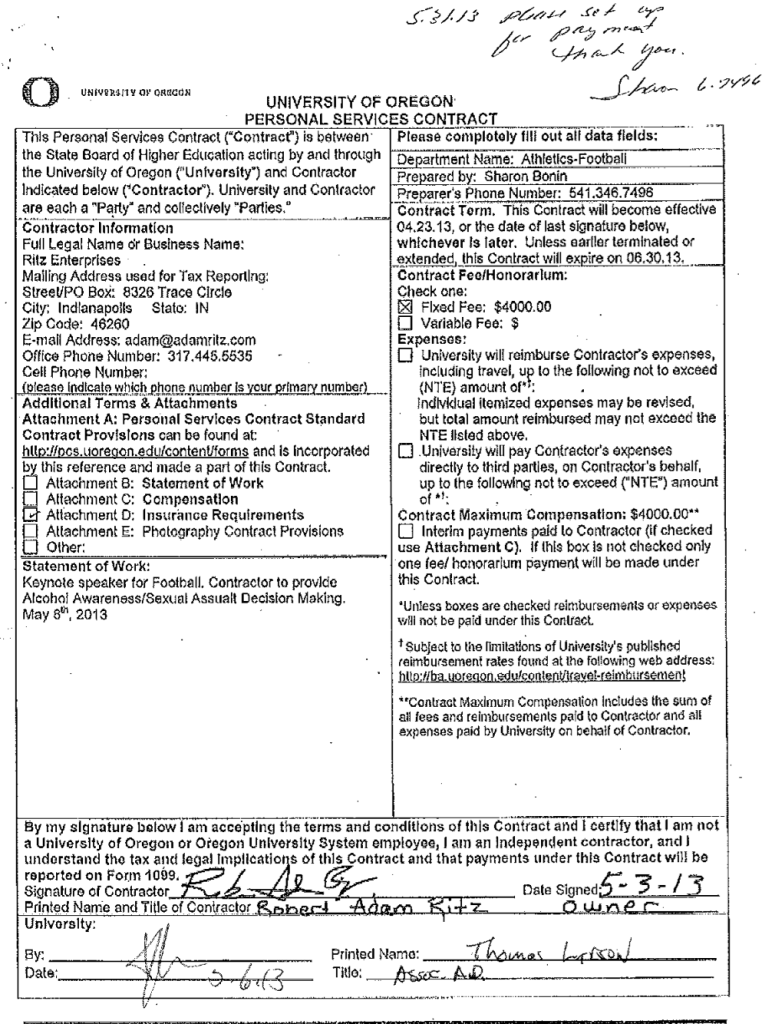 More links on Mr. Ritz, who appears to be making quite a good living from this:
http://www.homefacts.com/offender-detail/IN649373/Robert-Adam-Ritz.html
http://adamritz.com/Adam_Ritz/Media.html
http://www.wthr.com/story/1843004/disc-jockey-gets-prison-time
http://www.mndaily.com/2011/10/13/letter-greeks-apologizes-brash-speaker
http://www.usishield.com/apb-hires-lifetime-sex-offender/
http://timesupblog.blogspot.com/2011/05/listening-to-perps.html
http://archive.today/b5xmW
https://angelzfury.wordpress.com/2011/06/21/listening-to-the-perps-not-the-domestic-violence-victims-societies-accepted-norm/
From one article:
A good, or perhaps I should say bad example of this common mistake occurred at Minnesota State University, Mankato last month. The school paid Adam Ritz $2500 to speak to the students about the dangers of drinking. The event was sponsored by the Residence Hall Association, a fraternity and Men Against Violence. The Women's Center expressed its opposition to the presentation but was ignored by these organizations including Men Against Violence which claims to be an ally of the Women's Center.
Adam Ritz is a former local media personality. He is also a convicted sex offender. He reveals this as part of his presentation, but only towards the end. Mr. Ritz came home and attempted to rape the young woman who was baby-sitting his children. He was convicted, but served only six months and is on the sex offender list for his crime. His presentation sparked a controversy on campus that has spread throughout the country. A Facebook page was created to protest the decision to invite him to the school. Rather than treating the student body with a modicum of respect and addressing these concerns Mr. Ritz and the organizers of the program made many mistakes and I would like to look at them in hopes they can be avoided in the future.
Accordingly when the Women's Center objected to the program with Adam Ritz, the male organizations should have recognized the Women's Center as the experts on campus and stopped the program. Even better they should have consulted with the Women's Center before scheduling Adam Ritz. It is unsurprising that they didn't because they were exercising their privilege. Maya Angelou, the poet, says when people show you who they really are, believe them.
The many egregious, inappropriate and downright hurtful statements made by Adam Ritz illustrates why it is a bad idea to have perpetrators of sexist or other crimes based upon oppression speak to these issues.
A very bad idea. But worse than Tom Hart's Russian motorcycle prostitutes powerpoint? Hard to say.