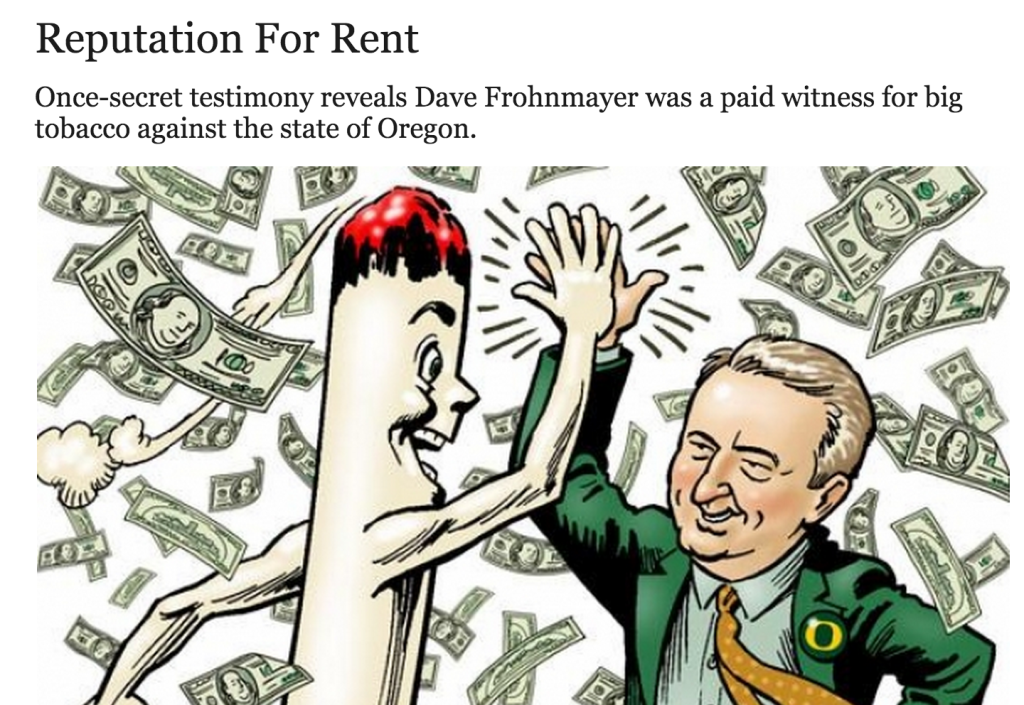 11/27/2014 update: It's been a while since Frohnmayer has threatened to sue me "for punitive damages" (in the end he got scolded by the auditors, and had to repay some salary) so I thought I'd post this latest.
I don't know how much the cash strapped UO Law School is paying Dave Frohnmayer and his "special assistant" Barbara West this time. From what I can tell Frohnmayer's main goal is to be able to continue to tell potential HLGR clients and judges that "He also teaches public law courses at the School of Law where he is a professor." Technically, I guess one undersubscribed 5 day long, 1 credit P/F class makes him a law professor – although I think his tenure reduction contract with Dean Michael Moffitt was supposed to expire a while ago:

Frohnmayer and West are also scheduled to teach their "Theories of Leadership" class for the Political Science department again this winter. It's an experimental course that they have managed to co-teach for many years while avoiding the required Senate Committee on Courses review. No idea how much this one is costing UO either, at the moment it's got 14 students: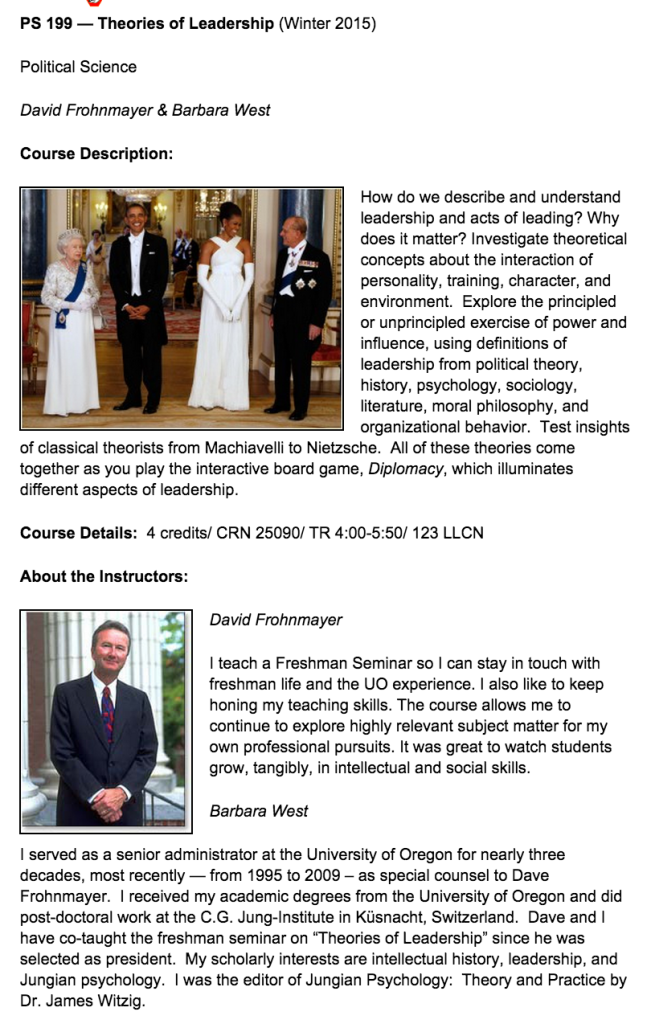 2/18/2014: Frohnmayer takes principled stand: For big tobacco clients, against legal aid for poor:
Our former president famously negotiated his golden parachute retirement plan at the same time he was trying to convince faculty to take unpaid furloughs. Then he used his UO paid sabbatical to restart his legal career at Harrang, Long, Gary, and Rudnick, LLC. Then Randy Geller hired HLGR do UO's legal work – rumor is they've billed about $1M in the past 18 months. Meanwhile, Pulitzer winner Nigel Jaquiss of Willamette Week had a great story last year on Dave's secret work for big tobacco: "Reputation for Rent".
And now Saul Hubbard of the RG has a report on Dave's latest: He's written an angry letter of protest to Oregon legislators over a bill that would take unclaimed money from class action settlements and use it to fund legal aid for the poor:
Former Oregon Attorney General Dave Frohnmayer and William Gary, both of the Eugene-based Harrang Long Gary Rudnick law firm, wrote a stinging critique of the bill in a letter that was circulated to lawmakers on Friday.
Frohnmayer is a former president of the University of Oregon. The law firm represents Philip Morris USA in a class action lawsuit brought on behalf of purchasers of Marlboro Light cigarettes that is now pending in the Oregon Court of Appeals.
I'm guessing not many dead smokers cash those settlement checks, so there must be a lot of money at stake. Here's hoping Dave's cut is worth it.
If I was the RG I'd be expecting a defamation lawsuit threat from Frohnmayer any minute now, just as he's made to at least 2 newspapers that have published uncomplimentary things about him: one a student publication, another a national higher education publisher. Update: looks like he'll have to go after Jeff Manning in the Oregonian too:
Nowhere in their letter do Frohnmayer and Gary disclose their representation of Phillip Morris or the pending class-action suit against the company. When asked about the omission, Gary said: "I don't know the form in which the materials we prepared were shared with the legislature, so I don 't know specifically what was said about our representation. We are working with a coalition of business interests who oppose the bill. We have made no secret about our representation of defendants in class actions that would be affected by the legislation." Read asked the Legislative Counsel Office to review Frohnmayer's and Gary's claims. In a Feb. 17 letter, Legislative Counsel attorney Dexter Johnson dismissed their arguments as unfounded.