Updated pretty often. Days 1-4 here. Also read the UAUO Facebook page, here.
12/7/2014:
– Senate's Academic Integrity Task Force takes swift action to revoke Blandy/Altman/Baskin strike grading diktats, here.
– UO redacts HLGR invoices for GTFF work: When you make a public records request to the Oregon Attorney General for copies of invoices it has paid HLGR for legal work, you get complete unredacted documents as on the left. When you ask the University of Oregon President Scott Coltrane's office, you get heavily redacted invoices as on the right. Oregon's public records law allows both agencies to redact "legal advice", if they want, but only UO redacts everything – down to the attorney timekeeper initials that would show how many billable hours Dave Frohnmayer, Randy Geller, and Sharon Rudnick are getting from dragging out the GTFF negotiations:
The complete, almost completely redacted invoices that Dave Hubin charged me $95 for, and then delayed releasing for a month until I petitioned the Lane County DA, are here.
– CAS Associate Dean Judith Baskin has unilaterally decided to ignore syllabi for courses with GTF instructors or assistants, and give students the option of taking their grade as of Dec 1. This will ensure that any Duck football players enrolled in these classes are eligible for the upcoming NCAA football championship game(s):
Dear Students,
I am responsible for ensuring that you receive a timely grade for the work you have done in COURSE.
On the Academic Affairs website (affairs.uoregon.edu/academic-continuity[1]) the Provost has advised that students in courses taught or supported by GTFs may be given the option to forgo the final assignment/exam and take their current grade in the course.
Please be advised that should the GTFF strike continue to Dec. 12, I will enter the grade you achieved in COURSE up to December 1 as your approximate grade for Fall term. This grade will be based on the grading information given to me by your Instructor. If you wish you may accept this grade as your final grade. In that case, you need not complete any further work for this course and the grade I entered will not be altered.
If this is your preference please send me an email to that effect ([email protected]) by date XXXX. Be sure to include your name, student number, and the course number and name; you may include your understanding of what the final grade would be. I regret that, given the large number of courses with which I am working, I cannot give you the grade I will be entering at this time but I assure you that it will be based on the information your Instructor supplied for work competed as of Dec. 1.
OR
You have the option to complete the final exam / assignment as described on your course syllabus and/or by your Instructor. You may submit that work either to the Department of ZZZZ (LOCATION) or electronically (if this was your Instructor's preference) by the date and time assigned by your Instructor. At such time as your work is graded, the approximate grade will be replaced by a grade based on all your course work, including the final assignment/exam. If you have any questions, please feel to email me ([email protected]) or contact me via Blackboard.
Judith R. Baskin, Philip H. Knight Professor of Humanities
Associate Dean for Humanities, College of Arts and Sciences
– Matt Dennis (History) has an Op-Ed in the RG contrasting the words from Chuck Lillis and Scott Coltrane about rebuilding UO's academic reputation with the administration's actions during the strike:
Remarking on the new capital campaign, Chuck Lillis, chairman of the new UO Board of Trustees, said, "This is a new day for the University of Oregon. … There is a strong sense of purpose across the campus."
The dawning of this new day is ominous, given that the administration's purpose seems to be to break the GTFF strike and union, regardless of the consequences for academic integrity, shared governance, graduate education, campus climate and the university's national reputation. So far it has defied the University Senate (the governing body of the university) and its legislation on strike-related degradation of academic standards, and it seems set to ignore the work of the senate's emergency Academic Integrity Task Force.
12/6/2014:
– Duck football coach picks up $225K in bonuses Friday. More for assistant coaches. His players, who have yet to unionize, get zilch. Ryan Thorburn in the RG, here.
– The latest UO legal expenses. Some for the GTFF bargaining, some for the UOPD, some for things JH really doesn't want to attach an accounting code to. More here.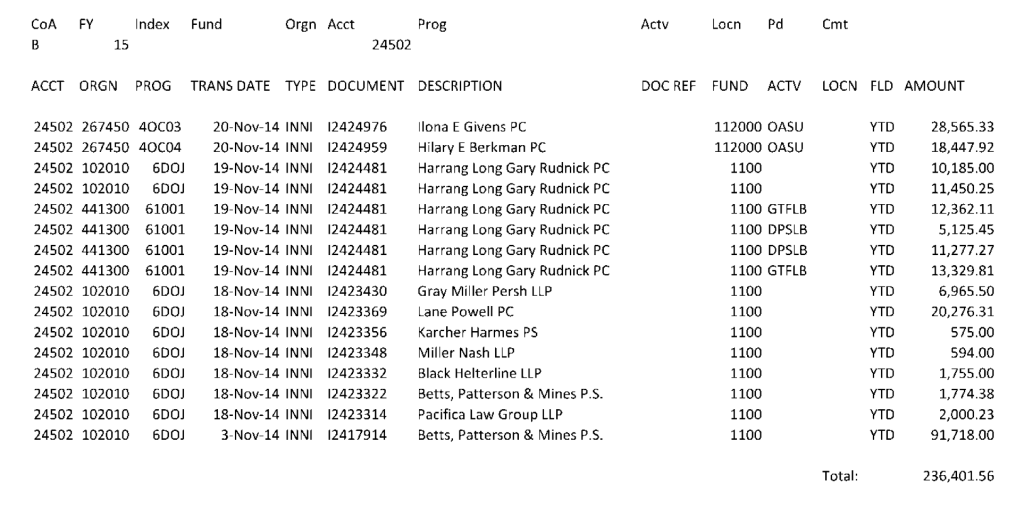 – Scott Coltrane resorts to the "Go Ducks" appeal, as his bargaining team refuses to negotiate again until Tuesday. Diane Dietz has the pathetic story in the RG, here:
"Let's all remember," interim President Scott Coltrane said in a statement Friday, "we're part of this shared university community. I hope to be able to take some time, either at the Matthew Knight Arena watch party or at home, to enjoy tonight's Pac-12 championship game as a reminder of the passion we feel for our University of Oregon."
Meanwhile his administration has seized control of grading from faculty and department heads who won't play along with Coltrane's refusal to put his promises of sick and parental leave into the GTF contract:
"(The administration) politicized the grading system at the University of Oregon in order to limit the tactical leverage of the GTFF. They compromised the core academic integrity of the grading process in order to win in this labor battle," said Michael Dreiling, sociology professor and president of the United Academics. "They're using it, at minimum, as a power play or a point of leverage — to say you can't win this strike. We've got grades covered."
Why can't grades wait until the strike is over and GTF's grade final papers or exams? Because the NCAA says that the Duck football players can't participate in the upcoming championship playoffs unless UO gives them passing grades by Dec 26th, and Phil Knight is starting to get nervous:
NCAA Bylaw 14.1.10.2: To be eligible to compete in a postseason event (e.g., conference tournament, bowl game, National Invitation Tournament, NCAA championship) that occurs between regular terms (including summer) a student-athlete, in his or her final season of competition in the applicable sport, shall have satisfactorily completed six-semester or six-quarter hours of academic credit the preceding regular academic term of full-time enrollment (see Bylaw 14.4.3.1). An institution shall have 14 business days (regardless of the date in which grades are posted or submitted) after the date of the last scheduled examination listed in the institution's official calendar for the term that is ending to certify completion of the six-semester or six-quarter hours of academic credit. (Emphasis added).
– UO PR flack Tobin Klinger was apparently left off the JH PAC-12 evac flight, but he's still getting $115K for garbage answers to questions from reporter Alexandra Wallachly, in the ODE here:
The GTFF strike could result in a quite stinky campus. If an agreement isn't reached between the Graduate Teaching Fellows Federation and the university, University of Oregon's garbage will not be collected.
The Teamsters Local #206 union, which includes Sanipac drivers, issued a 72-hour notice that it will not cross the picket lines.
"The union has notified members and employers of the strike where necessary," said #206 representative Leonard Stoeher. "We stand in full support of our brothers and sisters of the UO teaching fellows." …
"The university understands and respects the decision by the teamsters to honor the GTFF's strike," Tobin Klinger, UO senior director of Public Affairs and Communications said.
This won't be an immediate problem for most of campus, where the trash gets picked up weekly. Even the day care center only gets a weekly cleaning – which is a little scary. But it's going to be tough on our Johnson Hall colleagues, who are used to special service, every night: