12/18/2014: And people at UO flip out over a few picketing grad students?
Last I heard the status of the $15M endowment payment to the UO Foundation was still up in the air. I can't imagine $60 oil is going to increase the chances it will happen.
6/18/2014 update: Trouble in Gabon for Bongo jr. over education, corruption
From the NYT. I didn't see a quote from former UO Ambassador and current Director of the $20M UO-Gabon project, Eric Benjaminson. Too bad, he must have some inside knowledge on this:
Many in Libreville are angry at the luxurious lifestyles of officials, including Bongo and his entourage. At an investment summit last month, traffic jams clogged city streets as presidential vehicles swept along the coastal road. VIPs drank champagne at a red-carpet gala at a seafront hotel, just blocks from the city's sprawling shanties. …
Education is key to delivering on Bongo's pledge to create opportunities for a growing young population, more than one- third of whom are unemployed. Yet at the state-run Omar Bongo University, the campus is littered with rubber bullets and tear gas canisters after police clashed with students protesting the lack of basics, such as text books and Internet access.
Exam results pinned to a classroom wall showed that just 19 out of 176 students studying for an economy degree had passed.
Like much of the political elite, whose offspring are educated in Europe or the United States, Bongo's son was sent to exclusive British boarding school Eton.
"The authorities don't send their children here. They send them away," said 26-year-old student leader Anatole Nnang Mezui. "They want to keep ruling us just like their fathers did. It's a small elite that's going to rule over the masses."
3/12/2014 update: Feds investigating UO donor Ali Bongo over suitcases of cash
According to the Wall Street Journal, US Homeland Security agents intercepted a $150,000 cash payment from noted UO donor and Gabonese President for Life Ali Bongo, headed to his former wife in LA.
There are some interesting quotes from retired Ambassador Eric Benjaminson, now employed by UO, and paid out of the $20M gift to UO from Bongo. A gift which Benjaminson and UO fundraiser John Manotti arranged while Benjaminson was US Ambassador to Gabon, despite US State department conflict of interest rules.
More on the gift, the RG editorials asking for some transparency from UO, and pro-Bongo comments from UO officials below. But here's the WSJ story:
U.S. Probes Fund Flows From Gabon
Investigators Hunt Assets Linked to African Country's President, Family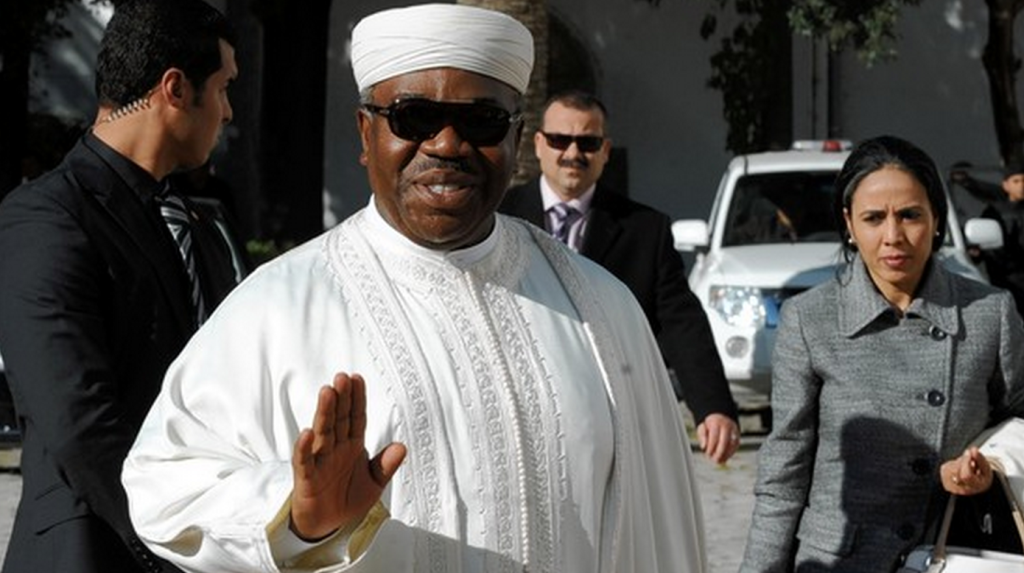 U.S. authorities are investigating the flow of funds from Gabon to the U.S. to determine whether any assets are traceable to public corruption in the central African country, according to a law-enforcement document and people familiar with the matter. …
As part of a broader effort to address possible foreign graft, Homeland Security agents and Justice Department prosecutors have searched for assets in the U.S. linked to Gabonese President Ali Bongo and his family, as well as his chief of staff, Maixent Accrombessi, these people said. Prosecutors could seek to seize assets they believe are ill-gotten. …
In 2011, Mr. Bongo asked the U.S. Treasury for help training Gabonese auditors to investigate corruption there, said Eric Benjaminson, then U.S. ambassador.
That same year, Mr. Bongo had 50-minute a conversation with Mr. Obama in the White House in which the U.S. leader expressed his desire for the Gabonese to increase anticorruption efforts, said Mr. Benjaminson, who was in the room. Mr. Bongo agreed, but said he faced challenges in uprooting a long tradition of corruption in the country, said Mr. Benjaminson …
1/26/2014: UO architecture professor Mark Gillem defends work in Gabon
His RG Op-Ed describes UO's work and paints a picture of reform. No mention of Eric Benjaminson or the controversial events leading to his appointment by UO to run the program that, as US Ambassador, he had encouraged the Ali Bongo government to fund. Bongo's family is accused of skimming as much as 25% of Gabon's oil revenue for person use, and is being investigated by the French government for corruption related to real estate purchases. The $20M UO fund has several million set aside for publicity, I'm not sure how that is now being spent. There has still been no public response from Benjaminson to the questions raised in the Jan 13 RG editorial below.
Meanwhile, Gillem's "reformist son of the former president" quote in the op-ed is convenient thinking, but apparently not true. In 2005, under the notoriously corrupt father Omar Bongo, Transparency International's "Corruption Perceptions Index" ranked Gabon as the 88th most corrupt of 159 countries ranked or at the 55th percentile, with 100th being most corrupt. In 2013, 4 years after the "reformist son" Ali Bongo Ondimba took power, corruption has actually increased (relative to the rest of the world) and Gabon has fallen to the 60th percentile. http://cpi.transparency.org
1/13/2014: Register Guard raises questions about Benjaminson hire for Gabon job
Today the RG editors followed up on their 2011 editorial on the secretive UO Gabon deal with new questions, related to the hiring of former ambassador Eric Benjaminson:
… But Gabon must also break the pattern of kleptocracy and authoritarian rule that has kept most of its people poor and powerless — a pattern established by the first President Bongo, and which shows some signs of being continued by his son. And here is where concerns about Benjaminson's leadership arise: The UO must help Gabon chart a new course rather than legitimizing and assisting in a continuation of the old one. But the UO center, dependent on Gabonese funds and headed by a director with close ties to Gabon's rulers, may be disinclined to challenge the status quo.
Benjaminson knows Gabon, and he knows the UO — a hard-to-find combination of qualifications. Here's hoping they are placed in service of an intellectually and politically independent center working for the interests of all Gabonese, while also providing opportunities for UO students and faculty, even if it means parting company with President Bongo now and then. Indeed, an occasional howl of protest from the $800 million presidential palace in Libreville would be greatly reassuring.
1/6/2014: UO uses Gabon money to hire Ambassador Eric Benjaminson
Back in 2011, while serving as US ambassador to Gabon, UO alum and career foreign service officer Eric Benjaminson helped arrange a $20M donation from the notoriously corrupt government of Ali Bongo Ondimba to UO, for student exchanges and green development projects. The RG wrote this Op-Ed criticizing the secrecy of this deal:
Engage, don't enable: The UO's partnership with Gabon needs monitoring
Gabon has two faces — one that shows promise, another that shows authoritarianism and corruption. In their new partnership with the west African nation, the University of Oregon and its sister institutions must ensure that their resources and expertise promote the emergence of the first rather than providing a mask for the second.
Benjaminson retired as ambassador 6 months ago, and moved to Eugene. Now UO has hired him to manage the project. The job ad is here, closed 10/31, salary $80-$90K.
The potential for conflict between the foreign policy interests of the United States and the personal interests of the ambassador in this arrangement seem obvious. I'm amazed US law allows it. But the Gabonese opposition to Bongo doesn't seem surprised. Their post on Le Gabon Enervant blog cites wikileaks cables to explain how Benjaminson took a pro-Bongo stance in disputed elections, and raises questions of a quid pro quo:
In the recent days, things have become even clearer for everybody as the University of Oregon just announced that Eric Benjaminson was "appointed" as the first executive director of the Gabon Oregon Transnational Research Center on Environment and Development. Let us recapitulate for a moment: Benjaminson secures funds from an African dictator, son of a dictator, who has stolen elections and killed people in the process, for the creation of some Center based at his Alma mater; then once he leaves the diplomatic corps, the same Benjaminson is miraculously appointed to lead the bogus center he helped established by the money extorted to the Gabonese people. Isn't that a conflict of interest? Besides, since when is Eric Benjaminson an expert on the environment or on development? The only thing he distinguished himself at doing while in Gabon, was to embarrass the great nation that is the United States.
 Our next post would examine why this appointment is not only a conflict of interest but also an evidence of corruption, of a quid pro quo!
This letter is also worth reading: http://gabonenervant.blogspot.com/2013/03/an-open-letter-to-eric-d-banjaminson.html