1/4/2015: The UO administration's secret plan to abolish the UO Senate
UO Matters operatives have obtained a "confidential" memo from former UO General Counsel Randy Geller to former Interim President Bob Berdahl, recommending that Berdahl abolish the University Senate and prohibit most faculty members from being members of the Faculty Personnel Committee, Faculty Advisory Counsel, Student Conduct committee, the Intercollegiate Athletics Committee, etc.
Geller made this recommendation three weeks after the administration  admitted defeat over the faculty union. The full memo is here. As you can see it advises:
1) abolition of the current UO Senate and all its committees;
2) creation of a new faculty-only Senate, limited to making recommendations to the administration;
3) membership on key committees to be restricted to non-bargaining unit faculty; and
4) other committees replaced by "administrative advisory groups" serving at the president's pleasure.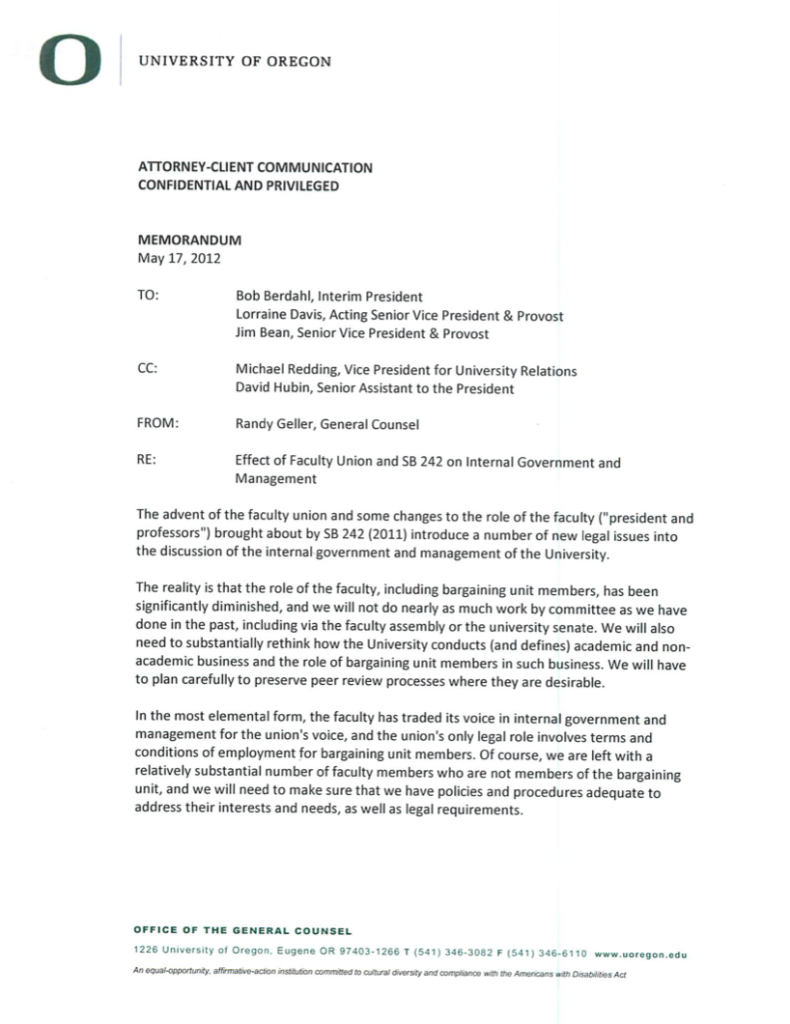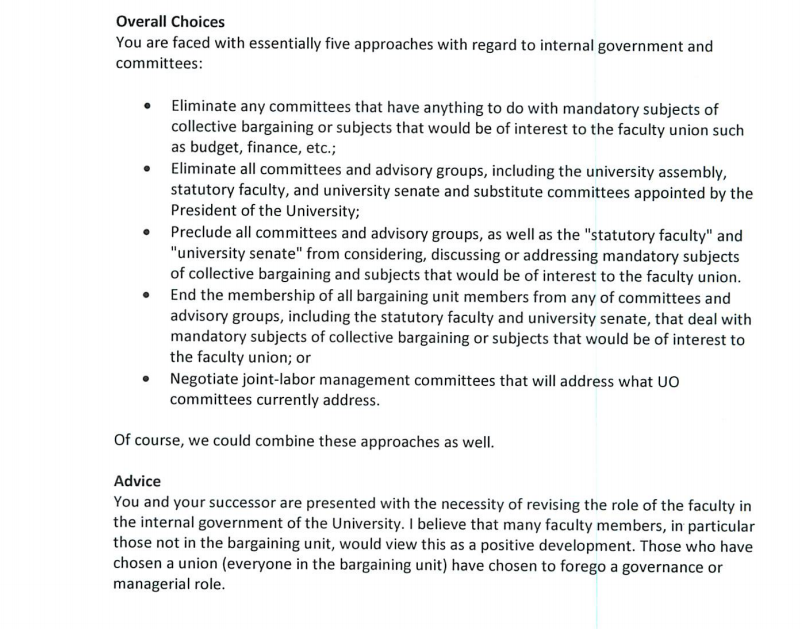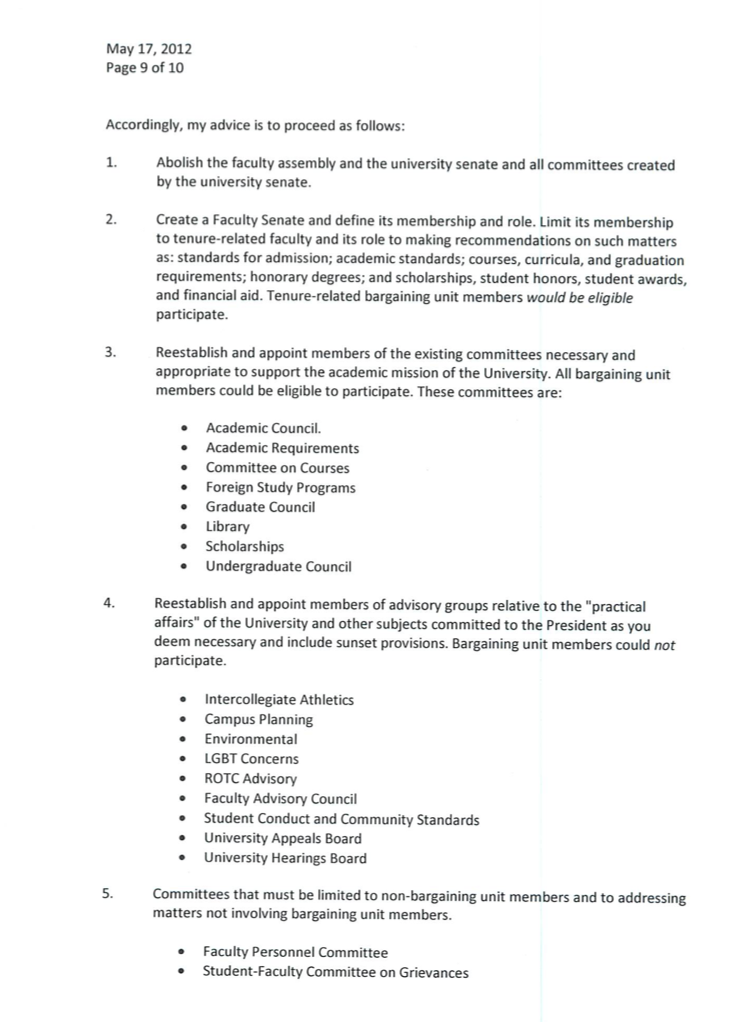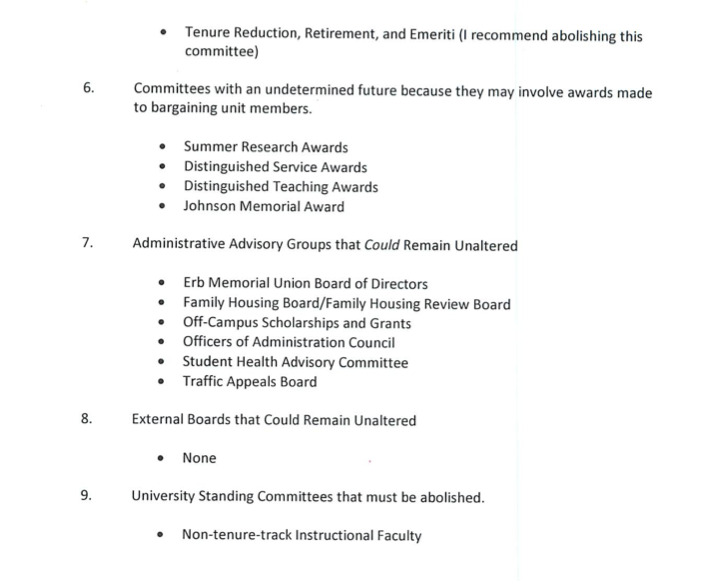 Geller's proposal seems insane, but key parts of it have already been implemented, and it seems the likely source for the statements Interim President Coltrane made at the December emergency Senate Exec meeting about the need for changes in faculty governance "given our new unionized environment". Coltrane has kept the administrative advisory groups that Bob Berdahl and Mike Gottfredson set up to replace Senate committees, such as the President's Advisory Group on Intercollegiate Athletics, the Budget Advisory Group, and the Public Records Administrative Advisory Group.
Coltrane has also been working with new UO AVP Chuck Triplett (the former OUS apparatchik who helped Pernsteiner fire Richard Lariviere) and new University Board Secretary Angela Wilhelms to set up a President-appointed Policy Advisory Committee, and revoke the faculty authority that has existed since the founding of the University of Oregon and which is a normal part of faculty governance at other universities.
In addition, last year BOT Chair Chuck Lillis went along with Geller and Berdahl's plan to cut the Senate out of the Delegation of Authority debate, and tried to do the same again last month with Triplett and Coltrane's plan to drop the Senate from the policy development and approval process.
You might ask why our university's top lawyer would attempt to hide his legal opinions about faculty governance from the faculty – and why people like Dave Hubin would help him keep the secret. You might also ask why the our VPs for Academic Affairs, Doug Blandy and Barbara Altman, would try to hide their advice about grading in the event of a GTF strike from the faculty who assign grades. Maybe Scott Coltrane will have some answers at the next Senate meeting, Wednesday, Jan 14th.
1/13/2015 update:  UO won't share shared governance advice
We've had a series of attacks on shared governance over the last few years, led by Bob Berdahl and Mike Gottfredson, but unfortunately continuing under Scott Coltrane with the attempt to subvert the Policy on Policies and the UO Constitution.
So what sort of legal advice have our Johnson Hall colleagues been getting? They don't want to tell us. I'll go out on a limb and say Doug Park wrote this response to my public records request below. Not exactly trust inspiring.
The only way the faculty is going to learn about these attacks is from leaks of "confidential" documents to UO Matters. So keep them coming!
From: "Thornton, Lisa" <[email protected]>
Date: January 13, 2015 at 5:02:57 PM PST
Subject: Public Records Request 2015-PRR-151
01/13/2015
Dear Mr. Harbaugh:
Given the broad scope of your request, we anticipate it would be necessary to sort through hundreds, if not thousands, of pages of documents to pull documents that are responsive to your request. In addition, you requested documents that you know are confidential because you specifically requested "legal advice." Accordingly, your request is denied.
Thank you for contacting the University with your request.
Sincerely,
Lisa Thornton
Office of Public Records
University of Oregon
Office of the President
1/8/2015 update: Johnson Hall admins won't talk about Geller / Berdahl memo
Camilla Mortenson has the story in the Eugene Weekly, here. It seems Coltrane, Park, and Hubin won't talk about the memo or about the extent to which it continues to guide the thinking of Johnson Hall and the new Board of Trustees. Assistant UO PR Flack Julie Brown is the highest ranking person who will talk on the record – and even she won't disavow this plan? Yikes. I'll post additional docs as I get them.
1/7/2015 update:
In the Senate Exec meeting today Dave Hubin attempted to argue that the administration had rejected Geller's proposals. When I left for a bathroom break Dave followed me out, asking what other documents I had about this proposal. I told him I wouldn't tell him because it might reveal my source. Let's just say the well isn't dry. Hubin also suggested that I make a public records request if I wanted to learn more, so I have:
Subject: Documents from the UO GC's office on legal advice regarding shared governance
Date: January 7, 2015 at 9:34:40 PM PST
Cc: David Hubin <[email protected]>, doug park <[email protected]>, Scott Coltrane <[email protected]> To: Lisa Thornton <[email protected]>
Dear Ms Thornton –
This is a public records request for any documents from the UO General Counsel's office (or outside attorneys) providing advice to the UO President dated from 1/1/2010 to the present, on topics involving:
1) The UO Senate and shared governance in general;
2) the Senate Intercollegiate Athletics Committee and the President's Advisory Group on Intercollegiate Athletics;
3) the Senate Transparency Committee and the Public Records Administrative Advisory Group;
4) open meetings for the UO Senate, Senate committees, and Administrative Advisory Groups.
I am ccing current interim General Counsel Doug Park, as he should have access to the GC's records and should be easily able to provide these documents, and Interim President Scott Coltrane for the same reason.
I've also cced presidential assistant Dave Hubin, as he suggested that I make this public records request at the Senate Executive Committee meeting today and recently told the STC that future PRAAG meetings would be closed, and may have copies of the advice on these matters.
I ask for a fee waiver on the basis of public interest.