Update: The complaint is here:

Update: Andrew Greif in the Oregonian. Brandon Austin's mother calls Dana Altman a liar:
… The players were barred from campus for at least four years, and up to 10, in June, by the university. But before that discipline was handed down, the suit alleges, the university struck a deal before its scheduled hearing. The players waived their right to a hearing in exchange for an "administrative conference," the suit says, an agreement that gave the university full control over the discipline. In exchange, the suit says the players were not expelled and that their transcripts would omit any reference to "sexual misconduct" — both of which would make transferring to another school more difficult.
"UO delayed taking any action on the sexual assaults for over two months while it prioritized winning basketball games over the health, safety and welfare of its students, including plaintiff," it says.
… Within days of the police report going public on May 5, Oregon announced it had actually dismissed the players back on May 1. Throughout, Altman and athletic director Rob Mullens said that though they knew Austin had been suspended and under investigation by Providence College before transferring to Oregon in January, they never knew the reason.
"He did not give specifics so my line of questioning probably didn't go deep enough there in retrospect," Altman said May 9. "But I did not have a specific reason."
The suit disputes that.
"Upon information and belief, Altman and other UO personnel were fully aware of the basis for Austin's season-long suspension," it says. "In fact, Austin's mother, when asked about what the UO coaches knew, said, 'We told them everything. They knew everything.'"
Just the sort of info UO needs to fire Dana Altman for cause, and avoid having to pay him $12M or so in severance.
1/8/2015: That's the headline of the story by Josephine Woolington in the Register Guard, online now:
The student who says she was raped by three University of Oregon basketball players is suing the university and UO head basketball coach Dana Altman for allegedly violating her federal civil rights for recruiting one of the involved players to attend the university after he had previously been accused of rape elsewhere.
In the lawsuit filed today in U.S. District Court in Eugene, the 18-year-old woman, referred to as "Jane Doe," argues that the UO and Altman prioritized winning basketball games over her claim that she had been raped repeatedly by the now former players, Damyean Dotson, Dominic Artis and Brandon Austin.
So it looks like we may finally get a serious public review of how UO handled this case. The UO Matters timeline is here. Video of Dana Altman's news conference from May:
And you can watch former UO President Mike Gottfredson, VP for Student Life Robin Holmes, and AD Rob Mullens, doing their best pump and fake here:
Today's message from Interim President Scott Coltrane to the Campus Community:
Dear Campus Community,
Today, the University of Oregon was notified about a lawsuit filed by a current student related to a reported incident of sexual misconduct. While unfortunate, this filing is not unanticipated.
The university would prefer not to be in litigation with any student. We have been as respectful and supportive as possible of the student, including immediately implementing support services and appropriately honoring her choice of process, once hearing of her experience.
The university disagrees with the allegations against it and believes that it acted in accordance with the law, including Title IX. This litigation in no way undermines the university's on-going commitment to support the student inside and outside of the classroom.
It has long been UO's priority to provide support and services to any student in need and make our campus a safe place for all members of our community. We have regularly reassessed our efforts, implemented changes and added resources to address sexual assault. Our current efforts are guided by recommendations from the University Senate, the President's Review Panel and a university-wide analysis of prevention efforts, which was coordinated by Student Life. We welcome feedback from the campus on our progress.
To be clear, UO's review of transfer applications for all students includes an evaluation of academic credentials and potential campus fit. Enrollment decisions are made based on the information made available to us by applicants and our colleagues nationally.
The university has posted a timeline of events, which has been publicly available since mid-May. It outlines the aspects of the university's response we can share while still protecting the privacy and rights of those involved.
As a community, each of us must work hard to provide support and services to any student in need and make our campus a safe place. Thank you for being part of our community.
Sincerely,
Scott Coltrane
Interim President
Actually, Athletic Director Rob Mullens and his minions have refused to meet with the Senate Intercollegiate Athletics Committee, which Gottfredson replaced with his own "President's Advisory Committee on Intercollegiate Athletics the day after he got the UOPD's report on the rape allegations.
One of the unresolved questions this lawsuit may bring to light is the role of Lorraine Davis and the "Special Athletics Admissions Advisory Group" or whatever euphemism she is currently using.
One of the many posts on the redactions of public records showing how UO responded to the allegations by Dave Hubin's public records office is here. Perhaps the discovery process will show whether Hubin's redactions were in fact legal under ORS 192: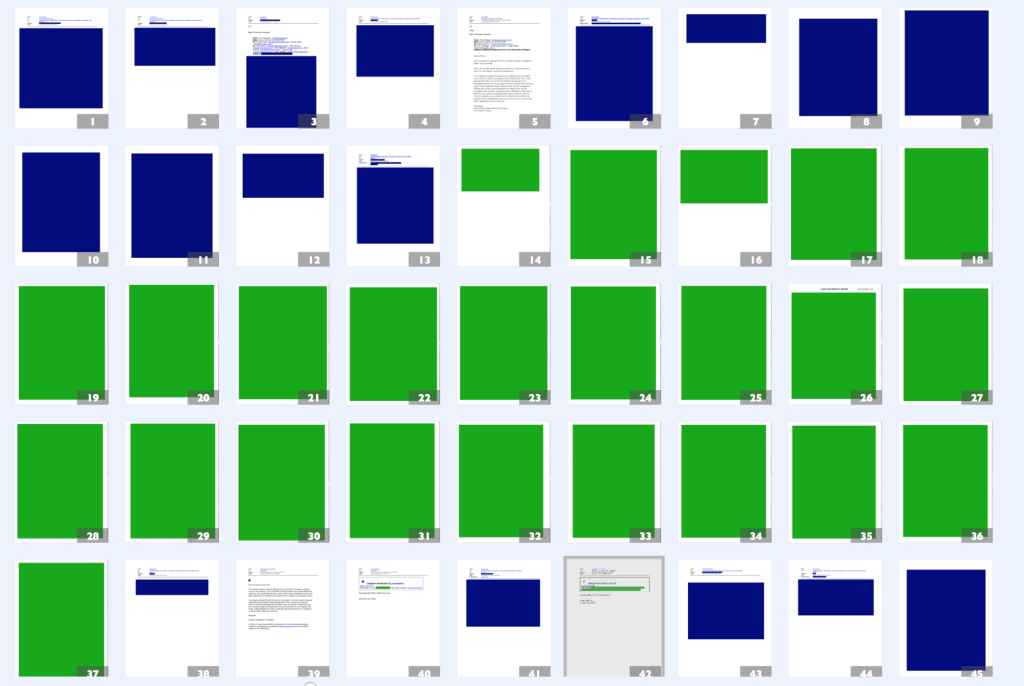 So, does the alleged victim have a case on her argument that Altman didn't do enough to prevent his "fine young men" from engaging in this sort of behavior? In the news conference Altman admits that these three recruits didn't get any training on sexual abuse prevention. The FHS 199 course that included a bit on this was canceled by the Senate Committee on Courses once they discovered it was a sham, the athletic department still hasn't bothered to fix and resubmit it, and in any case transfers don't seem to need to take it. Altman says in the news conference that he doesn't know what other training his players got.
Apparently Assistant AD Tom Hart's priceless sessions on avoiding Russian prostitutes from Egyptian motorcycle gangs were just for the football team: