VP for Student Life Robin Holmes got all-expense-paid junkets to the national championship games for herself and spouse, so she's in no position to object to the efforts of the ASUO student government leadership to get Athletic Director Rob Mullens and AAD Eric Roedl to back off their threat to cut the student football ticket allotment, unless ASUO student government coughs up 3% more cash to pay for their latest raises: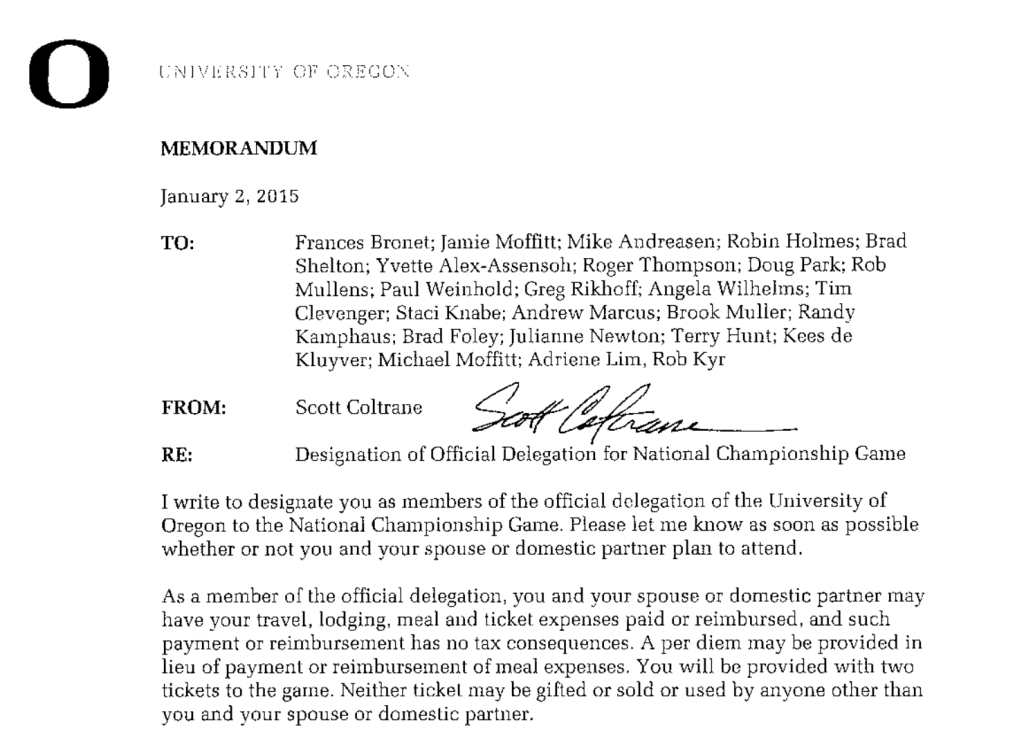 On the other hand she's got hers, so why would she rock the Duck boat? Here's the latest, from UO undergrad Andrew Lubash, who has a Change.org petition going to protest:
Apr 16, 2015 — Thank you so much for signing this petition and getting your voice heard! However, the work isn't done.
We've reached over 400 students in just 1 day, but we need more visibility! Your current ASUO President (Beatriz) and President-elect (Helena) and I are meeting with VP of Student Life Robin Holmes tomorrow morning at 9am to discuss the negotiations. It would be great if we had over 1,000 signatures by the time of that meeting to show her how upset students are about this. Here are some actions steps that you can take that would help me protect your access to subsidized student football tickets!
(1) Please SHARE the link to this petition as your Facebook status and in any groups you are associated with on campus. Urge your friends to sign and share as well, emphasizing the importance of this issue to students:
https://www.change.org/p/eric-roedl-stop-cutting-subsidized-student-football-tickets/u/new)
(2) The Daily Emerald just posted an article about our work! We are making a difference already! Stay up to date and read/share this article too:
http://www.dailyemerald.com/2015/04/16/acfc-chair-andrew-lubash-drafts-petition-about-student-ticket-allotment/
(3) If you are interested in volunteering at all or getting more involved (such as petitioning, building awareness, etc.) and want to help me out. Please send me an email at [email protected] and we will set up a committee to figure out next steps. WE WILL NOT STOP until we protect every single ticket.
Thank you again! Go Ducks!
Andrew Lubash
ASUO Senate Seat 7: Athletics & Contracts Finance Committee