4/16/2015 PM: I didn't see our Faculty Athletics Representatives Jim O'Fallon or Tim Gleason or PAGIA Chair Kim Sheehan in the audience – there were a lot of empty reserved seats – but Interim President Scott Coltrane got quite the lecture tonight from Taylor Branch about civil rights, college sports gone bad, and the responsibility of university administrators and faculty to act with courage to fix things.
Dave Hubin tells me that the video will be posted soon. Meanwhile, here's Coltrane lecturing the UO Senate last week about how we should keep our mouths shut and stop interfering with how the UO administration, the athletic department, and our big-time sports boosters want to run their plantation: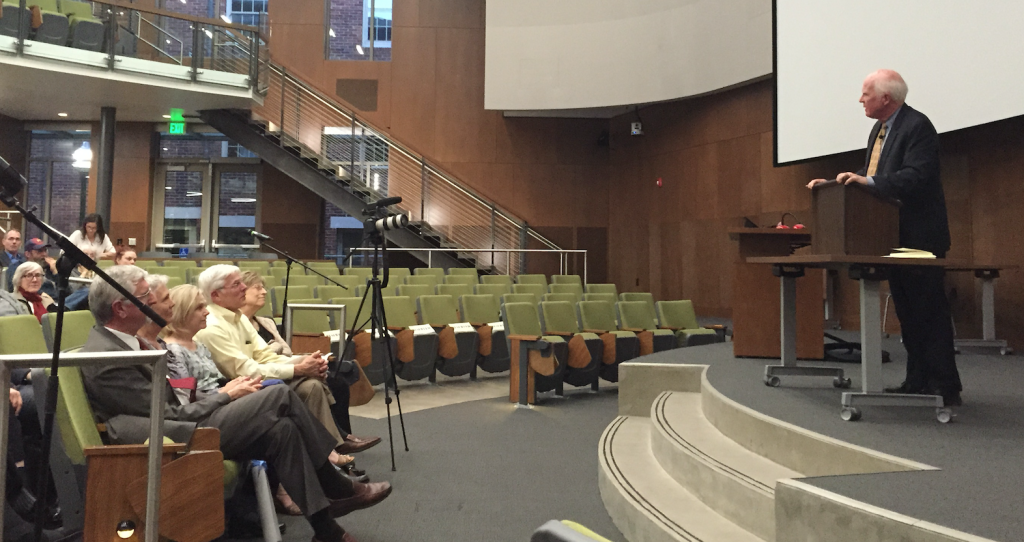 4/16/2015 AM: Taylor Branch is the Pulitzer Prize winning MLK biographer and author of "The Shame of College Sports" – a biting critique of the NCAA and its "Committee on Infractions", of which former UO Faculty Athletics Representative Jim O'Fallon (Law) is a longtime member.
Branch's lecture is Thursday at 7:00 PM, in the brand new Straub 156 lecture hall.