Today's devastating Civic Stadium fire prompted me to look at the agreements between UO Foundation CEO Paul Weinhold, UO Presidents Frohnmayer and Lariviere, and Duck Athletic Directors Bellotti and Mullens for the UO Foundation guaranteed loans that financed PK Park, which became the Eugene Emerald's replacement field.
One interesting clause shows that UO is using general unrestricted gifts to the UO Foundation – i.e. gift money that could be used for academic purposes – to subsidize the Duck Athletic Fund. Furthermore, the agreement specifies that UO's academic side can't reduce those athletic subsidies until the PK Park balloon loan is repaid, in 2021.
The full MOUs – which UO kept secret until I made a public records petition to the Oregon DOJ – are here: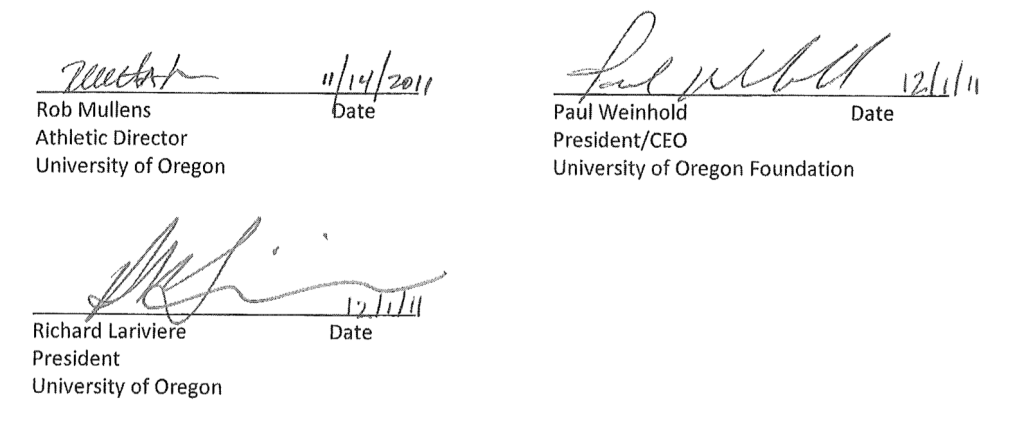 I've made a public records request for the accounting records:
Date: June 29, 2015 at 11:19:25 PM PDT
To: Lisa Thornton <[email protected]>
Cc: Eric Roedl <[email protected]>
Dear Ms Thornton –
This is a public records request for BANNER accounting statements showing how much in UO Foundation general unrestricted gift funds and gifts designated to general operations (as distinct from Duck Athletic Fund or other contributions specifically earmarked by the donors for athletic purposes) have been allocated to the UO Athletic Department, for each of the fiscal years from 2008 to 2015.
I attach a copy of the PK Park loan MOU's for 2009 and 2011, which note the existence of these allocations.
I'm ccing Duck AAD Eric Roedl, as he should be able to easily produce these records.