I've been reluctant to post this update, given how the subject tends to set off UO's strategic communicator and "Duck Advocate" Tobin Klinger. After Diane Dietz broke the bowl story in the RG, last year, Klinger sent her editors at the RegisterGuard this sophomoric attack on her reporting:
I'm a recent transplant to Eugene, having spent a majority of my adult and professional life working with media in northwest Ohio. Like many, I idealized life in the Pacific Northwest. Eugene and its people have lived up to my vision. Eugene is access to independent film, unique foods, outdoor activities, cultural happenings and community pride. I don't know that this shines through on the pages of The Register-Guard, particularly with the sophomoric "reporting" of Diane Dietz. I admit to having a bias. Dietz covers my employer, the University of Oregon.
In my role as head of UO public affairs communications, it is my job to defend the integrity and the reputation of the university. I advocate for faculty, staff, students, administration and athletics. I advocate for the Ducks.
Earning positive attention is a challenge with a reporter who is more interested in pandering to the lowest common denominator than demonstrating the value of higher education. Where else would you see the phrase "bowl of —–" five times in a single news article (Register-Guard, July 11)? This obvious play for shock value diverted attention away from the fact that the reporter waited 26 paragraphs before sharing important details from the university. Moreover, this same newspaper in February dedicated significant space to a major Sunday story that used a blatant stereotype of Chinese students as its primary theme. Even though I'm new here, I'm certain this community deserves better.
Tobin Klinger, Senior director Public Affairs Communications, University of Oregon
Nice try Klinger, but it turns out this case involves some pretty important issues, such as the right of public employees to exercise free speech without fear of retaliation.
The bowl case has been around the block over the past year, as documented here and in the Federal Court docket, here. HLGR lawyer Andrea Coit tried to get Judge Carter to dismiss the case. Judge Carter did dismiss Cleavenger's case against UO, but last week he let stand Cleavenger's core claim of a civil rights violation by UO Police Department employees, on the basis of their alleged retaliation against him for his exercise of his first amendment rights.
The 8/6/2015 opinion is very interesting, read it all here, this is a brief extract: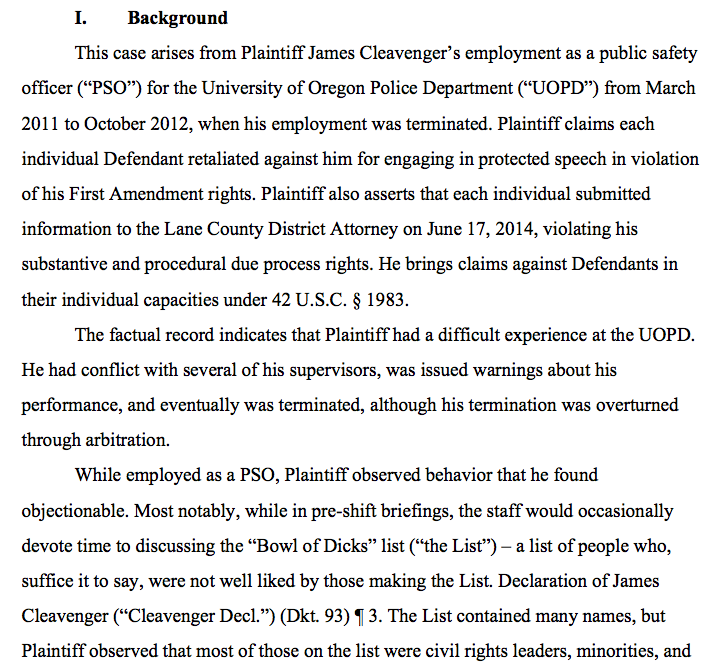 …
…