11/30/2015: The data is from a discussion on InsideHigherEd, here:
… How realistic are these goals? Penn proves informative. Even with its prestige and an arsenal of cash, progress has been steady but relatively slow — at least compared to the Mizzou timeline. Between 2011 and 2013, the percentage of new hires who were underrepresented minorities grew from 9 to 14 percent. But the total percentage of underrepresented minorities on the faculty jumped just 1 percent, to 7 percent, from 2010-13. Minority professors over all increased from 13 percent in 2013 to 16 percent in 2014.
Part of the problem is that black students are underrepresented in a majority of Ph.D. programs and among Ph.D. holders. While black people make up 14 percent of the U.S. population, they've earned roughly 6 percent of the research doctorates awarded to U.S. citizens and permanent residents each year since 2003, according to the National Science Foundation and other federal agencies' Survey of Earned Doctorates. While blacks hold a relatively high proportion of education doctorates, earning about 13 percent of such degrees awarded in 2013, they're underrepresented in other fields. According to 2013 data, the most recent available, they earned 6 percent of life sciences doctorates, 3 percent of physical sciences doctorates and 5 percent of engineering doctorates. In the social sciences, blacks earned 7 percent of doctorates. It was 5 percent in history and about 4 percent in the humanities. In business, it was 9 percent.
According to the survey, 2,167 black citizens or residents earned research doctorates in 2013. Compare that number to 130 — that's how many full-time black faculty members Kevin Eagan, interim managing director at the Higher Education Research Center at the University of California at Los Angeles, says Mizzou alone would need to hire in the next two years to meet the 10 percent demand.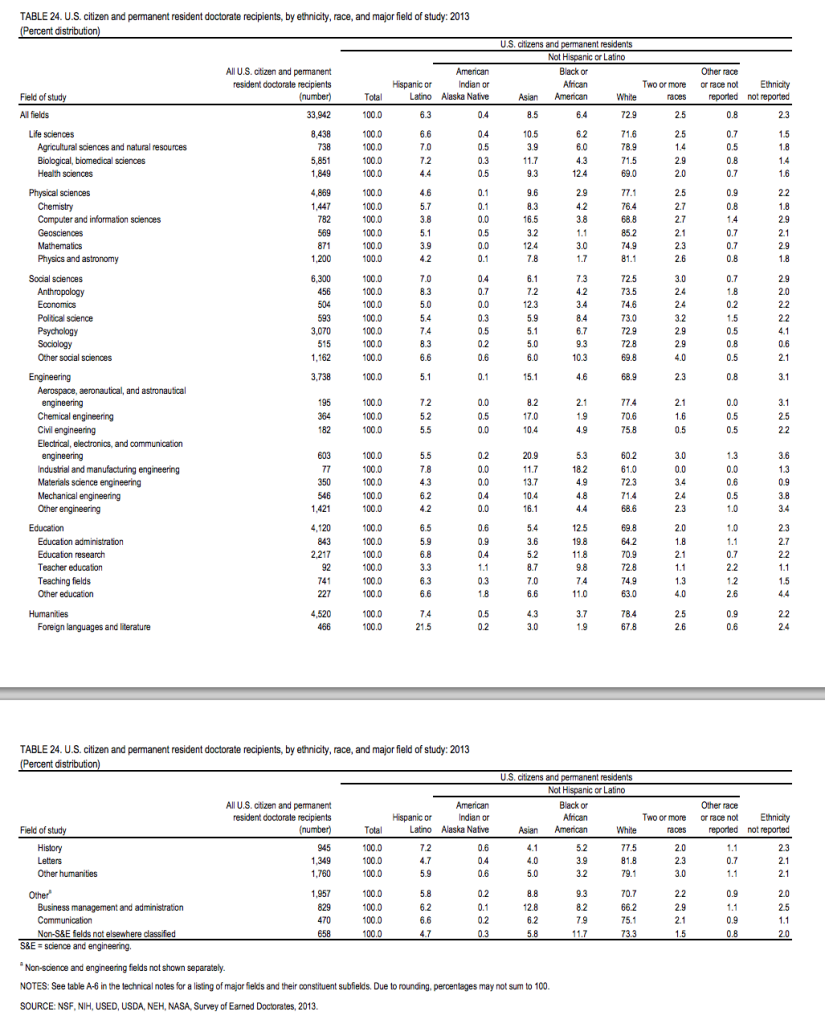 11/29/2015: Pushback begins against Black student demands & tactics
The NYT, here, on Amherst, Claremont-McKenna, Yale, etc:
… In the heat of the moment, the students drafted a list of demands for the administration. … They wanted students who had posted "Free Speech" and "All Lives Matter" posters to go through "extensive training for racial and cultural competency" and possibly discipline. They wanted the administration to apologize for "our institutional legacy of white supremacy," among many other forms of discrimination, like "heterosexism, cis-sexism, xenophobia, anti-Semitism, ableism, mental health stigma and classism."
… But just as there has been pushback at other colleges, the demands at Amherst were met not only with sympathy but also with skepticism and criticism that the students were asking for too much and trying to stifle free speech and intellectual dissent. Alumni took to the college's website by the hundreds to complain that this generation was trying to sanitize history and impose a repressive orthodoxy on a place that should be a free market of ideas.
"Why is Amherst, an institution supportive of political freedoms, ultimately becoming a college full of restrictions?" Matthew R. Pewarski, a member of the class of 2008, asked on a password-protected alumni forum.
… At Yale, more than 800 students, faculty, alumni and others signed a letter to the president, criticizing student demands like firing a house master who questioned the policing of Halloween costumes and creating a censure process for hate speech. The letter said these would reinforce "intellectual conformity."
"The point of the letter was to show administrators that there is organized support for open expression at Yale," said Zach Young, a junior and the president of the William F. Buckley Jr. Program at Yale.
11/21/2015: UO Black Student Task Force releases list of demands for administration
Diane Dietz reports on Pres Schill's campus conversation here, and Miles Trinidad has the story on the demands in the Daily Emerald, here:
… "Some of these requests will be easier to achieve than others, but I believe we can make good progress in the coming weeks and months on most, if not all, of those requests," Schill said. …
Here is the complete list of demands:
Change the names of all of the KKK-related buildings on campus.
Create an African-American Opportunities program that is comparable, in scope and impact, to the Opportunities program for the Latino student population and community.
Commit to creating a Funding Resource and Scholarship initiative that is designed exclusively to support and meet the unique needs of students that identify as Black/African American.
Commit to having Ethnic Studies 101 as a graduation requirement.
Commit to creating an Academic Residential Community (ARC) that will feature African-American history/Oregon Black Diaspora.
Commit to hiring an African-American advisor/retention specialist as well as Black faculty across all academic disciplines, especially major UO departments such as Architecture, Business, Education, Math, and Science departments.
Create a substantial endowment fund and support system to fund and open a Black Cultural Center.
Commit to creating a Black Student Leadership Task Force.
Commit to conducting seminars and workshops by bringing in a black faculty from a peer institution who specializes in Black history and contemporary black issues.
Commit to creating a Student Advisory Board for The Office of Equity & Inclusion and Center for Multicultural Academic Excellence (CMAE).
A commitment to immediate change of Fraternity & Sorority Life Baseline Standards for University recognition.
Commit to immediately keeping and publishing data on efforts to increase Black student acceptance, retention, and safety.