11/5/2015:
Jake New has the analysis in InsideHigherEd. The start:
Last week, Brandon Austin, a former college basketball player, filed a lawsuit against the University of Oregon for $7.5 million, arguing that administrators there violated his rights when they suspended him over his alleged involvement in a gang rape.
Austin was able to transfer to a community college and play basketball there last season, but has since left to (so far, unsuccessfully) pursue a professional basketball career. In the lawsuit, Austin claims that the punishment caused him emotional distress and lessened his chances of one day playing in the National Basketball Association. His case joins more than 50 other pending lawsuits filed by men who say they were unfairly kicked off campus after being accused of sexual assault.
If filed last year, Austin's lawsuit would have seemed like a long shot, especially as the athlete had been accused of sexual assault at another institution before he enrolled at Oregon. But accused students suing the institutions that suspended or expelled them are now increasingly winning those lawsuits, including at least four cases in the last four months. …
10/30/2015 Klinger: Unfortunate that Mr. Austin has decided to defend his rights
Kyle Wizner has the latest in the Daily Emerald. UO Duck Advocate Tobin Klinger:
"It is unfortunate that Mr. Austin has decided to pursue this type of lawsuit, and we intend to vigorously defend the university. We're confident Mr. Austin was afforded fair and consistent due process that fully complied with the university's legal obligations. We cannot provide further comment because this is pending litigation,"
Of course if UO was trying to nail a professor, archivist, counseling psychologist, or cop, or just destroy their reputation, Klinger would be happy to provide a lot more comment. Or even hold a news conference or two, if he thought it would help his boss:
10/29/2015: Brandon Austin sues UO, Mike Gottfredson, Robin Holmes, etc. for $7.5M
Not exactly a surprise. Tyson Alger in the Oregonian. A snippet:
Former Oregon men's basketball player Brandon Austin is seeking $7.5 million in damages in a lawsuit against the University of Oregon, former president Michael R. Gottfredson and three others.
The 18-page lawsuit, filed Thursday in Lane County Circuit Court, alleges that the university, the former president, UO director of Student Conduct & Community Standards Sandy Weintraub, assistant dean of students Chicora Martin and vice president of student life Robin Holmes, violated Austin's rights by unfairly suspending him and not providing due process, among other things.
In the suit, Austin claims personal and professional harm, emotional distress, a lesser chance of playing in the NBA, and loss of future income following his dismissal from the university in June 2014 following a sexual assault allegation against him and two teammates in the spring of 2014. The suit, filed by attorneys Alan C. Milstein of New Jersey and Marianne Dugan of Eugene, claims Austin "committed no sexual assault."
Charges were never filed against Austin and teammates Dominic Artis and Damyean Dotson. All three players were dismissed from the university and barred from campus for at least four years, and up to 10, in June 2014.
The alleged sexual assault took place in the early hours of March 9, 2014, as players and students celebrated the Ducks' victory against No. 3 Arizona in the regular-season finale. Five weeks later, in April, the Lane Country District Attorney declined to charge Austin, Dotson and Artis, citing "conflicting statements and actions by the victim" while acknowledging that the Eugene Police Department's investigation revealed there was nonetheless "no doubt the incidents occurred." …
Brandon Austin's full complaint is here. What did former UO General Counsel Randy Geller and his Associate GC Doug Park know, and when did they know it? I have the feeling we're going to find out:
"Refused to provide unredacted reports?" I'm shocked that Mr. Austin would claim that UO would do this. Shocked.
Brandon Austin's attorney's are local lawyer Marianne Dugan and NJ lawyer Alan C. Milstein, a noted expert on the sperm donor industry. Really.
His favorite words are "preeminent", "prominent", and "prestigious: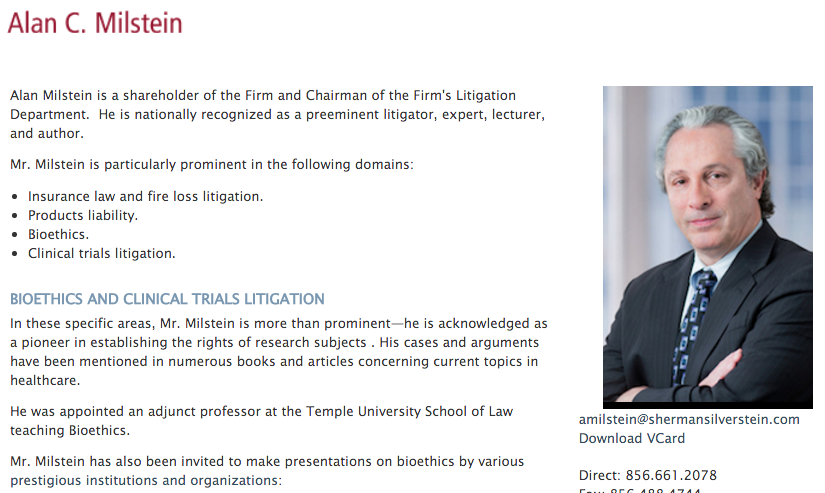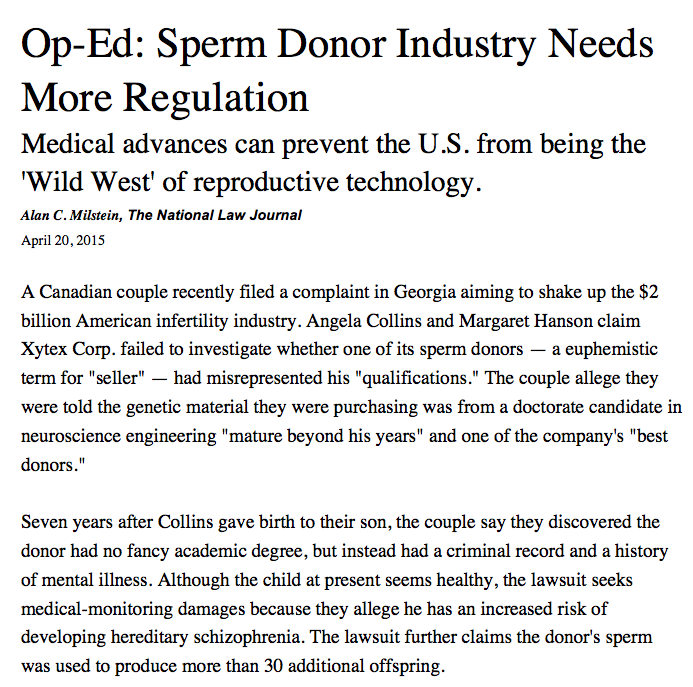 Ms Dugan's website is here: