11/10/2015: The NYT has the story, here:
… What the student demonstrators who toppled the president of the university system and the chancellor of its flagship campus in Columbia this week may not have known was that somewhere out there — in Frankfort, Ky., to be precise — one of those very students, Gus T. Ridgel, now 89, was watching.
In an interview, Mr. Ridgel said he was surprised and disappointed by the racist incidents at the university that prompted a campus upheaval. "I had always looked at the progress that had been made," he said.
But as a doctorate-holding economist, he said he had to admire the boycotts of university businesses and athletics that Concerned Student 1950, the main student activist group, wielded to force those changes.
"Anything that affects the bottom line is going to get the attention of the leaders," Mr. Ridgel said Tuesday.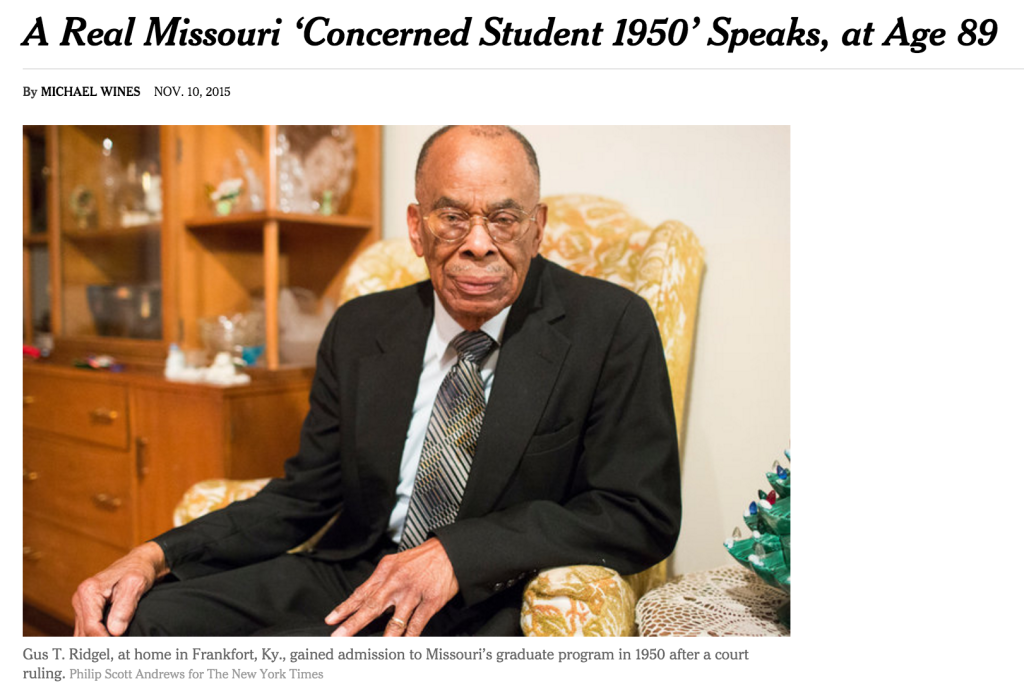 … He gained admission to Missouri's graduate program in economics in 1950 only after civil rights groups won a court ruling desegregating the university. He decided to attend knowing that one of the black men who had gone to court seeking to break the school's color barrier had vanished. He lived alone in a two-bed dormitory room in the midst of a campus housing shortage, because no white student would room with him.
Blacks had but one opportunity for off-campus socializing, a coffee shop near the university bookstore. Mr. Ridgel recalled entering a second cafe with three white students: "The man looked up from the counter," he said, "and said, 'I can serve you three, but I can't serve him.'
"And they said, 'If you can't serve the four of us, you can't serve any of us.' And we walked out."
He speaks almost matter-of-factly of his past as a path-breaker, and remembers his time at the university, during an era when separate-but-equal was still the law of the land, as surprisingly free of conflict. He said his presence had provoked no racial epithets, like those hurled at the current student body president, who is black, or swastikas scrawled on campus buildings, like the one found in recent weeks.
Rather, a student poll claimed broad support for the admission of blacks. Classmates made a point of sitting with him for meals, he said — and, eventually, asking to study with him. …
There are plenty of things this man should be bitter about. He's lived through years of racism and discrimination. But he's not bitter at all. Except for those B's in Econ.
11/9/2015: University presidents' chickens come home to roost
Joe Nocera's NYT column is here:
… Qiana Jade, a Missouri student, posted a video on Twitter showing an exchange between Wolfe and some protesters. It shows him clearly out of his element — and on his heels. Asked by the students to define "systematic oppression," he said, "I'll give you an answer, and I'm sure it will be a wrong answer." Pressed further, he said, "Systematic oppression is because you don't believe that you have the equal opportunity for success."
The students erupted in anger. As Wolfe walked away, a student yelled: "Did you just blame us for systematic oppression, Tim Wolfe? Did you just blame black students?"
Jade posted that video on Friday night. By Saturday night, most of her Twitter energy was devoted to spreading the word that black members of the football team had joined the protest.
So proud of our young black men!!" she tweeted. "They are really stepping up."
And indeed they were. Which brings me to my second point. It turns out that the football players had something the other protesters didn't: power. There wasn't the slightest hint that Wolfe was considering resigning — until the football players got involved. Schwarz, the economist, told me that it was easy for the university administration to ignore the protesters because they were members of minorities and because they were young. But, he added, "The one place where young minority voices have economic power is sports."
As readers of my old Op-Ed column well know, I have long contended that the players in the revenue-producing sports — college football and men's basketball — are being terribly exploited by College Sports Inc. There are many players who feel that way, too, and who believe they deserve payment for the work they do beyond the cost of attending college. But they've always felt powerless to bring that about. After all, they are young and full of dreams of playing professionally — dreams that they fear might be dashed if they were to become involved in a strike or a protest.
And they are susceptible to pressure. In January 2014, when Kain Colter, the former Northwestern University quarterback, first informed the Wildcats' coach, Pat Fitzgerald, that the football team was trying to unionize, Fitzgerald said, "I'm proud of you guys for doing this." But Fitzgerald soon changed his tune and made it clear to the players that he viewed a vote for the union as a personal betrayal. At Missouri, Gary Pinkel, the football coach (he makes more than $4 million a year, by the way) openly supported his striking athletes. That was easy to do with the next game a week away and the team, at 4-5, unlikely to make a major bowl. How supportive would he have remained as we got toward Saturday?
That's why I have never considered it realistic that, for instance, college basketball players might one day boycott the Final Four to force the system to change. Or at least that's what I thought until this weekend. One wonders what athletes at other universities are thinking, now that they've seen a football team take down a university president in 36 hours. …
11/9/2015: Football team forces university president to resign
The NYT has the story on Missouri here. This must be a first. I wonder what UO's football players think. Presumably Craig Pintens is keeping them locked away from reporters, as Tom Hart monitors their facebook and twitter for signs of dissent.
11/8/2015: Unlike Dana Altman, Missouri coaches support players' free speech
The NY Times reports:
Dozens of black football players at the University of Missouri have joined demonstrations over the university's handling of racial tensions on campus by vowing to boycott team activities until the president of the university system resigns.
Frustrations at the university have been rising after recent incidents in which racial slurs were directed at black students, and one in which someone used feces to draw a swastika on a residence hall wall. Students protesting over the weekend accused officials of failing to respond to acts of racism and intolerance, and called for the president, Timothy M. Wolfe, to step down or to be removed.
The Legion of Black Collegians, the black student government, posted a photograph to Twitter on Saturday night of ore than 30 football players linked in arms with a graduate student who is staging a hunger strike.
… In a statement on Saturday night, athletics officials said they were aware of the players' declaration. "We all must come together with leaders from across our campus to tackle these challenging issues and we support our student-athletes' right to do so," the statement said.
Coach Gary Pinkel met with the football team on Sunday at the team's athletic training complex. After the meeting he declared his support for the demonstrating players with a team photo on Twitter.
"The Mizzou Family stands as one," he wrote. "We are united. We are behind our players."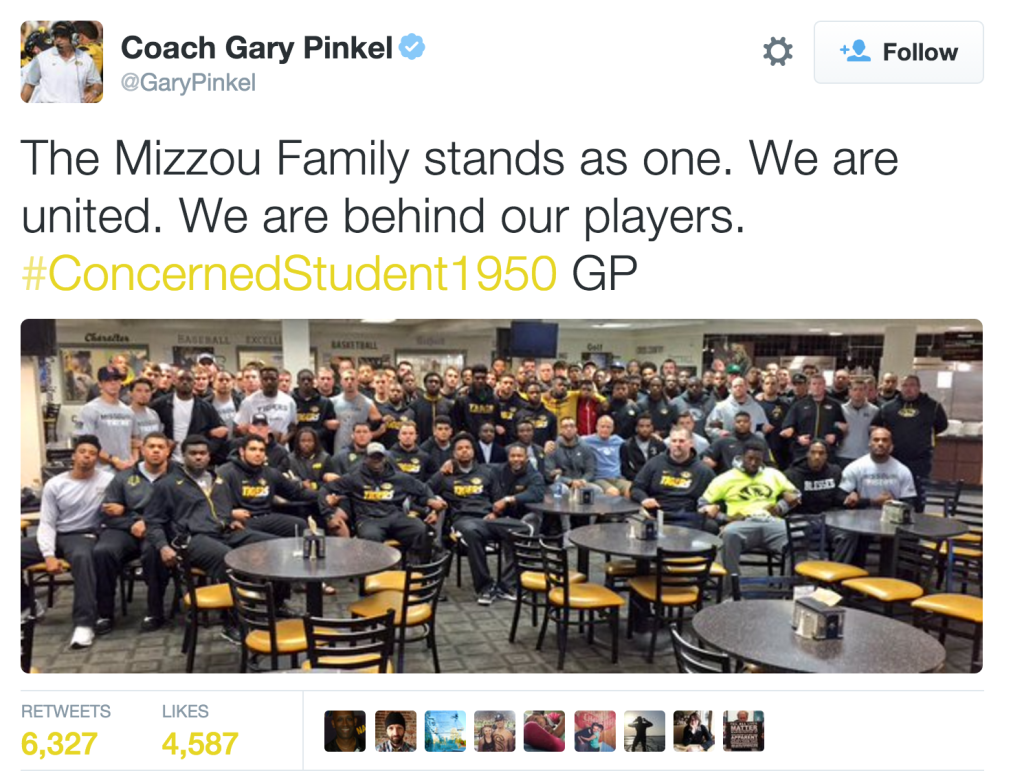 12/10/2014: Coach Dana Altman thinks National Anthem is the wrong time to protest racism
Our fool of a basketball coach thinks he owns those players. They shouldn't protest when he's trying to collect his $2M paycheck, off their free labor. Fortunately we've still got people who hear someone sing "O'er the land of the free, and the home of the brave" and actually understand what it means.
Want to ask the players what they think? No. Duck AD Rob Mullens and his PR guy Craig Pintens have a rule about players talking to reporters without permission, and "Benjamin and Bell have not been made available to comment."