Online here. I'll take a guess that he was hoping to talk about his "Oregon Commitment" initiatives, instead of having to rehash and defend Doug Park's lousy decisions for the nth time: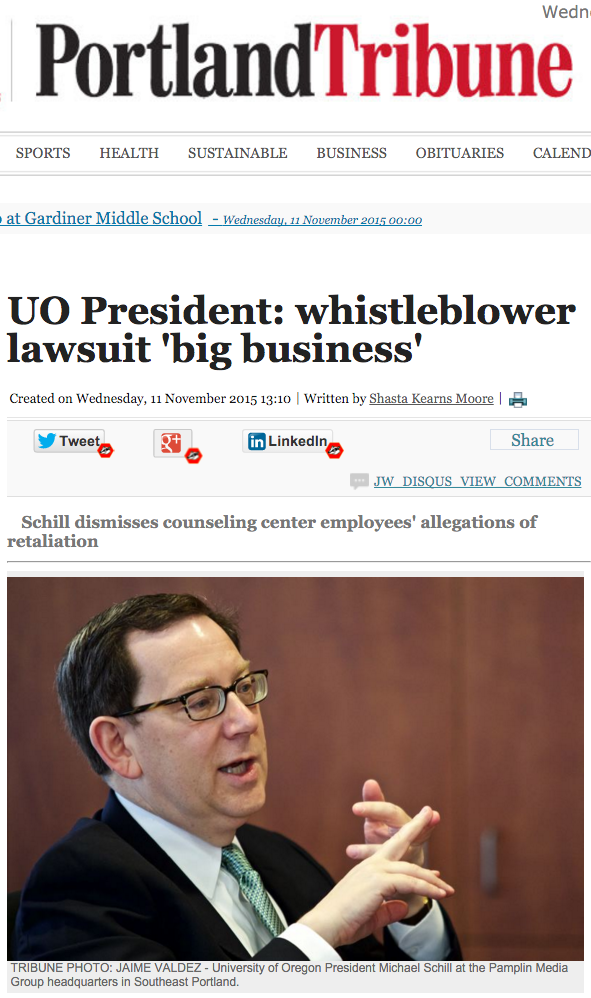 … University of Oregon President Michael Schill defended the university's actions regarding a December 2014 transfer of medical records from the counseling center to its General Counsel. Schill spoke during a Wednesday, Nov. 11, meeting of the Portland Tribune editorial board.
Schill says he is open to criticism "that is constructive criticism and that isn't demonization criticism or criticism which is based upon salacious details. Or, alternatively, actions that are really just designed to generate money for the complainants. There's a big business out there of lawyers doing this sort of thing."
… Morlok says her supervisor, Shelly Kerr, also asked her not to respond to a request from the Jane Doe sexual assault victim for a summary letter of her medical treatment after the victim had filed a notice to sue with the University. Morlok says she felt uncomfortable with the request to provide "nonstandard care" to a student client who intended to sue the university so wrote the letter anyway. Morlok says her employment was threatened as a result.
Schill, however, says none of the university's actions was illegal. Morlock and Stokes, he says, " 'whistleblowed' on something that was legal, but that's fine."
Schill, who was Dean of the University of Chicago Law School until his July 1 appointment to the UO presidency, says the lawsuit was not a surprise.
"Everybody knew that she was setting it up this way," he says.
… "We've gone out of our way to get better and we're going to continue to get better," he says. "We'll learn and do better."
Here's what I wrote last week, when Jennifer Morlok resigned. Her amazing letter to President Schill is here.
11/2/2015: Ms Morlok was Jane Doe's counselor at UO. Her decision to fight General Counsel Doug Park's efforts to get her client's counseling records has led or will lead to improvements in state and federal law and UO policy. UO needs more people like her. She's a hero.
But the UO administration has treated her like a pariah. She took it for a year, at great personal cost. Now she has resigned, after a year of retaliation from UO. It's heartbreaking. We can't afford to lose people like this.
As for people we can afford to lose – Doug Park, Sam Hill, Shelley Kerr, Robin Holmes – the people who made the decision to get Jane Doe's records, and who led UO into more than a year of expensive national embarrassment? (Legal costs and Jane Doe settlement alone ~$1.6M). They are still here, still making decisions, still collecting their paychecks, still due for their next raises.