11/28/2015: From what I can tell $130K VP for Collaboration Chuck Triplett is actually going to bring his UO ethics policy to the Senate for debate and vote.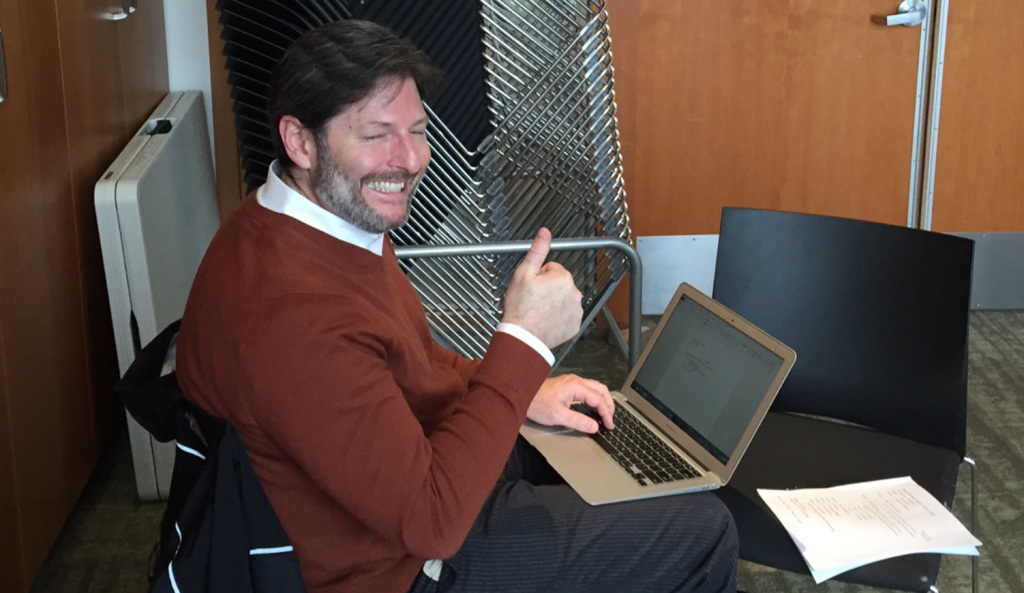 You must "make decisions based upon the greater good" and act in "wise, ethical, and prudent manner", while not "shifting blame or taking improper credit". And the administration thinks the *Senate* is wasting faculty time with pointless discussions?
I've already seen some pretty good suggestions for amendments, including the admirably brief
"University of Oregon Code of Ethics: All employees must follow the University of Oregon Policy on Freedom of Speech and Inquiry".
If that fails, I'll bring up my proposal for a Senate Unethical Activities Committee, with the power to investigate and blacklist offenders:
Meanwhile, rumor down at the Faculty Club Chapel (Episcopalian) is that there will also be questions from the faculty on how we can behave ethically without dedicating ourselves before God to our chosen profession, as VPFA Jamie Moffitt has been requiring the UO Police to do, ever since that unfortunate Bowl of Dicks incident: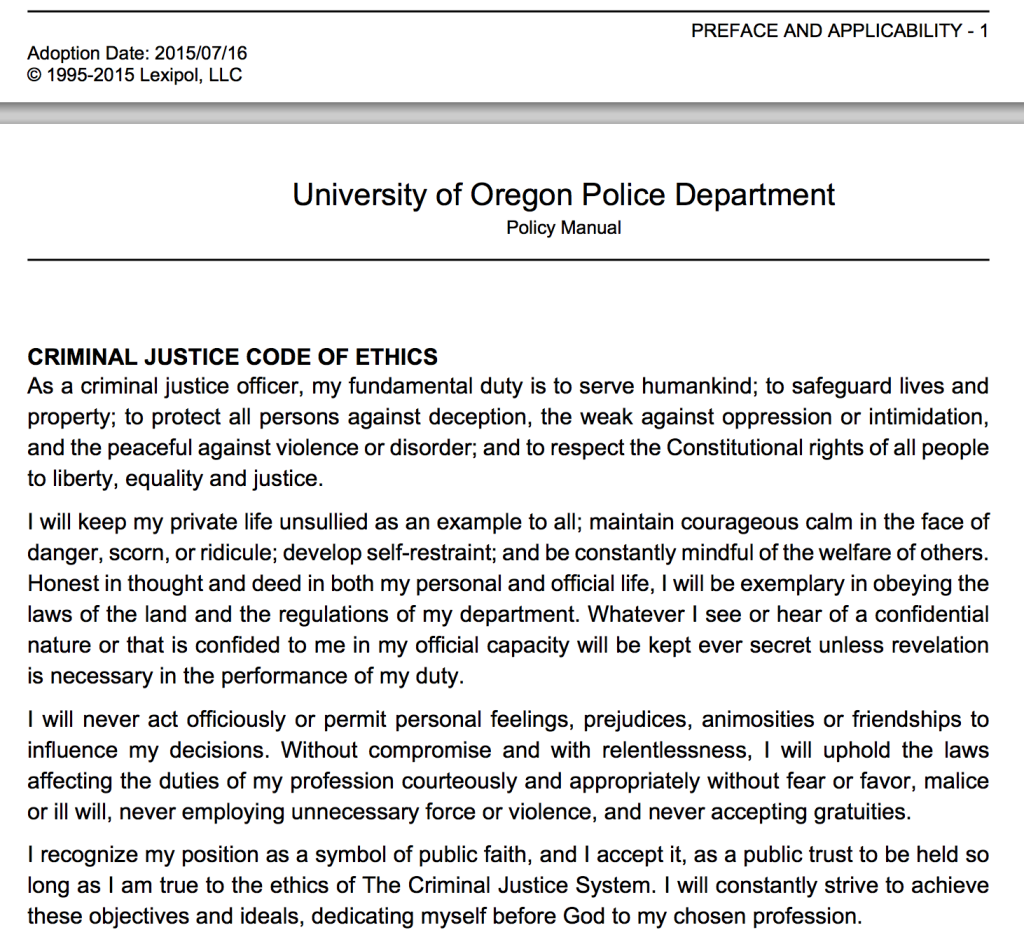 Good thing our Johnson Hall bowl game junketeers aren't sworn officers. That part about "never accepting gratuities" would be a problem.
As for the God business, sorry, but a higher authority disagrees: "… no religious Test shall ever be required as a Qualification to any Office or public Trust under the United States."
11/13/2015: UO ethics policy requires "civil, respectful, and nurturing environment"
And if you fail to "make decisions based upon the greater good" or don't act in "a wise, ethical, and prudent manner" or if you engage in "shifting blame or taking improper credit", you have violated UO policy, and you are subject to university discipline.
That's according to UO's newly revised "Code of Ethics" policy, posted on VP for Collaboration Chuck Triplett's website, and open for comment here.
I've got an email out to Triplett, asking where I report a $130K-a-year administrator, hired without an affirmative action compliant search, who fails to "make decisions based upon the greater good".
IV.02.01  Code of Ethics
The University of Oregon has a duty to educate students to be responsible citizens and provide instruction, research, and public service programs that contribute to the maintenance and growth of a healthy state, national, and world economy. All employees, officers, students, and volunteers acting on behalf of the university have a responsibility to work towards the fulfillment of our mission and conduct themselves ethically, with the highest integrity, and in compliance with all applicable laws, regulations, and policies.
The UO is committed to conducting its affairs in ways that promote mutual trust and public confidence. We strive for excellence in our pursuit of knowledge and maintain high standards in all activities and duties. The UO upholds the following standards as the foundation for a civil, respectful, and nurturing environment when engaging in teaching, research, public service, and administrative activities:
Honesty and Integrity – We demonstrate honesty in our communication and conduct while managing ourselves with integrity. We uphold the values of this code and make decisions based upon the greater good, conducting ourselves free of personal conflicts, self-dealing, using resources for personal benefit or gain, or appearances of impropriety.
Respect – We demonstrate respect towards the rights and dignity of others; show concern for the welfare of others; expect equality, impartiality, openness, and due process by demonstrating equity and fairness without reference to individual bias; and refrain from discriminating against, harassing, or threatening others.
Stewardship and Compliance – We utilize resources and information entrusted to our care in a wise, ethical, and prudent manner in order to achieve our educational mission and strategic objectives. We uphold civic virtues and duties by obeying laws and policies.
Accountability and Responsibility – We take responsibility for our choices and actions by showing accountability and not assigning or shifting blame or taking improper credit. We act with responsibility by reporting unethical and illegal conduct to the appropriate authorities, including supervisors, management, or responsible university offices, including the Office of Internal Audit, and, when appropriate, external authorities including law enforcement.
The UO expects incidences of report fraud, waste, and/or abuse to be reported. Hotlines are available to make reports of fraud, waste, and abuse: 855-388-2710. The Office of Internal Audit will review and investigate as appropriate all reports and, when warranted by the facts, require corrective action and discipline in accordance with policy and law. Employees who make a good faith report of suspected fraud, waste, or abuse are protected from retaliation, in accordance with the Oregon Revised Statute 659.
Fortunately UO has a strong faculty union contract that makes most of the silly parts of this code irrelevant – you are in the bargaining unit, right?
This insipid policy comes from VP for Collaboration Chuck Triplett, who worked on it while he was working for Pernsteiner at OUS. UO Board of Trustees Secretary Angela Wilhelms wants it adopted quickly, apparently because after the sudden resignation of UO's auditor Brenda Muirhead the trustees are asking due-diligence questions about internal controls, and this got carelessly thrown in the pot with updating the more sensible Fraud, Waste and Abuse Reporting Policy, here:
RESPONSIBILITIES
All employees of the University of Oregon shall report known or suspected instances of fraud, waste, and/or abuse. Matters can be reported to campus management (see definition above), the Office of Internal Audit, or through a UO hotline. Campus managers who receive notice of suspected or known fraud, waste, and/or abuse are required to report such matters to the Office of Internal Audit. When employees do not feel comfortable discussing these matters directly with the Office of Internal Audit or campus management, reporting can be made through the UO hotline:
UO Hotline: 855-388-2710 or https://secure.ethicspoint.com/domain/media/en/gui/41097/index.html
UO contracted with EthicsPoint, an independent, third-party vendor, to provide this confidential and anonymous telephone and Internet system for reporting concerns.  EthicsPoint reports concerns received on the hotline to the Office of Internal Audit, which coordinates investigation efforts of reported concerns in conjunction with necessary campus and external parties as deemed appropriate.
Employees who identify themselves and make a good faith report of suspected fraud, waste, or abuse are protected from retaliation, in accordance with (ORS 659A). UO will maintain confidentiality for employees reporting suspected irregularities, misconduct, safety issues, or other concerns to the extent possible under the law.
In accordance with ORS 297, the Secretary of State Audits Division http://www.sos.state.or.us/audits/ is notified of all complaints and confirmed losses that are in excess of $100.
And while we're on the subject of administrators abusing the word "civil", here's a open letter on the recent UIUC settlement with Stephen Salaita. UIUC paid him $875K, but did not reinstate him. You can add you name at the bottom, here:
As scholars in a wide range of academic disciplines we write to express that we are both pleased and concerned that the University of Illinois at Urbana-Champaign (UIUC) has agreed to settle Professor Steven Salaita's lawsuit challenging his illegal termination by the UIUC Board of Trustees after he made comments on social media critical of Israel's military assault on Gaza in the summer of 2014. We note that the University agreed to settle Professor Salaita's claims only after a federal court had ruled in Professor Salaita's favor on key elements of his case, including that his employment was terminated after he had been given a contract of employment by UIUC, and that Professor Salaita's comments on social media were protected by the First Amendment.
We are pleased that the University of Illinois trustees, through the payment of a substantial monetary settlement to Professor Salaita, have acknowledged how Professor Salaita's termination amounted to a serious violation of both his constitutional right to free speech on matters of public concern, and principles of academic freedom. Agreeing to pay what amounts to the equivalent of Professor Salaita's salary for ten years, the University of Illinois trustees have implicitly conceded the core claims of Professor Salaita's lawsuit: that he was illegally terminated in retaliation for his comments in connection with the Israeli war on Gaza, and that UIUC officials' decision to terminate Professor Salaita was motivated, at least in part, by pressure they received from large donors to the University as was revealed by emails disclosed by the University in connection with the lawsuit.
At the same time, we are concerned about the terms of the settlement for two principal reasons. First, it did not include Professor Salaita's reinstatement. Although we respect Professor Salaita's decision to accept the settlement and to move on with his career, we nevertheless call attention to the fact that a cash settlement without an offer of reinstatement leaves unaddressed the unjust terms by which his employment was terminated. Not only were his fundamental rights of free speech and academic freedom abridged, but he remains entitled to reinstatement at UIUC as a matter of principle, whether or not he chooses to accept that reinstatement. As it stands, the settlement demonstrates that the university can abridge such rights at a price, setting a perilous precedent.
Second, we recognize that UIUC's unlawful treatment of Professor Salaita has had implications well beyond Professor Salaita individually. …