12/8/2015:  Don't cry for our old friends at Harrang, Long, Gary and Rudnick. They're still getting their share of billable hours from the long list of law firms making bank off UO's legal troubles. This is just October: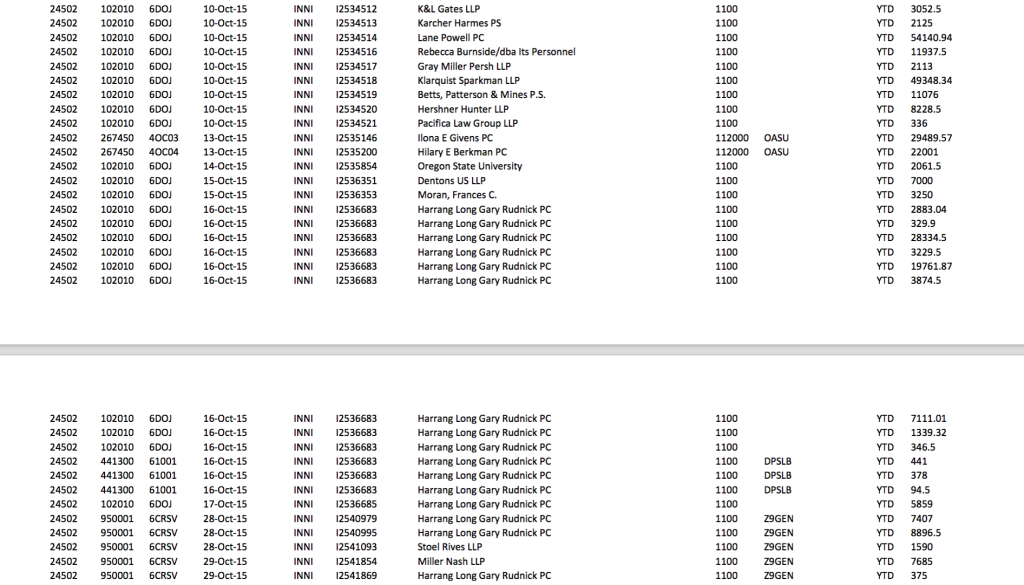 But HLGR was unable to stop the OPBE from proposing a $5K fine for UO Counseling Director Shelly Kerr over her decision to give Doug Park and Sam Hill the Jane Doe counseling records.
And it looks like JH is taking the retaliation claims brought by Jennifer Morlok and Karen Stokes seriously enough to call in some experienced legal representation for the federal case: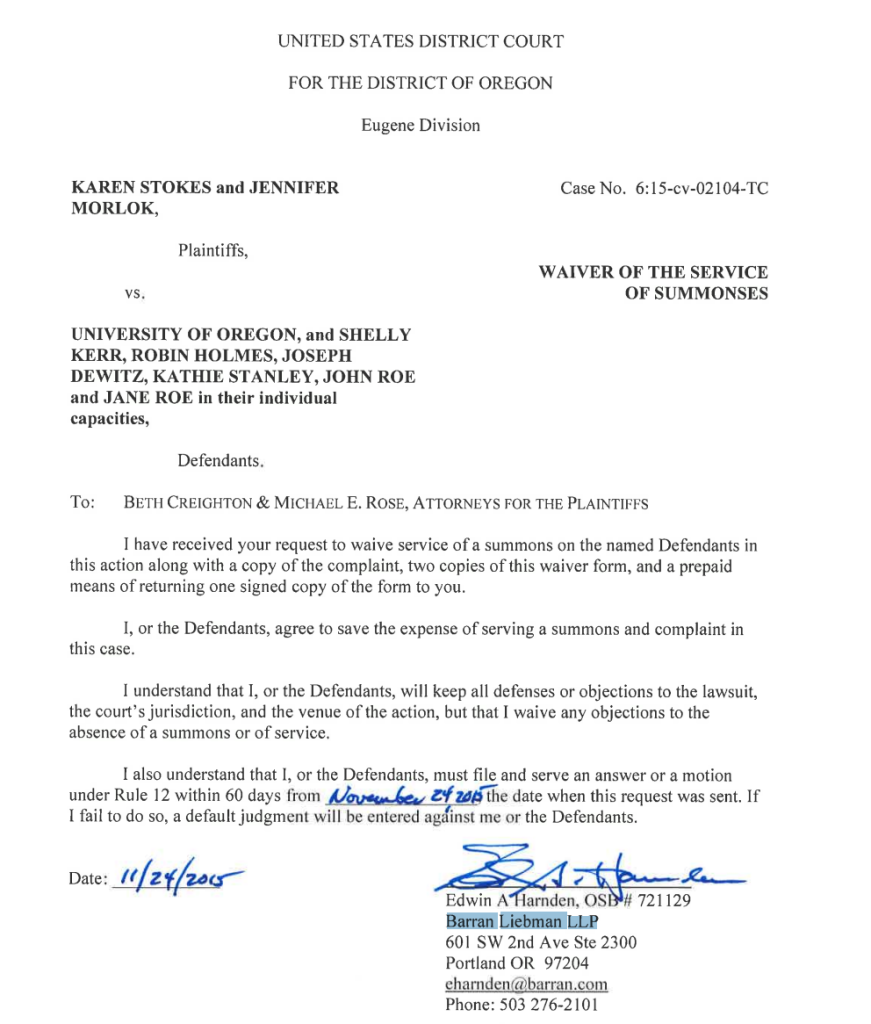 Mr. Harnden is the managing partner of Barran Liebman, and has quite the resume:
11/10/2015: Morlok and Stokes claim retaliation, file lawsuit against Robin Holmes, Shelly Kerr, etc.
Diane Dietz has a detailed story in the RG here. A snippet:
Two former University of Oregon counseling center employees filed suit against the university saying they faced retaliation after they blew the whistle on the university for accessing a student's therapy files.
This is the third lawsuit to stem from a March 2014 rape allegation, which has become a blight that the university can't seem to shake.
Jennifer Morlok and Karen Stokes filed their suit Monday at the U.S. District Court in Eugene naming four administrators, two unnamed defendants listed as John Roe and Jane Roe and the university.
Stokes claims that in December 2014 she was ordered to make a complete copy of a student's medical file without indicating — by stamping or documenting — that the file had been copied, according to the lawsuit.
Stokes notified Morlok, the student's therapist, about the order.
Speaking of blights that the university can't seem to shake:
University spokesman Tobin Klinger said the university is preparing a statement in response to the lawsuit. …
Here's the email, apparently sent at the direction of former Interim General Counsel Doug Park and his associate GC Sam Hill, that has so far cost UO $800K for the Jane Doe settlement, untold legal fees, and incalculable embarrassment: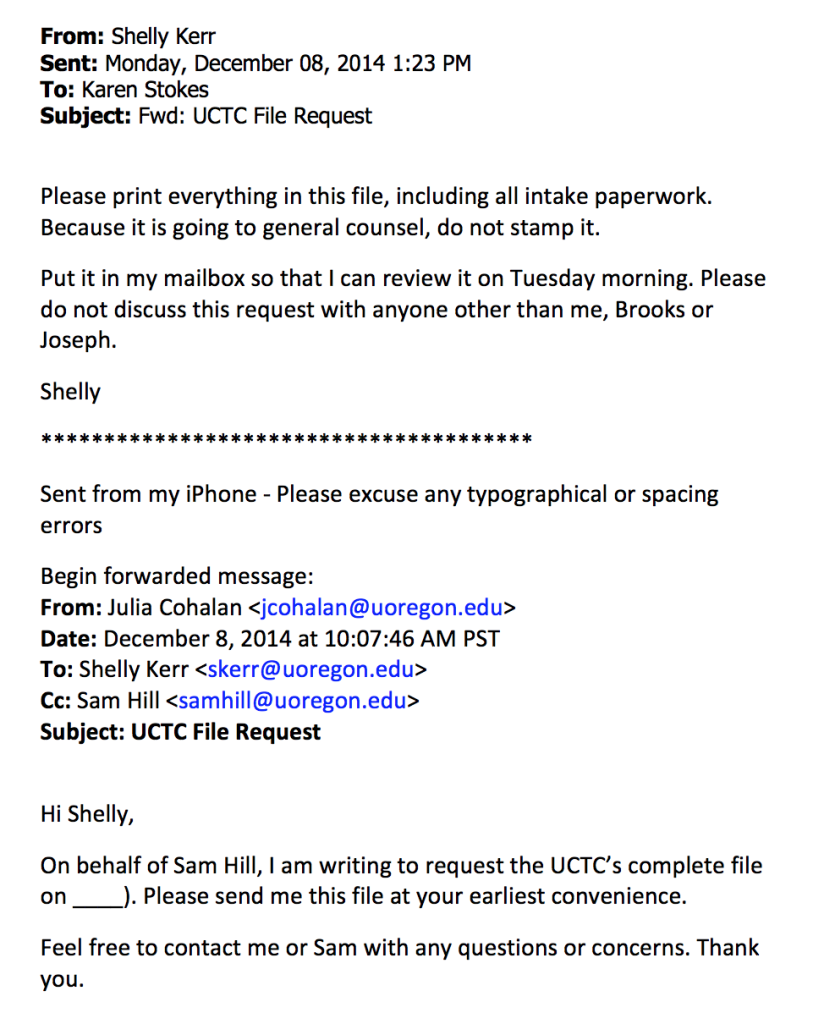 And here's what I wrote last week, when Jennifer Morlok resigned. Her amazing letter to President Schill is here.
11/2/2015: Ms Morlok was Jane Doe's counselor at UO. Her decision to fight General Counsel Doug Park's efforts to get her client's counseling records has led or will lead to improvements in state and federal law and UO policy. UO needs more people like her. She's a hero.
But the UO administration has treated her like a pariah. She took it for a year, at great personal cost. Now she has resigned, after a year of retaliation from UO. It's heartbreaking. We can't afford to lose people like this.
As for people we can afford to lose – Doug Park, Sam Hill, Shelley Kerr, Robin Holmes – the people who made the decision to get Jane Doe's records, and who led UO into more than a year of expensive national embarrassment? (Legal costs and Jane Doe settlement alone ~$1.6M). They are still here, still making decisions, still collecting their paychecks, still due for their next raises.
Recapthelaw has the docket here, and the complaint from Stokes and Morlock's attorneys Beth Creighton and Michael Rose of Portland's Creighton and Rose is here. Some extracts: