Update: This post originally said "~$450/hour" for HLGR's Bill Gary. I've now been told by the GC's office that they negotiated him down to $315. The first time I asked for the billable rates for UO, the Public Records Office redacted them as trade secrets. I'd forgot about this, but they neglected to redact them from one invoice, so I have this info, showing we were paying Gary $290-$305 an hour in Jan 2013:
Lets call it a 5% increase over three years. Not bad considering the down legal market and recent public debacles from HLGR, such as when they represented Eugene's 4J School District in the RG's lawsuit to get the Berman public records. Right in the middle of the lawsuit someone at HLGR mistakenly emailed the entire dump of records to the Register Guard. Whoops: https://uomatters.com/2015/05/harrang-long-gary-and-rudnick-too-transparent-with-potentially-incriminating-public-records.html. Word is that 4J quickly found a new law firm.
And the city of Eugene got rid of Harrang, Long, Gary and Rudnick in 2014, apparently saving millions in the process: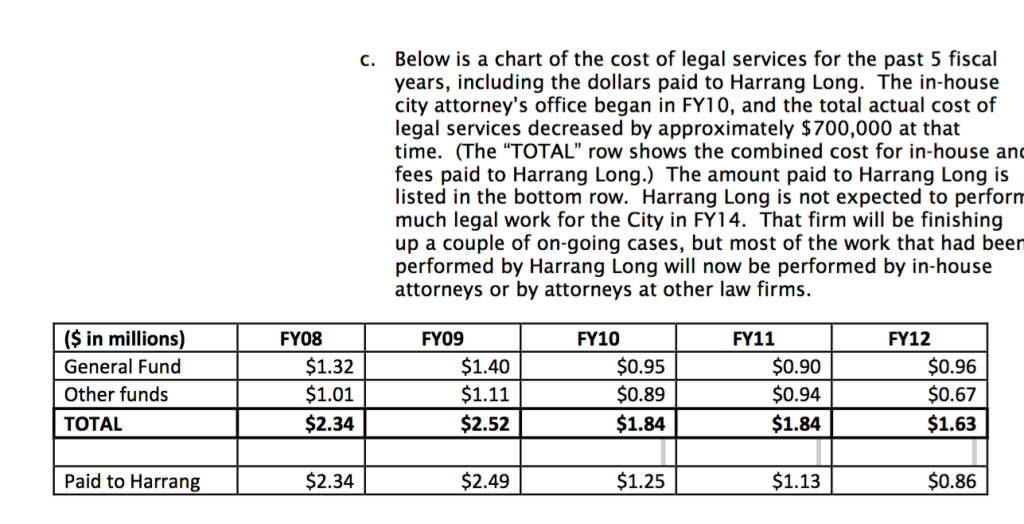 1/11/2015: The Greeks had a word for this kind of shit: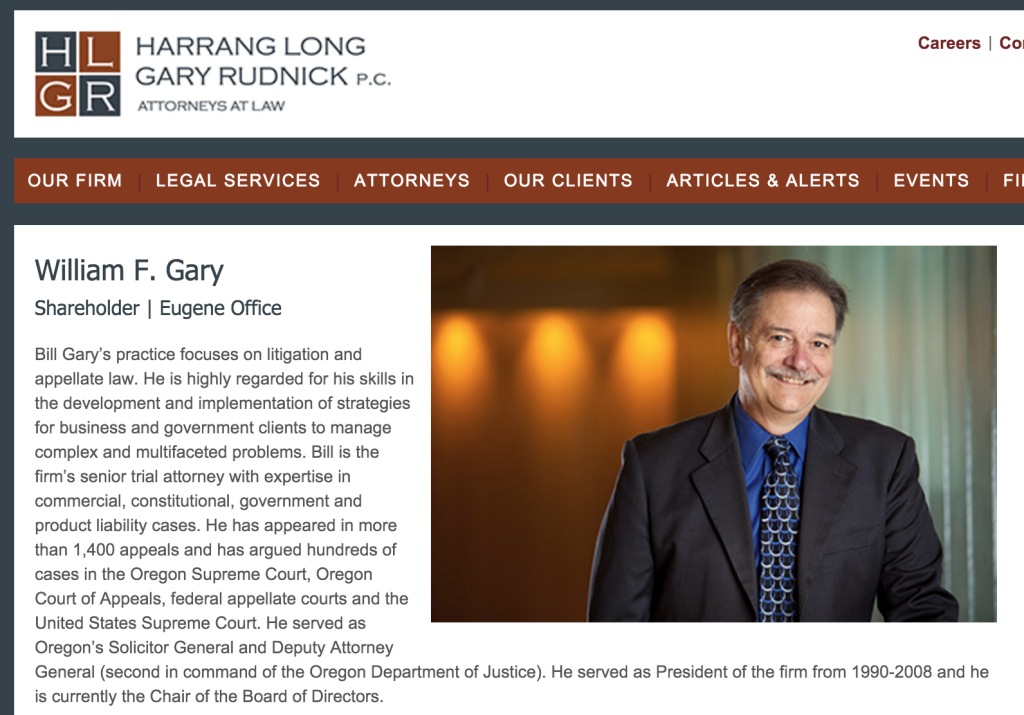 Bill Gary is the well connected lawyer who in 2012 successfully argued that the state should have to pay himself and the other HLGR attorneys *twice* their normal billable hours – $868K – for their work on the Mark Long lawsuit against John Kroger's DOJ. This case was an abortive precursor to the Cylvia Hayes scandals that ultimately brought down Governor Kitzhaber.
Randy Geller, at the time UO General Counsel, submitted a brief in favor of HLGR's double-billing. I filed an ethics complaint against him and Gary with the Oregon Bar, as explained by Nigel Jaquiss in Willamette Week. It turned out that the Bar was not real excited about disciplining lawyers for trying to get money, and after some back and forth they told me to go away. Geller now works for HLGR – go figure.
But before HLGR hired him Geller had hired HLGR's Andrea Coit, to defend UO against UOPD officer James Cleavenger's First Amendment retaliation lawsuit. She lost.
The jury awarded Cleavenger $755K in damages, plus legal fees. Coit objected to the jury's decision and to the fees, and Judge Carter has agreed to come back to Oregon in February and hear her plea. And now UO has added Bill Gary to the case:
My guess is that Gary is charging UO $450 or so an hour Gary is charging UO $315 to try and convince Carter that Cleavenger's Kafoury and McDougal attorneys are getting paid too much. I'm not sure how much HLGR has already billed UO on this, but it's probably close to $500K so far. For losing.
Oh yeah, Gary also argued for the state in the recent lawsuit over Kitzhaber's PERS cuts. I wonder how much he billed for that? He lost.