2/15/2016: In Around the O, here.
11/2/2015: UO's Chief Auditor Brenda Muirhead leaves UO after 18 months
This is really bad news for trust and transparency at UO. Muirhead was a professional with an impeccable record. Her job was to set up procedures to enhance UO's minimal internal controls and conduct internal audits. For example, her office confirmed that UO had never done an open affirmative action compatible search for $130K VP for Collaboration Chuck Triplett. They are currently conducting a regularly scheduled audit of the athletics department, etc.
In the corporate world, the resignation of an auditor (external) is the best single predictor of internal control deficiencies, because auditors compare the revenue they earn with the reputational costs of being associated with a company with problems, and they bail when that equation becomes negative. See for example Ashbaugh-Skaife et al (2007) at https://tippie.uiowa.edu/accounting/phd/publications/collins_discovery.pdf.
I heard the rumor Muirhead had left today. Her linkedin page says she left in October. She is already gone from the UO Directory. Here's VPFA Jamie Moffitt's proud announcement of her hiring, just 18 months ago:
Dear Colleagues –
I am pleased to announce that Ms. Brenda Muirhead has accepted my offer to serve as the University of Oregon's new Chief Auditor. She will create and direct the university's independent audit program and coordinate a broad range of audit functions in support of the needs of the university. We anticipate Brenda will begin her new position on May 19, 2014, pending review and approval of all necessary paperwork.
Brenda currently serves as Audit Manager at the University of Kansas in Lawrence, a research and teaching institution of 28,000 students and 2,600 faculty on five campuses. Before coming to the KU, she served as Senior Auditor for the Kansas Legislative Division of Post Audit, in Topeka. This background has enabled her to become a versatile and effective leader with an excellent understanding of audit operations and internal controls.
We are in the midst of a very exciting and dynamic period in this University's history. I am excited to have Brenda join our team, and am confident she will apply her experience and skills to help us further the mission of our university and to embrace the changing needs of our institution. Please join me in welcoming Brenda to campus.
Jamie
Jamie Moffitt
Vice President for Finance & Administration & CFO
University of Oregon
[email protected]
541-346-3003
And here's the UO Board of Trustees motion giving her power, passed just 5 months ago:
6/5/2015: One giant leap for transparency, as UO's auditor Brenda Muirhead takes charge
I'm assuming that the Audit Committee sent this forward to the full Board Wednesday, and that they approved it Thursday: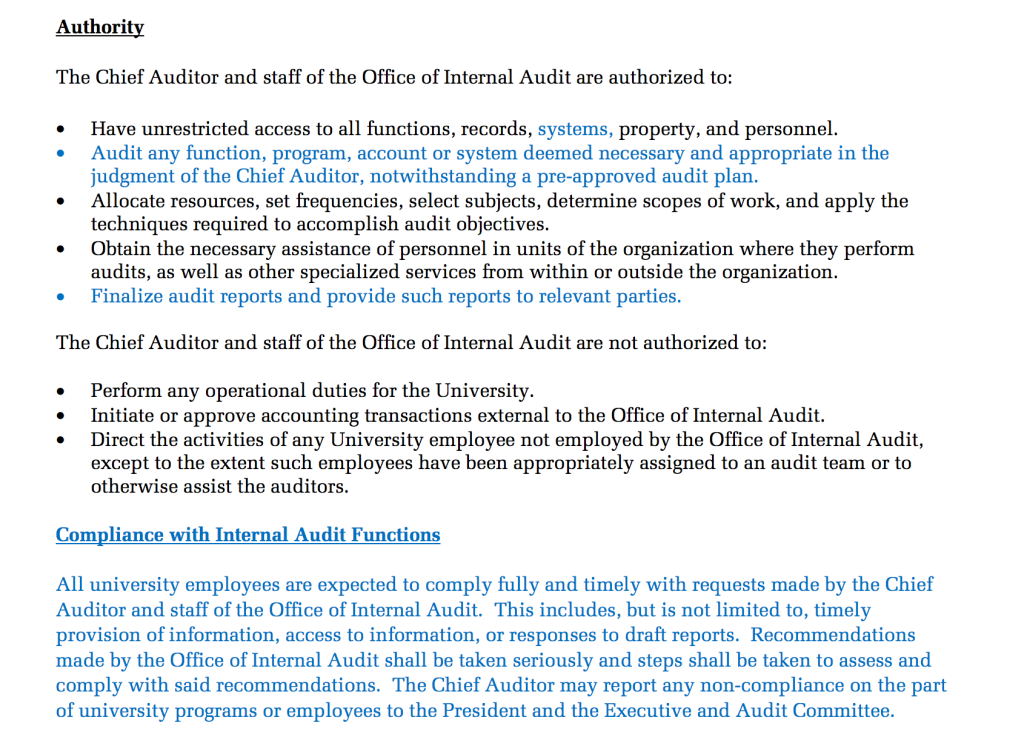 This is great news. UO has a professional auditor, Brenda Muirhead, and now she has the power and responsibility to investigate all of UO and report back the the Board. Those reports will be public records, presumably posted on the web as the Oregon SOS audits division does. More transparency, more trust, and one small step towards removing the need for this blog.
And those audits will be public eventually, right? Because there's nothing posted yet: