You be the judge. For background on the Bowl and the verdict read this. The arguments on UO's plea for remittitur will be in Portland on Friday.
Here's Andrea Coit, the $290 an hour HLGR lawyer whom Randy Geller put in charge of defending UO against former UOPD officer James Cleavenger's "Bowl of Dicks" lawsuit, on page 335 of the official trial transcript from day 2:
MS. COIT:  Mr. Cleavenger is wearing a Freemason pin on his lapel. I know the connotations for Freemasons. I don't know the jury's membership in any sort of community like that. I don't think it's necessary that he wears it.
THE COURT: He has the First Amendment right to wear whatever he wants to, frankly; but I wouldn't say the Freemasons are real popular either, It cuts both ways.
MR. CLEAVENGER: Your Honor, it's actually a University of Oregon pin.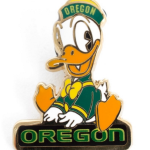 THE COURT: Oh, it is? Counsel?
MS. COIT: My apologies if that's —
THE COURT: He's going to give that to you. You're a Duck, aren't you?
MS. COIT: I am. Absolutely. My apologies if that's —
What in the world was Ms Coit talking about? I'm no legal history professor, but it all started with one of the weirder episodes in early American politics: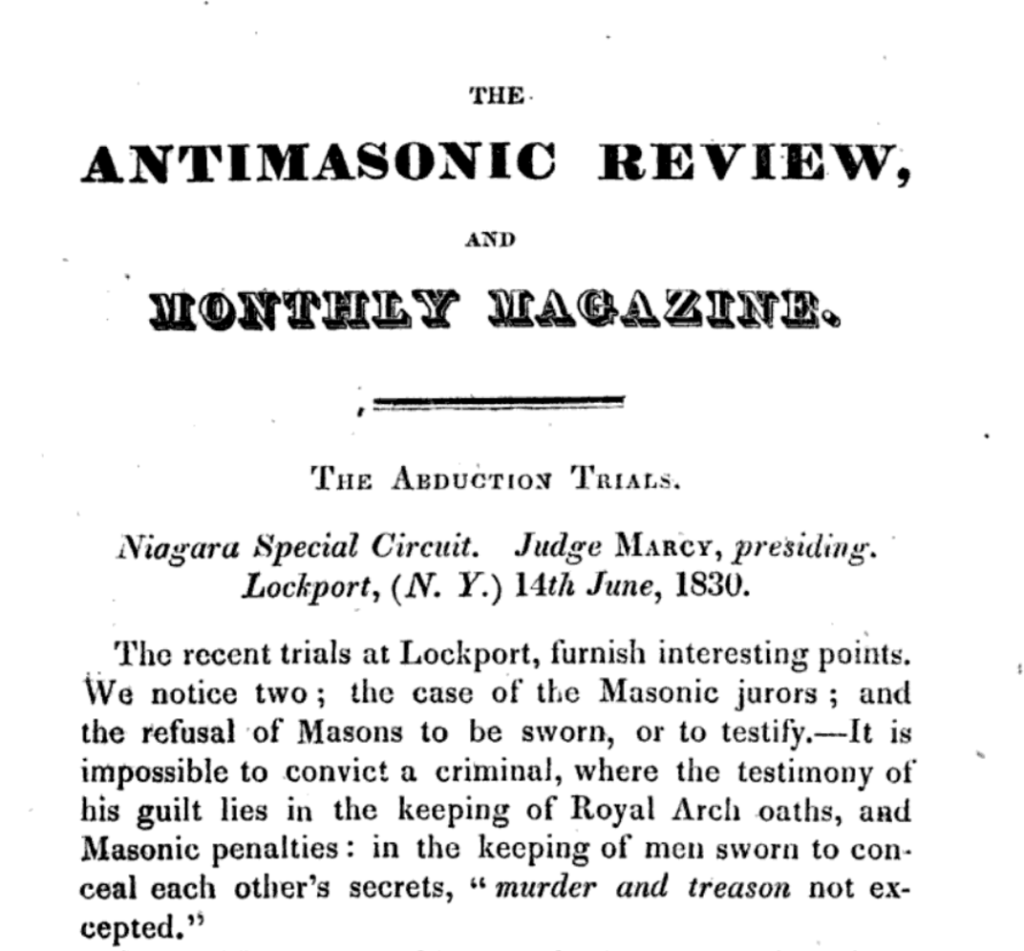 Wikipedia has more here. And if you google "freemason oath jury trial" you'll find this, along with some similar anti-semitic arguments:
Page 183 of the Masonic Handbook states: Whenever you see any of our signs made by a brother Mason, and especially the grand hailing sign of distress, you must always be sure to obey them, even at the risk of your life. If you're on a jury, and the defendant is a Mason and makes the grand hailing sign, you must obey it; you must disagree with your brother jurors, if necessary, but you must be sure not to bring the Mason guilty, for that would bring disgrace upon our order. You must conceal all crimes of your brother Masons except murder and treason, and these at your own option, and should you be summoned as a witness against a brother Mason, be always sure to shield him. Prevaricate, don't tell the truth in this case, keep his secrets, forget the important points. It may be perjury to do this true, but you are keeping your obligations."
More recent work on the Grand Masonic Conspiracy comes from the noted English barrister John Cleese, here. And here's video of Louis Farrakhan, explaining how the Free Masons have manipulated US politics since George Washington – an idea which Farrakhan apparently got from watching Nicholas Cage in National Treasure, or maybe from reading way too many Dan Brown novels.
In short, the possibility that the plaintiff is using his lapel pin to make secret signals to his brother Masons on the jury is not the most credible argument to try out on a judge – even if it hadn't turned out to be a Duck pin.
HLGR is due in court in Portland this Friday Feb 12th, for one last attempt to convince Federal Judge David O. Carter to set aside the jury's verdict from September awarding Cleavenger $755K in damages plus legal fees. The docket is here. I'm starting to get a sense for why UO has decided to pay HLGR senior partner Bill Gary $315 an hour to give Ms Coit a little help with this case.
The best summary of events so far comes from longtime Oregonian reporter Betsy Hammond, here:
A federal jury awarded a former University of Oregon public safety officer $755,000 Friday after finding that UO Police Chief Carolyn McDermed and a top lieutenant retaliated against the young officer for blowing the whistle on department wrongdoing. The eight-person jury sided with ousted UO public safety officer James Cleavenger, who said the chief and Lt. Brandon Lebrecht vindictively retaliated against him for speaking out about department bias and ineptitude. Top university officials, including the No. 2 in-house lawyer, were in on the decision to punish him. "This is a victory for every honest police officer," said Jason Kafoury, Cleavenger's lead lawyer. "The jury today honored and enforced an officer's right to speak freely on matters of public concern, regardless of whether their superiors approve."
… Kafoury said of the verdict: "This is a loud and clear message that the University of Oregon needs to get new leadership in that police department."
Top UO human resources officials were intimately involved in the decision to fire Cleavenger, and McDermed testified that Douglas Park, then UO's No. 2 in-house lawyer, knew she was going to try to get Cleavenger on the Brady list. Since then, Park was promoted on an interim basis to be UO's top in-house lawyer, but he is slated to return to the No. 2 job when a permanent successor takes over in about a week.