Update:
Diane Dietz reports that the Trustees voted 11-3 to raise tuition – here:
… The trustees voted 11-3 in favor of Schill's proposal for a higher-level of tuition. The students stood, yelled and stomped out of the room.
Trustees Willcox, Ann Curry and student trustee William Paustain voted against the higher-level tuition increase.
Curry said that the rising cost of retirement and medical coverage for university faculty and staff drove the need for the larger increase — and placing those costs on students backs is "not right."
"It's fundamentally unethical. I would go as far as to say immoral," Curry said.
After the vote, Paustain joined the students in the noisy walkout. After last year's tuition increase of 3.7 percent, the students shut down the trustees meeting.
She also has a report on BOT Chair Chuck Lillis's anti-tenure comments, here:

Meeting of the Board — March 4, 2016 [Materials] Live stream here. 
10:00 am (other times approximate) – Convene Public Meeting – Call to order, roll call, verification of quorum – Opening remarks   – Approval of December 2015 and February 2016 minutes, and March 2015 Presidential Factors Committee minutes (Action) –
Public comment Those wishing to provide comment must sign up advance and review the public comment guidelines either online (http://trustees.uoregon.edu/meetings) or at the check‐in table at the meeting.
The UO Board of Trustees is the only one I've ever heard of that doesn't allow for a regular report from the Senate President, followed by some Q&A with the board. Weird.
The current Senate President, Randy Sullivan (Chemistry) has submitted written remarks to the board anyway. I'll post them when I find them.
Chair Lillis opens the meeting. Will start with public comment on Deady, then tuition. In the past Lillis has been actively hostile to public comment, he's mellowed considerably. 90 secs per speaker.
Theodora Tho Thompson, SEIU classified union president: Comments on new strategic excellence framework.
Public Comment on renaming Deady Hall:
Professor Emeritus Ed Coleman speaks in opposition to the renaming of Deady Hall, noting that Deady not only repudiated his early racism, he became a strong supporter of black suffrage, women's suffrage, the rights of Chinese immigrants, workers, etc. in a lifetime of consistent work as a federal judge. "It would be a disgrace to remove his name from Deady Hall."
Jerry Rust,'65. Deady contributed money to support women's suffrage. Was a friend of Chief Joseph. Hired blacks. He was a supporter of diversity and, financially, his contributions saved the university.
Scott Bartlett, alumnus: Heartfelt remarks opposing Deady's racism and reiterating his later redemption.
Public Comment on Divestment:
Students Emma and Amber (sorry, missed last names): For fossil fuel divestment – argues this is consistent with UO's claims on sustainability. Emma notes that President Schill reports the UO Foundation now has only $4M invested in fossil fuel stocks. Too bad Jay Namyet didn't get out when the students first started arguing for this: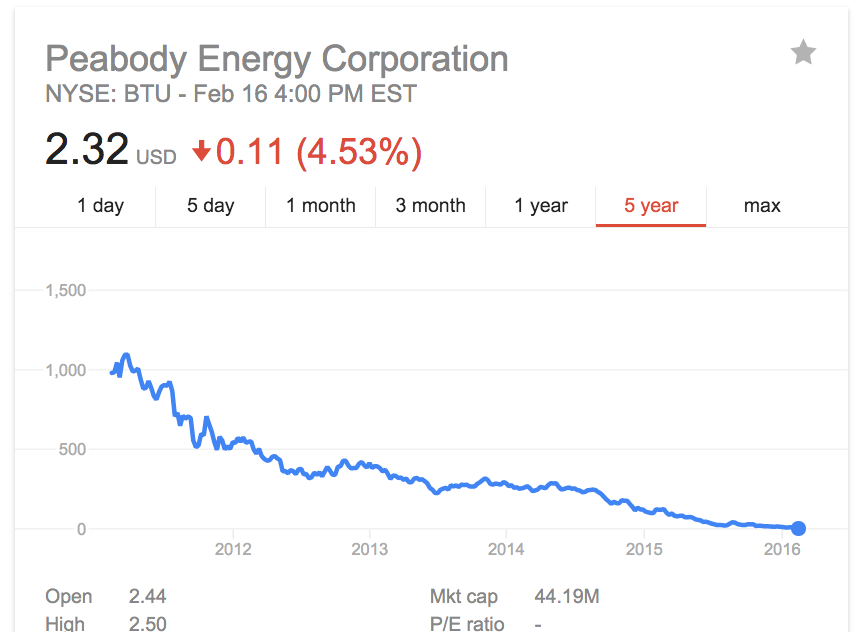 Comments on tuition increases:
[Note: For more details on the increases, and Schill's plan to reduce the cost of UO by helping them graduate in 4 years instead of the increasing common 5: https://uomatters.com/2016/02/one-extra-year-of-college-costs-students-more-than-a-100-tuition-increase-would.html
Jimmy Murray (libraries): Reports on information he has collected about student opposition to tuition increases, as a supervisor of student workers in the library.
Shawna Meecham (GTFF president) speaks in opposition.
Amber Potratz, student, speaks in opposition. Learning disabilities can only take 12 credits, first in family, tuition is already too high.
Chandler (missed name): Couldn't be happier with Ducks or his professors. Worried about student debt. Not saying this board is responsible, but asks board to do their part to combat student-debt crisis.
Student (missed name): Argues that increased tuition will make it more difficult to meet diversity goals.
Helena Schlegel – the student Trustee that Lillis got to leave the Board: Announces that ASUO supports divestment, renaming, Supports Kurt Wilcox's proposal to limit tuition increase to 3.5%. Not asking for a tuition freeze – we understand the UO's financial situation. But remember what it was like to be a student – even $90 is a lot of money.
Shawn Stevenson, undergrad. Let's compromise – 4.7% is just too large. [Shawn's an econ major, in case you didn't guess ;)] Argues that UO can find the $2.7M. [Easy: cut baseball, make the cash rich athletic department pay for the $2.4M Jock Box tuition, etc.] Stevenson goes on to argue that the state is not giving UO money in part because the legislators don't believe UO when they say they will use state money to provide affordable education.
[There's a lot of emotion from some student and staff commenters. I'm surprised at how little recognition there is of UO programs like Pathways, diversity scholarships, etc. No one has mentioned Schill's plan to accelerate completion to reduce the opportunity cost of college – which far exceeds the tuition increases. This would all be more interesting with some back and forth from the board. They're getting a lot of very serious thoughtful comments from students, it's odd that the board just sits there making sympathetic faces instead of getting into the back and forth.]
And then the penultimate speaker goes off the rails with a rant. Oh well.
The last one (missed name) reads comments collected from students opposing increase. Says she's got 30 pages. What is the point of this? She's shutting off discussion with this.
Ann Curry tries to save the day by suggesting that this can be put into the record.
Nope, she goes on and on. The other students tell her she's made her point, time to sit down. She does.
1. AY2016‐17 Tuition and Fees (Action), President Michael Schill, Vice President for Finance and Administration/CFO Jamie Moffitt and Vice Provost for Budget and Planning Brad Shelton
Break 1b. Additional Resolutions from Committee ‐‐Seconded Motion from FFC: Authorization for Bond Issuance (pending March 3 committee action)
Lillis: Complicated, difficult, we've considered all the ins and outs.
Schill: I've listened to everyone, but my recommendation stands. Increase tuition by $405 per year.for the average in-state student. This is necessary because we must invest in the university in order to deliver an excellent education. I wish it weren't so, but because of low state support we need to fund UO with tuition.
[Wasn't one of the arguments for an independent board that there would be $2B in philanthropy to augment state funding? How's that going?]
VPFA Jamie Moffitt: We had lots of public meetings, 3 forums, got feedback, then ignored it all. We're unwilling to go after the bloated athletic budget and their hidden subsidies, because the jocks and boosters scare us. So we're hitting up the students. And please don't ask me about the $10M UO undergrads are now paying to prop up my husband's law school. Any other questions?
VPB Brad Shelton: Info starts on page 68 of pdf here. Unfortunately this info was not part of the original board materials, here. This is too bad, it might have led to better public comments, or not.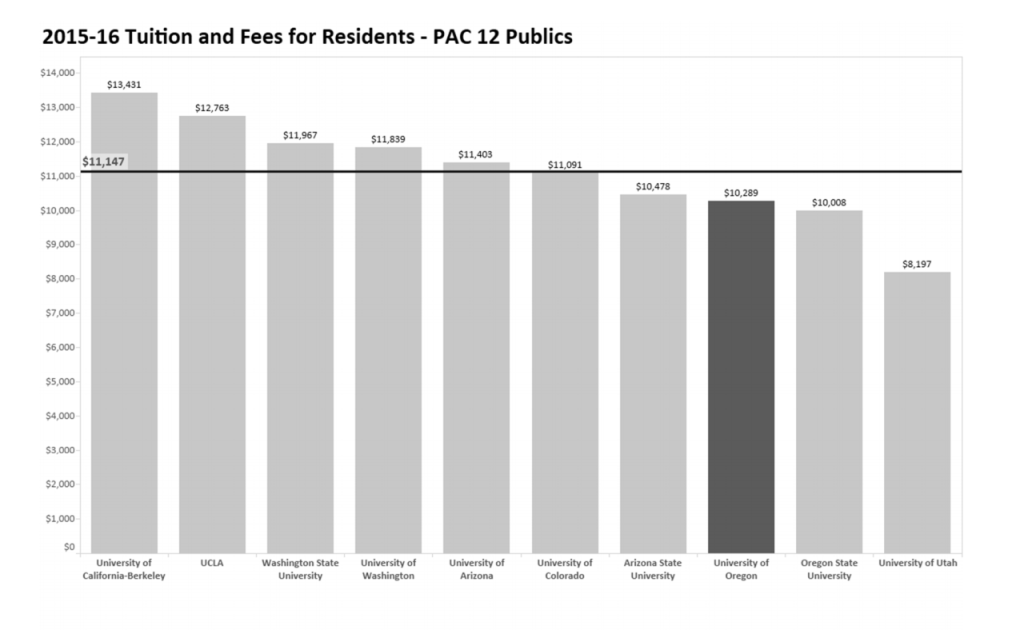 VPFA Moffitt then explains why UO is using millions from the "education and general fund" to pay for the jock box tutoring and Knight Arena land. Just kidding. It's all about the increasing cost of salaries and benefits: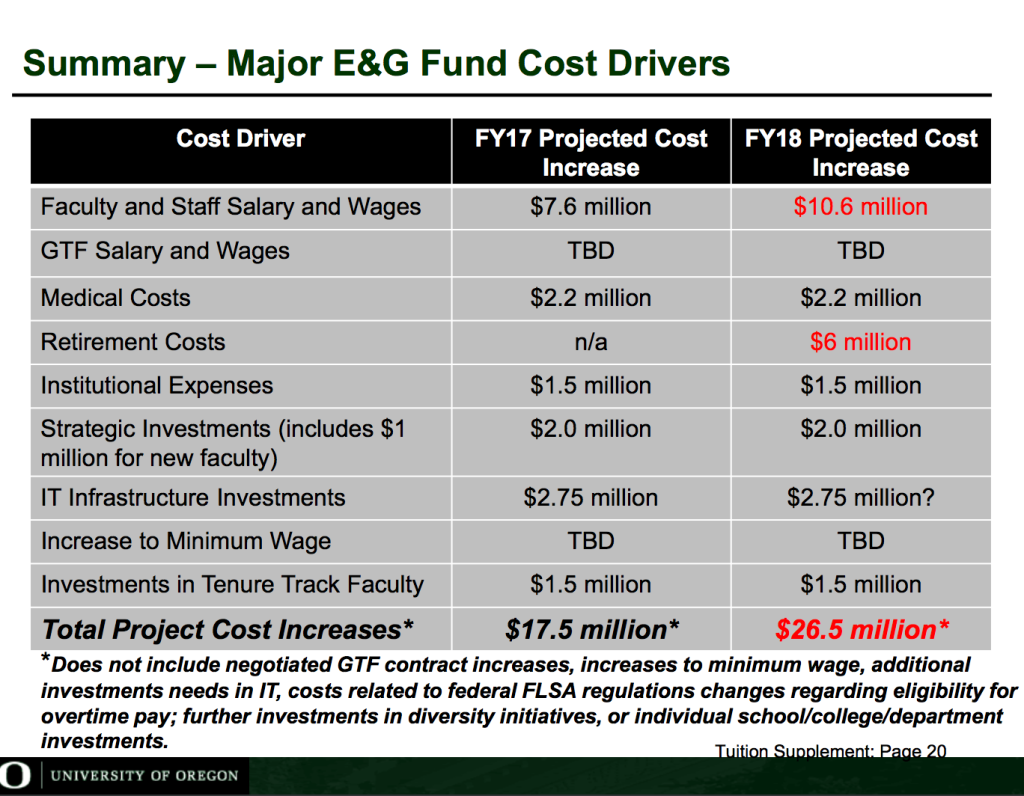 Peter Bragdon mentions that not only does the legislature not fund UO much, they also impose unfunded mandates such as requiring UO employees to stay in the state health insurance pool ($25M a year, if I recall) plus PERS. They've raised the minimum wages, which benefits many student workers e.g. in the library, but UO will have to fund all that.
[Sorry, I have to go. Please post comments if you are here or watching.]
2. President's Report and Strategic Framework Overview, President Michael Schill
Nothing says mediocre like saying EXCELLENCE. So Schill won't say this word.
3. Presidential Goals and Evaluation (Action), Chair Chuck Lillis and Vice Chair Ginevra Ralph
Snoozer. Schill's doing his job plus all the jobs the previous 5 presidents and interims were supposed to be doing but didn't.
4. Capital Campaign and University Advancement Update, Vice President for Advancement Mike Andreasen
Andreasen isn't showing much. I wonder why not? All the donations are going to the Jocks?
5. University of Oregon Foundation Overview, University of Oregon Foundation President and CEO Paul Weinhold
Basic due diligence.
I'm sure the Board will ask Weinhold some tough questions about the decline in transparency since he took over the Foundation, and his loss exposure for the various IAAF track championships.
6. Information Technology Strategic Planning, Provost and Senior Vice President Scott Coltrane, Vice President for Finance and Administration/CFO Jamie Moffitt, Interim Vice President for Research Brad Shelton and Assistant Vice President and Chief of Staff to the Provost Melanie Muenzer
Yikes.
Things that should be on the BOT agenda but aren't (suggestions welcome).
Background:
The last time the UO Board of Trustees voted to increase tuition UO's Public Records Office tried to charge $474.28 for public records explaining the increase:
Dear Mr. Harbaugh:
The University of Oregon has received your public records request for "any documents provided to the Tuition and Feed Advisory Board, from 7/1/2013 to the present", on 11/04/2014, attached. The office has at least some documents responsive to your request. By this email, the office is providing you with an estimate to respond to your requests.
The office estimates the actual cost of responding to your request to be $474.28. Upon receipt of a check made payable to the University of Oregon for that amount, the office will proceed to locate, copy, and provide the records you have requested that are not exempt from disclosure. Your check may be sent to the attention of Office of Public Records, 6207 University of Oregon, Eugene, OR 97403-6207.
The university has received your request for a fee waiver for these records. The decision to waive or reduce fees is discretionary with the public body. After considering your request, the office does not consider that the totality of the circumstances you presented meets the standard for a fee waiver.
… Thank you for contacting us with your request.
Sincerely,
Lisa Thornton
Office of Public Records
University of Oregon
Office of the President
Really? No public interest in understanding why a public university is increasing tuition? A few months later the board met to approve the increase. The students came out in mass to protest. The very high participation by the international students was striking. Full post here. The signs called  out the administrators and coaches for their bloated salaries: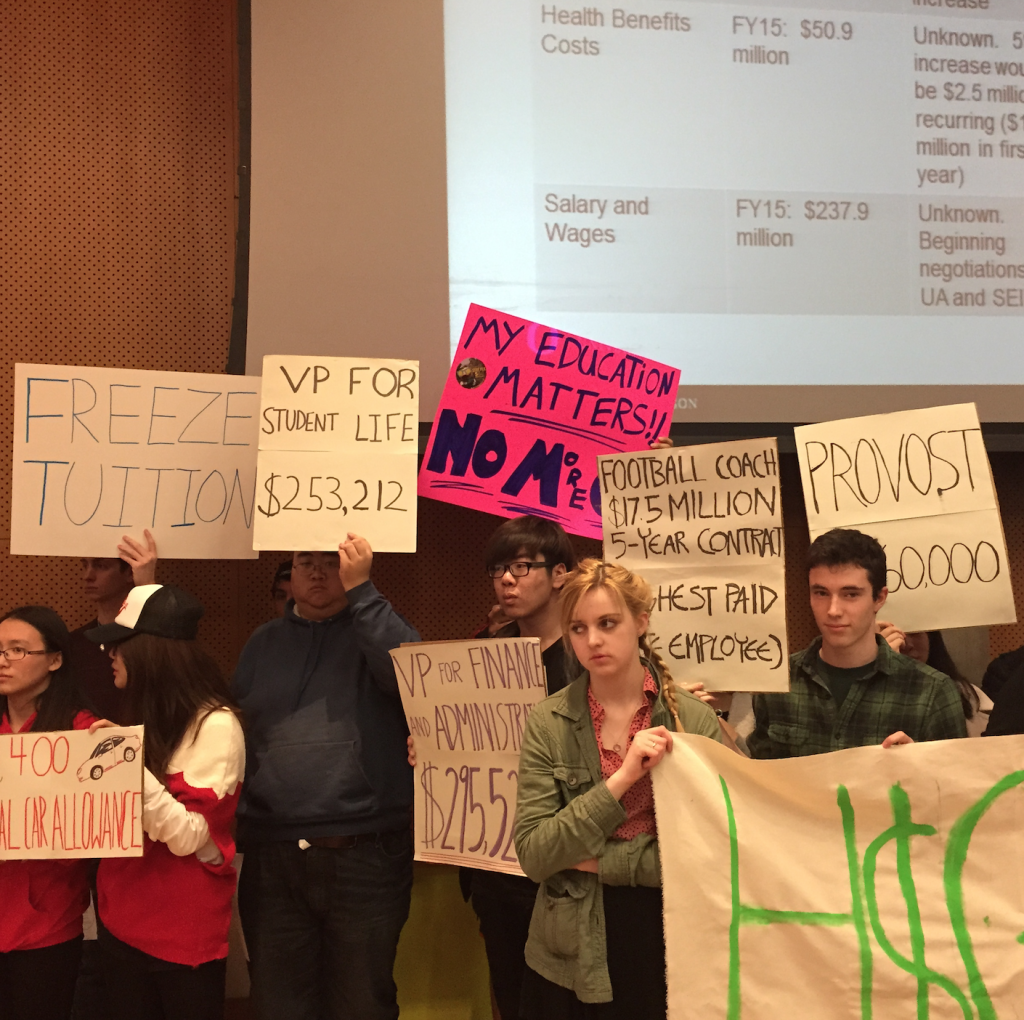 BOT chair Chuck Lillis just couldn't stomach the fact that the UO Student Board Member, Helena Schlegel, then proposed a slightly smaller increase. Lillis drove Schlegel off the board and had the Governor replace her with a new student trustee, picked by the board instead of by student government. What a horrible precedent.
Off course there are good reasons to increase tuition. The basic model is to raise tuition and raise the discounts for low income students. And, in fact, UO is proposing to keep tuition for in-state Pathways students at $0. This is really not that hard to explain to people. Every university does it – and there's no reason to hide it.