Nicholas Kristof is the son of two PSU professors and grew up on a farm in Oregon. A few years ago we got him to come to campus and talk to our SAIL students. He is arguably the most liberal of the NY Times's columnists, although it's tough to top Krugman. Here's his latest column:
After Donald Trump's election, some universities echoed with primal howls. Faculty members canceled classes for weeping, terrified students who asked: How could this possibly be happening?
I share apprehensions about President-elect Trump, but I also fear the reaction was evidence of how insular universities have become. When students inhabit liberal bubbles, they're not learning much about their own country. To be fully educated, students should encounter not only Plato, but also Republicans.
We liberals are adept at pointing out the hypocrisies of Trump, but we should also address our own hypocrisy in terrain we govern, such as most universities: Too often, we embrace diversity of all kinds except for ideological. Repeated studies have found that about 10 percent of professors in the social sciences or the humanities are Republicans.
We champion tolerance, except for conservatives and evangelical Christians. We want to be inclusive of people who don't look like us — so long as they think like us. …
UO's first Diversity Plan, adopted by the Senate in 2006 after a long debate, explicitly noted the importance of those people who don't think like us:
For purposes of this Diversity Plan, the term diversity is given a broad meaning and includes, but is not limited to, differences based on race, ethnicity, national origin or citizenship, gender, religious affiliation or background, sexual orientation, gender identity, economic class or status, political affiliation or belief, and ability or disability.
Here's the data on political affiliation for the University of Oregon faculty in 2006: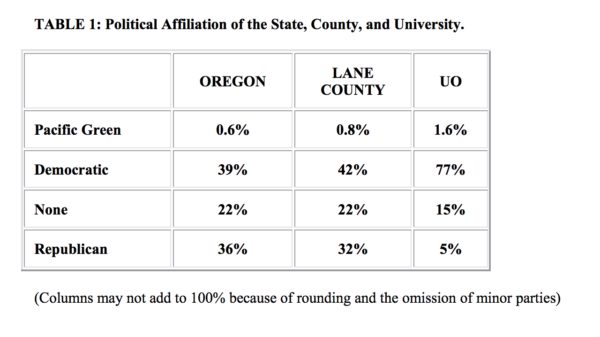 But the 2016 diversity evaluation posted on the VPEI website is all about race and ethnicity:
Over the last three years, the University of Oregon (UO) Office of the Vice President for Equity and Inclusion (VPEI) has worked diligently to institutionalize the process of collecting and analyzing data on the ethnic, racial, and gender diversity of our faculty, staff, and students. This report on racial, ethnic and gender diversity among faculty and academic leadership ranks is the product of collaborative work with the Office of Institutional Research, the Center for Assessment, Statistics and Evaluation (CASE), Affirmative Action, the Office of the Provost and Academic Affairs.
And that is where UO has been spending its diversity money – currently about $5M a year, if you count the VPEI budget and the UMRP money which is now running about $1M a year.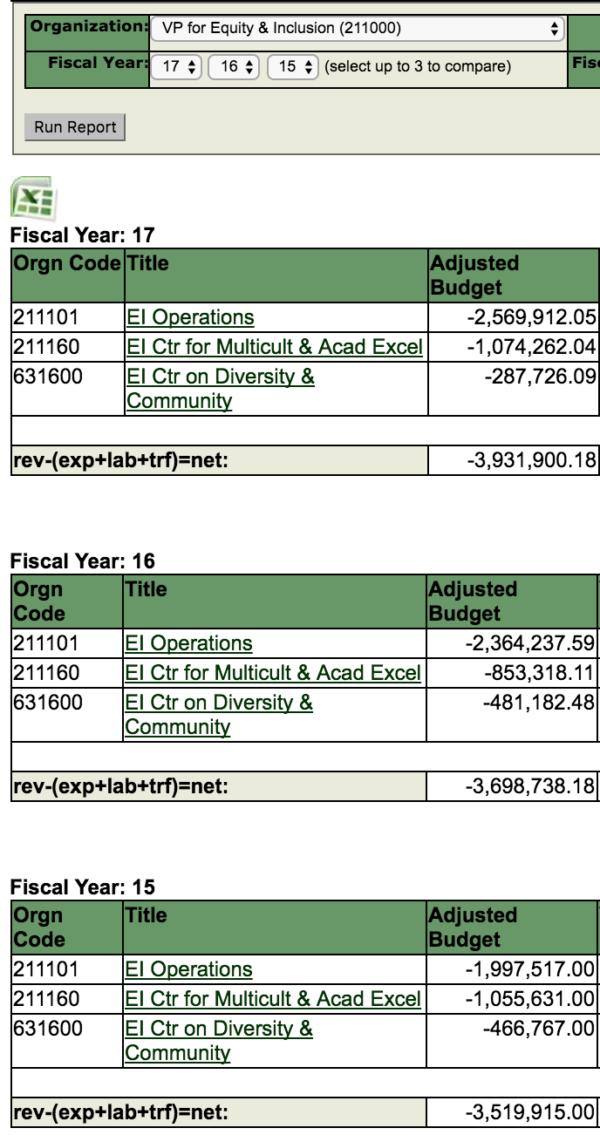 President Schill has now called for UO's colleges to develop new diversity plans within 90 days. I wonder where they will focus our efforts and our spending?
*OK, so it's not just about the UO campus.