11/28/2017: Just thought I'd repost this classic.
8/26/14: Four word joke nets UO student five unconstitutional bad-conduct charges:
Saul Hubbard has an excellent report on this in the RG. Peter Bonilla of FIRE notes: "Universities have never prevailed in court when defending their [anti-free speech] codes," he said. "Every single time there's a court challenge, they lose." Of course that won't stop Sharon Rudnick from collecting $300 in UO tuition money for each billable hour trying, just as she did with Gottfredson's academic freedom restrictions.
If you're a UO police officer keeping a list of people who should "eat a bowl of dicks" you get a promotion, high paid legal help from Dave Frohnmayer's law firm, and UO Chief Strategic Communicator Tobin Klinger will write an angry letter to the editor denouncing the reporter for printing the story.
But UO's rules are a little tougher for students. The Foundation for Individual Rights in Education has the story:
EUGENE, Oregon, August 26, 2014—The University of Oregon (UO) has filed multiple, blatantly unconstitutional conduct charges against a female student who jokingly yelled "I hit it first" from a dormitory window. The student, who wishes to remain anonymous, contacted the Foundation for Individual Rights in Education (FIRE) for help. FIRE is calling on UO to immediately dismiss all charges against the student and reform its unconstitutional speech policies.
…On June 9, 2014, the female student in question was visiting with friends in UO's Carson Hall dormitory. The student, looking out of the dormitory window, spotted a male and female student walking together (she did not know either of them) and shouted "I hit it first" at them in jest. The female of the couple responded with two profanities and the couple reported the student's comment to the Resident Assistant of the dorm. The Resident Assistant located the student and insisted that she apologize to the couple for her remark.
The student readily obliged. That did not end the matter, however. On June 13, the student was shocked to receive a "Notice of Allegation" letter charging her with five separate conduct violations for her four-word joke. In addition to dubious allegations of violating the residence hall's noise and guest policies, UO charged the student with "[h]arassment," "disruption," and "[d]isorderly conduct." After being presented with these outrageous and unconstitutional charges, the student contacted FIRE. …
Actually, thanks to Richard Lariviere UO has a very clear and strong free speech policy, but Doug Blandy is in charge of it, and as is often the case at UO implementation leaves something to be desired.And this all raises a very important question: Do these OARs trump official UO policies that have been adopted by the Senate and signed by the President?
8/28/2014 update: UO drops "I hit it first" charges but keeps them on student's permanent record
From FIRE, and an RG story here:
UO did not respond to FIRE's August 1 letter or to a previous June 5 letter regarding its problematic speech codes. In an August 27 article on the student's case in The Register-Guard, a UO spokesperson defended the university's Student Conduct Code as "appropriate" and claimed that it "doesn't conflict with speech laws," despite FIRE's overwhelming evidence to the contrary. Later that day, however, UO informed the student via email that it was removing the charges against her. While still claiming that her "behavior may be a violation" of the UO Student Conduct Code, no record of the incident will be noted in her file and no further action will be taken.A first small step towards sanity from the Coltrane administration, or just another reminder that ridicule in the national press is the only way to make Johnson Hall do the right thing?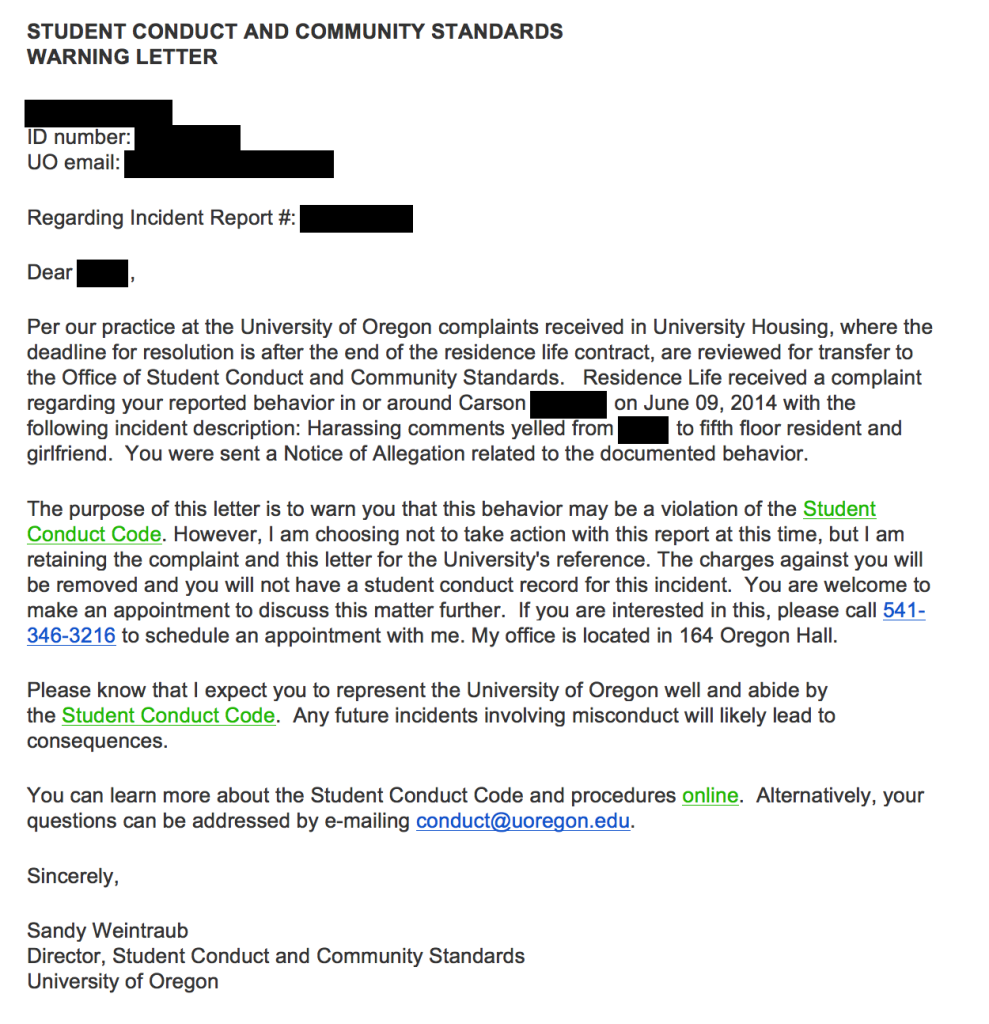 7/23/2015: The Foundation for Individual Rights in Education wins another one:
ATLANTA, July 23, 2015—Today, more than eight years after his unjust expulsion, student Hayden Barnes' federal civil rights lawsuit against Georgia's Valdosta State University (VSU) and former VSU president Ronald Zaccari concluded with the announcement of a $900,000 settlement. 
In the spring of 2007, Barnes was expelled from VSU by Zaccari for a satirical environmentalist collage he posted on his personal Facebook page. With the help of the Foundation for Individual Rights in Education (FIRE), Barnes fought back by filing a civil rights lawsuit in 2008 against the university, Zaccari, other VSU administrators, and the Board of Regents of the University System of Georgia. 
"After eight years, and one of the worst abuses of student rights FIRE has ever seen, Hayden Barnes has finally received justice," said FIRE President and CEO Greg Lukianoff. "Thanks to Hayden's courageous stand, would-be censors at public universities nationwide have 900,000 new reasons to respect the free speech and due process rights of their students."
"I am pleased to have finally reached a resolution. It has been an epic journey," said Barnes. "However, it was a worthwhile endeavor because I know as a result of this case other students will have their constitutional rights respected. I sincerely appreciate the work of my counsel and of FIRE, both of whom were instrumental in achieving justice."Barnes' years-long ordeal began on May 7, 2007, when Zaccari—angry with Barnes' peaceful protest against the planned construction of two parking garages on campus—expelled him without a hearing. Absurdly, Zaccari tried to justify Barnes' expulsion by claiming that a cut-and-paste collage Barnes had posted to Facebook was a "threatening document" and that Barnes presented a "clear and present danger" to VSU. …
Meanwhile UO is still on FIRE's redlight list for free speech. We've got a great policy, but as you can see above some administrators are a little confused about what free speech means: