9/22/2017: Bob Keefer has the latest in the EW here:
Thomas W. Morris, artistic director of the Ojai Music Festival in California, has urged Eugene Mayor Lucy Vinis to help the beleaguered Oregon Bach Festival secede from the University of Oregon and become an independent non-profit organization.
In a letter emailed today (Sept. 22), Morris wrote that the sudden and unexplained firing of OBF artistic director Matthew Halls on Aug. 24 harms not only the Oregon Bach Festival but hurts the image of Eugene itself. …
Uh, thanks for trying to help Mr. Morris, but the City of Eugene couldn't even manage to keep the Jacobs Art Gallery open, or run the Mayor's Art Show.
Also see this RG letter from longtime UO supporter Tom Bowerman:
I agree with the bulk of written commentary about the University of Oregon's dismal explanation of Matthew Halls' dismissal. My position began to solidify on reading UO's written explanation, which seemingly explained nothing.
There is a pattern here and it has consequences, especially regarding some of the fiscal and reputational costs to the university. My thought in reading the UO's explanation was: How much does the public relations team get paid for type of work? And the settlement costs?
Couldn't these costs, across the broader pattern, in the millions, be better spent on education quality? …
And the UO PRO has now updated the PR log with some recent requests from journalists for more Bach docs.
9/18/2017: Did OBF's Janelle McCoy run a harassment investigation on Matthew Halls?
If so it would probably be a violation of UO policy (see below), which requires that those receiving "credible information" of racial harassment report it to AAEO, which then decides on the investigation, etc. And yet the most likely interpretation of this new NYT report regarding the grits joke and the implications for the Bach Festival of the subsequent firing of Halls is that Ms McCoy decided to investigate Mr. Halls herself:
Mr. Mobley said he had thought no more of it until several days later, when he got an email from Ms. McCoy asking about the conversation, which had apparently been overheard and reported. "These insensitivities should not be tolerated," she wrote in the email, which was obtained by The New York Times.
Mr. Mobley replied to her that while the broad outlines of the story were true — Mr. Halls had indeed spoken in a drawl — it was "not quite put together correctly." He noted that he and Mr. Halls often teased one another.
"Trust me," he added, "it's been a couple patrons and audience members who've unknowingly said pretty insensitive things. Not Matt."
The story was picked up by British media outlets. But Tobin Klinger, a spokesman for the university, said that the conversation with Mr. Mobley had not been a factor in Mr. Halls's firing. And a lawyer for Mr. Halls, Charese Rohny, said that Mr. Halls "was never presented with anything that required a response" regarding any inquiry before he was fired.
Given Klinger's truthiness record, his statements get a weight of 0.00, and reporters are making public records requests to try and find out what really happened. UO has not been listing these requests on the official log – a new low in official UO transparency, and one which perpetuates the selective leaks, official innuendo, and unofficial rumors which have characterized this mess.
The last OBF request was Bob Keefer's, for the Halls contract and termination letter: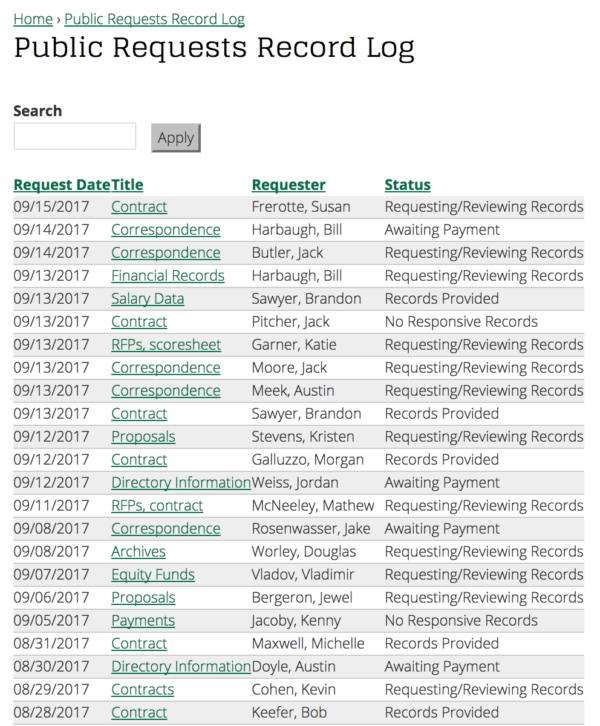 The relevant policy is here. Some excerpts (emphasis added):
III. Responsible Employees Reporting Obligations
Except as provided for in the Student Sexual and Gender-Based Harassment and Violence Complaint Response (Student Complaint Response Policy), Responsible Employees who receive Credible Evidence of Prohibited Discrimination, Harassment or Sexual Harassment involving an Employee, Student or Campus Community Member are required to promptly report that information as follows:
1. If the Credible Evidence relates to Sex Discrimination of a Student, Responsible Employees should report any information received to the Title IX Coordinator or to the Office of Crisis Intervention and Sexual Violence Support Services. (Note: The Student Complaint Response Policy applies to information disclosed by a student reporting sex discrimination and sexual harassment, including sexual violence. That policy may provide for different reporting obligations depending on the status of the employee receiving the report. Employees who receive reports of sex discrimination (including sexual harassment and sexual violence) against a student should reference the Student Complaint and Response Policy in order to determine their reporting obligations.)
2. In all other instances, Responsible Employees should report any information received to the Office of Affirmative Action and Equal Opportunity (AAEO).
Employees should be aware that AAEO is tasked with ensuring compliance with this policy and state and federal law.  Therefore, while AAEO will work with employees, students and campus community members to ensure that they understand their complaint options, are protected from retaliation and are provided with interim measures as appropriate, AAEO employees are not advocates for individuals participating in the process.
The relevant definitions in the policy are:
A. Prohibited Discrimination is defined as any act that either in form or operation, and whether intended or unintended, unreasonably discriminates among individuals on the basis of age, race, color, ancestry, national or ethnic origin, religion, service in the uniformed services (as defined in state and federal law), veteran status, sex, sexual orientation, marital or family status, pregnancy, pregnancy-related conditions, disability, gender, perceived gender, gender identity, genetic information or the use of leave protected by state or federal law. "Unintentional discrimination" is a concept applicable only to situations where a policy, requirement, or regularized practice, although neutral on its face, can be shown to have disparately impacted members of a protected class. The concept is inapplicable to sexual or other forms of harassment which, by definition, result from volitional actions.
B. Discriminatory Harassment is defined as any conduct that either in form or operation unreasonably discriminates among individuals on the basis of age, race, color, ancestry, national or ethnic origin, religion, service in the uniformed services (as defined in state and federal law), veteran status, sex, sexual orientation, marital or family status, pregnancy, pregnancy-related conditions, physical or mental disability, gender, perceived gender, gender identity, genetic information or the use of leave protected by state or federal law and that is sufficiently severe or pervasive that it interferes with work or participation in any university program or activity, including academic activities because it creates an intimidating, hostile, or degrading working or university environment for the individual who is the subject of such conduct, and where the conduct would have such an effect on a reasonable person who is similarly situated.
H. Credible Evidence: Credible Evidence is evidence of the kind that prudent people would rely on in making personal or business decisions, which is not obtained: (1) during public awareness events (For example, "Take Back the Night," and "survivor speak outs");  (2) as part of an Institutional Review Board-approved human subjects research protocol focused on Prohibited Discrimination; or (3) in the context of a required classroom assignment. (Note: If a faculty member believes that a classroom assignment may illicit a disclosure that would trigger obligations under this policy, the faculty member should make clear to students that an account provided in response to a classroom assignment, without more information, will not result in the university taking any action in response to the disclosure. This means that the university will not investigate the incident, offer interim measures or otherwise take step to remediate the behavior.)
K. Campus Community Member: Campus Community Member means a person participating in a university-sponsored program or activity, attending or wanting to attend an event on university owned or leased property, an independent contractor or vendor, a volunteer, a person applying for admissions, a person applying for employment, or a campus visitor or a person living on university-owned property. The term Campus Community Member excludes Employees and Students.
9/15/2017: RG calls for UO Trustee Ann Curry to investigate Matthew Halls firing
"Bach Debacle", here:
…  UO President Michael Schill could appease both groups of stakeholders by appointing a handful of university regents — perhaps headed by television journalist Ann Curry — to investigate. That, after all, is their job — to "supervise, coordinate, manage and regulate the UO," a public university that, at least in this matter, is operating in a very private mode.
If, as the UO asserts, Halls' firing had nothing to with the remark that he made to Mobley, the investigation can confirm as much. That would go a long way in restoring people's lost faith in the UO.
Conversely, if it turns out Halls was fired because of the remark, the investigation would give the university the opportunity to come clean, hold accountable those who spun a different story and take the appropriate action to start anew with OBF.
Finally, if Halls — a private contractor, not a UO employee — was fired for crossing some ethical line, the investigation would bring that to light, too. …
And if the latter should be true, they could explain why whatever it is that Halls did was so bad he had to be fired immediately, but not so bad that UO could agree to keep it secret from his other current and potential employers.
9/13/2017: UO to pay Matthew Halls $90K for non-disparagement & gag-rule
The agreement is here. The RG's Saul Hubbard has much more on this deal here.
It includes a promise by UO to give Halls 24 hours notice of public records requests. I've heard rumors of a request to UO for emails etc that might shed light on why whatever it was that Halls did was so bad he had to be fired immediately, but not so bad that UO had an obligation to warn his other employers and potential employers.
But so far there's nothing in the Public Records Office log except the RG's request for the contract and termination letter, which Hubbard posted earlier. So until new light has been shed on this, we're stuck with the hypothesis that he was fired for disparaging comments about southern cuisine.
9/13/2017: UO to pay Matthew Halls $90K for non-disparagement agreement and 24-hour gag rule:
That's from tweets from NY Times classical music and dance reporter Michael Cooper: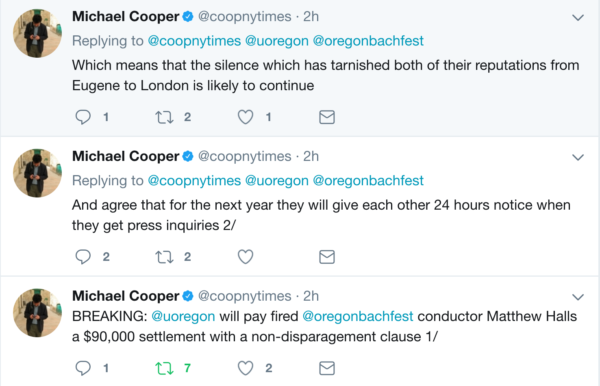 9/12/2017: Bach Festival's fate passes from Blandy and the PR flacks to the lawyers
The RG's Saul Hubbard has the latest – certainly not the last – on this unexcellent mess here, now with an unctuous libretto:
UO, through its flacks and lawyers: "The University looks forward to working collaboratively and in consultation with the Bach Festival Board to refine the framework through which OBF blends excellence in musical performance with innovative educational opportunities to create an inspired community of musicians and music lovers, … "
Matthew Halls, through his lawyer Charese Rohny: "I have only the fondest of memories participating in this amazing community event, working in collaboration with some of the most talented and generous artists I've ever met, …"
Ms Rohny has a decent record of winning employment cases and collecting contingency fees from the losers, and presumably she didn't take the Halls case expecting to waste her time.
For the curious, here's the 2015 announcement for the OBF Exec Director job, which Janelle McCoy filled. Both she and Matthew Halls report(ed) directly to the UO SVPAA, Doug Blandy:
"The Executive Director and Artistic Director report to the Senior Vice Provost for Academic Affairs."
9/10/2017: PR flacks Klinger and Gren can't agree on what misinformation to spread about Matthew Halls firing
UO flack Tobin Klinger and OBF flack Josh Grens both do agree to claim that it would be inappropriate to disclose details about a personnel matter. (They claim inappropriate, not illegal, because neither Oregon law nor UO policy prevent disclosing most facts about personnel matters, with some exceptions for faculty, which Halls is not. For that matter Halls is not even an employee, he's an independent contractor hired through Purchasing and Contract Services, not HR.)
Both then disclose various details about this "personnel matter". Details which conflict with public records and reports in the Eugene Weekly, the RG, the Telegraph, and with each others' statements. Neither attempts to explain those discrepancies.
My recollection is that UO's VP for Communication Kyle Henley paid 160over90 $100K or so to develop a communication plan for situations like this. I wonder how much we'll pay the next consultants?
It would be "inappropriate for me to comment on personnel matters", but Klinger and Henley went into this situation with zero credibility with reporters. Their botched response to the original Bob Keefer story has harmed UO, the Bach Festival, and Matthew Halls. It's time for Johnson Hall to "help them move in a new direction".
Here's the latest from the RG tonight, following up on the London Telegraph report from yesterday:
Matthew Halls was abruptly terminated as artistic director of the Oregon Bach Festival following an incident in which he imitated a Southern accent while telling a joke to a long-standing African-American friend, the friend told The Daily Telegraph newspaper in London over the weekend.
The friend, classical singer Reginald Mobley, said he was not offended by Halls' comment, but believes Halls was fired when a white woman overheard the joke and reported it to University of Oregon officials, claiming it amounted to a racial slur.
… The British newspaper quoted an unidentified festival spokesman as saying that "it doesn't appear" that Mobley was involved in the UO's decision to terminate Halls. "Having said that, it would be inappropriate for the university to disclose details about a personnel matter," the spokesman told the newspaper.
UO spokesman Tobin Klinger said in an email Sunday night that the spokesman cited in The Daily Telegraph story is Josh Gren, the festival's director of marketing and communications. Klinger said the newspaper is "incorrect" in suggesting that the Mobley incident played any role in the "complex decision" to terminate Halls' contract.
Complex decision? But Grens said in Around the O said it was all about Janelle McCoy wanting to do what the Ojai Music Festival did, with guest curators and Food Studies collaboration? Food Studies – as in grits?
9/9/2017: OBF singer Reginald Mobley criticizes woman who reported Matthew Halls for "racist" grits joke
In the London Telegraph, here: "The path to hell is paved with good intentions"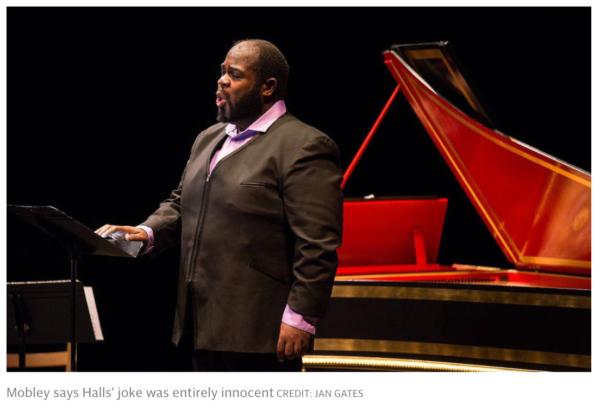 Read it all here, this is just a snippet:
The singer, who will perform in Purcell's King Arthur with the Academy of Ancient Music at London's Barbican next month, says that while he appreciates the efforts of some white people to confront racism, he warns it can lead to wrong headed assumptions. 
"A lot of our allies have become so eager to help the race and fix the scars they almost go too far," said Mobley. "They think they are at the point where they understand racism more than those who have really encountered it in their lives and they make assumptions on our behalf about how we might feel, as if we don't understand when something said to us or done to use is racist.
"It's well meaning, but the path to hell is paved with good intentions.
"It also demeans and cheapens the very serious work done by civil rights activists and abolitionists to have the difficult nuances of racism and microaggressions taken seriously."
For the record, here's a link to the now departed UO Prof Ed Coleman's similar comments about the response of UO law students, faculty, and the administration to Prof Nancy Shurtz's stupid and offensive Halloween blackface.
9/8/2017: PR flack Tobin Klinger offers nonsensical explanation of SVPAA Doug Blandy's letter firing Bach Festival's Matthew Halls
Saul Hubbard has the latest in the RG. Read it all. It's like something out of Duck Athletics. Halls was working under a handshake agreement, then got a huge raise, then they fired him.
You'd think UO PR flack Tobin Klinger would have learned something from his embarassing failures dealing with the Ducks' craziness, or at least from the reaction to the discredited Around the O blog post he or some other anonymous strategic communicator put up on Aug 27, but no:
Tobin Klinger, a UO spokesman, said Thursday that Blandy's letter was intended to "provide clarity" to Halls — not the general public — about the "full scope" of reasons for his termination.
As it happens the RG has the letter from Senior VPAA Doug Blandy to Halls. It doesn't say anything like what Klinger claims about "providing clarity" to Halls. Instead it shows Blandy offering to conspire with Halls to hide the real reason UO is firing him from the public. Obviously Halls didn't take Blandy up on that – though he hasn't offered much of an explanation himself. But if Blandy's letter was all the "clarity" he was provided, how could he?
So it seems Bob Keefer's report in the EW, which suggests that Halls was fired because of a Jeff Sessions joke, still stands as the most likely version of the truth, for now. Although Klinger has not denied the hypothesis it was related to the hospitalization of multiple cellists after grueling rehearsals that were inadequately supervised by an orchestra physician who did not have the recommended board certification.
Interestingly, Blandy was fired as academic affairs head a month or two ago (replaced by Executive VPAA Scott Pratt, who is a significant step up in quality, despite the silly title) but Blandy is being kept on in JH, with pay until December, and apparently still gets to call himself Senior VPAA.
Blandy's full letter and Hall's contract – eventually put in writing – are in Hubbard's story: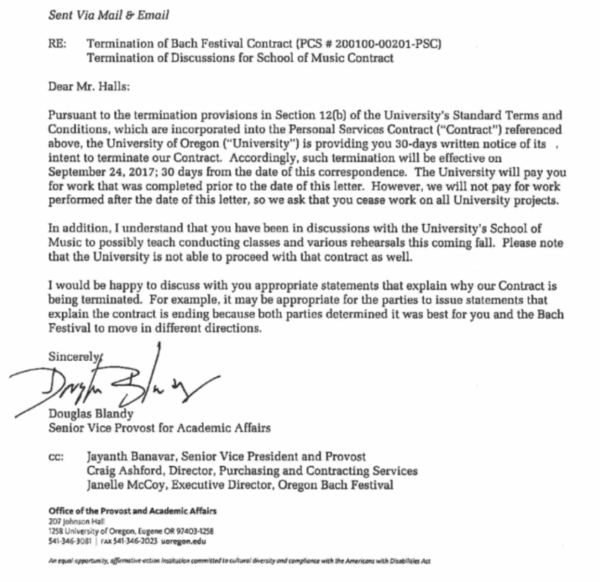 Say, I wonder if Blandy got a letter from himself offering to hide the real reasons for his termination? Or maybe he had his strategic communicator write it.
8/31/17 update: Was OBF artistic director Matthew Halls fired for a Jeff Sessions joke?
Ojai Music Festival writes to OBF & UO, discredits OBF executive director Janelle McCoy's "guest curator" explanation for Halls firing. Bob Keefer posts the letter in the EW.
8/31/17 update: Was OBF artistic director Matthew Halls fired for a Jeff Sessions joke?
The Eugene Weekly's art critic Bob Keefer, who broke the story on the abrupt firing last week, has more in today's Weekly:
… An unconfirmed report from an OBF insider said Halls was the subject of a recent complaint to the UO that he had made an insensitive racial remark to an African-American singer at a post-concert reception during this year's festival.
I tracked down the singer, internationally known countertenor Reginald Mobley. A long-time friend of Halls, Mobley said in a phone interview they were simply joking at the reception about a gala in which Mobley had performed in London that had been set in a "very antebellum, Gone With the Wind style."
"Matt and I are old friends," said Mobley, a Southerner by birth. "We always make fun of each other's accents." Halls, the singer said, quipped, "Do you want some grits?" in what Mobley called a "Jeff Sessions accent." [UOM: SNL link here, in case you've been living in a cave.]
A woman at the reception later came up to Mobley and asked whether he had been offended by Halls' remark. "I said, 'No,'" the singer said.
Mobley was appalled at the notion that this could be the reason Halls lost his job. "Matt is the only Brit I know who is sensitive to race issues and microaggressions," he said. "He has done nothing but great things for the festival."
The singer said he was, in fact, deeply offended — not by Halls' joking but by the university's response.
The UO administration has of course gone after people for bad jokes before, and not just law professors – although I thought the Bias Response Team had been disbanded.
I'd claim that  the real mystery of this story is why Around the O and our well-paid army of PR flacks strategic communicators bodged the spin so badly, except for the fact that they always do. Read Keefer's story for more odd twists.
[Note: My comment above is not aimed at UO's bread and butter tactical communications people, who keep the university functioning with websites, campus information, etc.]
8/27/17 7:45 PM: Is the UO admin proactively dealing with Oregon Bach Festival problems?
And will they now do the same with the Ducks? An anonymous correspondent points me to this lengthy report from noted former NPR classical music critic Tom Manoff on the Oregon ArtsWatch blog, identifying the OBF's tenuous financial and artistic situation:
The Shrinking Oregon Bach Festival
Declining ticket sales and choices accompany University of Oregon festival's shift in focus and leadership
by TOM MANOFF
Editor's note: this post has been updated to reflect corrections provided by the Oregon Bach Festival. ArtsWatch invited the festival to respond to the story when it was published and will publish a response if provided.
JUDGING by its 2017 program, the Oregon Bach Festival has made substantial cutbacks in programing in the post-Helmuth Rilling era. The German conductor, who co-founded the festival with the University of Oregon's Royce Saltzman in 1971, retired in 2013. He was succeeded by the highly regarded conductor Matthew Halls.
The most pressing concerns are a decline in ticket sales, a reduction in the number of performances at the city's major concert venue, and a substantial cut in the number of performances by professional musicians. It's hard to know which of these developments are cause and which are effect. But either way, this year's scaled-back schedule offers fewer choices for patrons and also raises questions about the festival's future. …
One of UO's strategic miscommunicators responded with this Fact-Check: Oregon Bach Festival_ Additional Context:
… Additional Information, formatted with quotes extracted from the original article alongside facts and context from OBF:
"The festival has a long tradition of opening night at Silva Hall, Eugene's largest venue (2,700 seats)."
Silva Hall is 2,400 seats – not 2,700.
"While Halls's musical leadership is one component in reviving the festival, important decisions are also now made by Janelle McCoy, the executive director who came to the festival in 2015."
Janelle McCoy became the Executive Director in 2016, not 2015.
"During the transition from Rilling to Halls, OBF attendance dropped by over 50 percent: 2011 had 44,148; 2014 had approximately 20,000."

This is incorrect. The 2011 festival had 14,502 paid tickets and 2014 had 11,360. This is a decrease of 21.6%. Most of the decline is due to fewer concerts being produced. The industry as a whole has seen a decline in ticket sales. …
But it now seems that, despite the official denial, the gist of Mr. Manoff's critique was correct. Perhaps UO and the OBF leadership have reacted appropriately by looking for new artistic leadership that will stop adding to UO's financial problems. And perhaps they'll soon do the same with Rob Mullens' problematic leadership of the Ducks?
4:30 PM: Anonymous UO blog explains firing of Bach Festival artistic director
UO has now posted a PR piece on their anonymous official Around the O blog, titled "Oregon Bach Festival looks to the future". I don't know why the administration dumps all over me for letting readers post anonymous comments, but it's fine when they use public funds to do it. "Anonymous"  – can't they at least use a screen name? – quotes OBF Director Janelle McCoy:
"There's an emerging trend," explains OBF executive director Janelle McCoy, "to plan a season from the perspective of a guest curator from a different field or genre and then invite conductors to participate, rather than programming from a single artistic voice. More and more organizations around the country, such as Ojai Music Festival, are using this model to expand the choices available to their audiences and participants. These choices may include disparate visions from a choreographer, stage director, or jazz musician, for example. We are eager to bring this approach to university students and faculty, as well as our patrons, musicians, and education program participants."
Presumably she'll give Keefer a chance to ask some follow-up questions addressing rumors that the firing is related to reports that multiple cellists were hospitalized after grueling rehearsals in preparation for this year's festival.
12:04 PM: Bob Keefer has the scoop in the Eugene Weekly here:
"I have been let go by the University of Oregon," [OBF artistic director Matthew Halls] told Eugene Weekly in a phone call Sunday (Aug. 27) morning from his home in Toronto. "And, as yet, I'm not sure why. It has not been revealed to me yet."
Relative to 5 years ago, ticket sales are way down, costs are way up. (Those trends predate Mr. Halls). I'm guessing that Mr. Halls' contract did not include the Mullenesque sort of buyout deal the Ducks have been giving themselves, and the Bach Festival does not have the power to extract more money from our students as the Duck cartel's Eric Roedl does when Craig Pintens can't sell football tickets.
Correction: A commenter notes that an earlier version of this post might have been construed to blame Mr. Halls for the sales and cost trends. They predate him, and in any case he's the artistic director, not the overall director. I also don't mean to suggest that the festival does not rely on student funds – just that it doesn't rely on charging ASUO ~$2M for "free student tickets". My guess is that the OBF subsidy is on the order of $600K, compared to about $5M for the Ducks. And of course the OBF might even help our "academic brand" a little, unlike the scandal ridden big-time Duck sports programs.
And I'd like to thank the Ducks for supporting UO Matters and using this post to help sell some Duck football tickets, via Google Ads. Here's hoping Craig Pintens can use creative new-media marketing like this to finally end those subsidies from the academic side and start paying us back: