3/23/2016: While the FBI quits after the Ten Most Wanted, the UOPD's Bowl List is more comprehensive, as Betsy Hammond explained in the Oregonian. Page 3 of 11, here: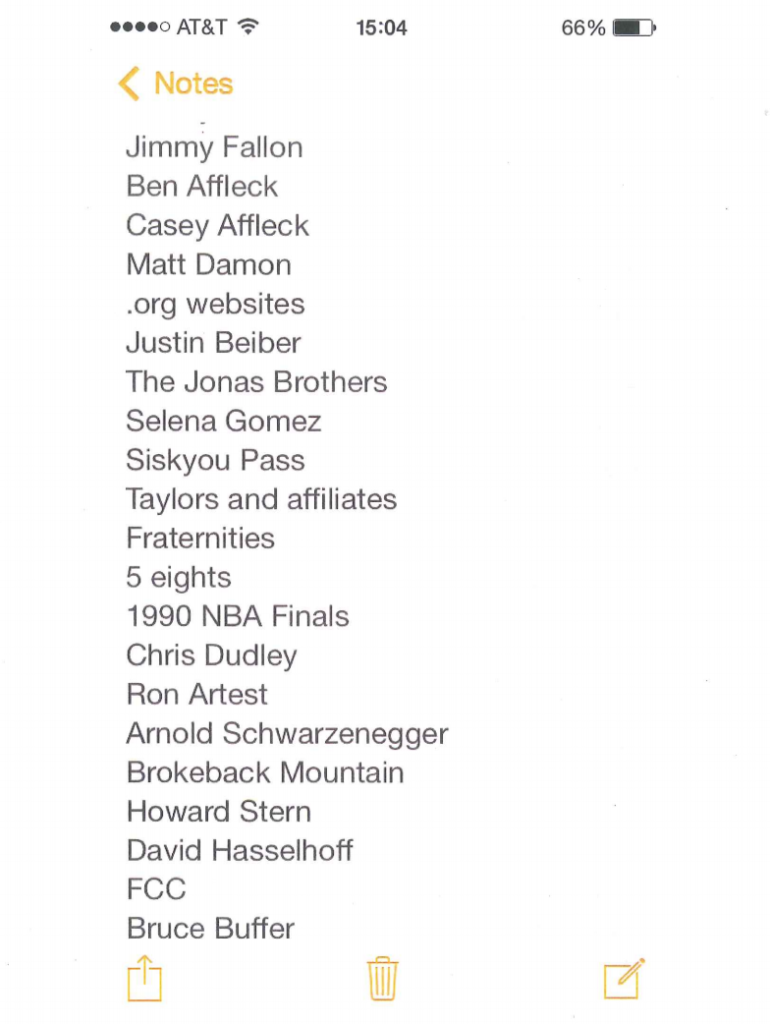 Diane Dietz has the latest KWAX story online. Here's an amuse-bouche, as Debussy would have called it:
… the University of Oregon Police Department broke into the station's locked door to perform a "welfare check" last Jan. 29 or Feb. 1, records show. Soon after, General Manager Paul Bjornstad got word that he was forbidden entry and, instead, had to play the recorded music by remote.
While UO Strategic Communicator Tobin Klinger can neither confirm nor deny that Bieber has been kept in a Matt Court holding cell, VP Kyle Henley is "thrilled" that normal KWAX operations can resume. [Redacted] has left the building, any damage that may or may not have resulted has been cleaned up, and live broadcasts resume Thursday with renowned classical DJ Peter van de Graaf in charge:
"I'm thrilled that we will be able to get back to normal operations," Henley wrote, "and on behalf of KWAX and the University of Oregon, I'd like to thank listeners for their patience over the last two months and apologize for any inconvenience caused by the disruption in the station's normal broadcasting schedule." KWAX listeners say they're excited about the arrival of van de Graaff, who is the popular host of the "Through The Night" overnight show. He's also program director of the internationally syndicated Beethoven Satellite Network.
The BSN is Beethoven's syndicate, not Bieber's? I want to bieleb Henley.
3/11/2016:  UO secrecy about KWAX classical music about Justin Bieber – or Putin?
This intriguing Diane Dietz story in the RG leaves many questions unanswered:
"Nobody there gave a crap about letting their audience know about these unexplained changes," [Classical music aficionado and Private Investigator Bill Lioio] said. "I cannot understand why this is being treated like a state secret. "This is a listener-­supported radio station."
Really? There is a long history of the strategic use of music, e.g. Hitler and Wagner. The CIA's devastatingly effective weaponization of jazz and Broadway musicals during the cold war was a state secret for years, until Satchmo brought the Soviet Union to its knees, and the history was revealed by public records requests:
The CIA in particular utilized a wide range of musical genres, including Broadway musicals, and even the jazz of Dizzy Gillespie, to convince music enthusiasts across the globe that the U.S. was committed to the musical arts as much as they were to the literary and visual arts. Under the leadership of Nabokov, the CCF [a CIA front] organized impressive musical events that were anti-communist in nature, transporting America's prime musical talents to Berlin, Paris, and London to provide a steady series of performances and festivals. In order to promote cooperation between artists and the CCF, and thus extend their ideals, the CCF provided financial aid to artists in need of monetary assistance.
So while the faculty club is awash in rumors that the CIA is planning to use KWAX and Justin Bieber against Putin, I'll go out on a limb here and predict that this KWAX mess is all about who owns the freebie comp records and now CD's that labels send to radio stations. Not that I'm a former Interim DJ for WTJU's "Nothing But The Blues" or FCC licensed First Class Radio Telephone Operator who's still bitter about not getting my cut of the Chess LP's that Zef snuck for his collection.
For information on KWAX's incoming music director Peter van de Graaff, who seems very well qualified to turn this around, read Bob Keefer's Eugene Art Talk blog here. I'll assume this is the truth, although Keefer's suspiciously extensive knowledge of matters like the Malheur Bird Refuge occupation may have blown his "art and music critic" cover.
Update: An occasionally reliable JH insider has sent this document, revealing another possible explanation for what's happened to KWAX. (Link fixed.)
3/9/2016: UO strategic communicator Tobin Klinger redacts Justin Bieber
The RG's Christian Hill has the scoop, here:
A tour promoter paid the University of Oregon more than $5,000 a day to rent Matthew Knight Arena, according to the lease agreement, so An Artist To Remain Nameless could rehearse for a week for an upcoming concert tour.
… "We are not in a position to share who the artist was," UO spokesman Tobin Klinger wrote in an email.
However, as is so often the case with Klinger's efforts to hide the truth from the concerned public, there was a leak:
… Bieber songs "As Long as You Love Me" and "Sorry" could be heard through the arena's doors.