Scott Jaschik in InsideHigherEd:
Looking for safe spaces on campus or trigger warnings on a syllabus?
Incoming students at the University of Chicago have been warned they won't find either in Hyde Park.
They all received a letter recently from John Ellison, dean of students, which went beyond the usual platitudes of such letters and made several points about what he called one of Chicago's "defining characteristics," which he said was "our commitment to freedom of inquiry and expression." Ellison said civility and respect are "vital to all of us," and people should never be harassed. But he added, "You will find that we expect members of our community to be engaged in rigorous debate, discussion and even disagreement. At times this may challenge you and even cause discomfort."
To that end, he wrote, "Our commitment to academic freedom means that we do not support so-called trigger warnings, we do not cancel invited speakers because their topics might prove controversial and we do not condone the creation of intellectual safe spaces where individuals can retreat from ideas and perspectives at odds with their own."
The letter referred to a website where Chicago maintains a report on academic freedom and its centrality to the university. …
Chicago has been getting a lot of free publicity for their defense of free speech lately, while UO has been hyping the Olympics.
The truth is that UO actually has better policies than Chicago – but our administration's history of implementing them is weak, and as a result the Foundation for Individual Rights in Education gives our prospective students a "Red Light" warning. More here and here:
The Foundation for Individual Rights in Education has a press release here on Chicago's free speech efforts:
University of Chicago Reforms All Speech Codes, Earns FIRE's Highest Free Speech Rating
CHICAGO, April 26, 2016—The Foundation for Individual Rights in Education (FIRE) is excited to announce the latest university to earn its highest, "green light" rating for free speech: the University of Chicago (UC). In cooperation with FIRE, UC revised all of its speech codes to join an elite group of colleges and universities that maintain policies respecting student and faculty free expression rights and meeting First Amendment standards. …
Here's my take – sorry, long story:
In January 2015 Chicago announced the Report of the Committee on Freedom of Expression, chaired by Geoffrey R. Stone, Edward H. Levi Distinguished Service Professor of Law. The full text of his windy and self-congratulatory report is here. The gist:
From its very founding, the University of Chicago has dedicated itself to the preservation and celebration of the freedom of expression as an essential element of the University's culture. In 1902, in his address marking the University's decennial, President William Rainey Harper declared that "the principle of complete freedom of speech on all subjects has from the beginning been regarded as fundamental in the University of Chicago" and that "this principle can neither now nor at any future time be called in question." Thirty years later, a student organization invited William Z. Foster, the Communist Party's candidate for President, to lecture on campus. This triggered a storm of protest from critics both on and off campus. …, …, …
In a word, the University's fundamental commitment is to the principle that debate or deliberation may not be suppressed because the ideas put forth are thought by some or even by most members of the University community to be offensive, unwise, immoral, or wrong-headed. It is for the individual members of the University community, not for the University as an institution, to make those judgments for themselves, and to act on those judgments not by seeking to suppress speech, but by openly and vigorously contesting the ideas that they oppose. Indeed, fostering the ability of members of the University community to engage in such debate and deliberation in an effective and responsible manner is an essential part of the University's educational mission. …, …, …
Actually, that's a lot of words.  The University of Oregon Senate and President Richard Lariviere said it less pompously, more forcefully, and five years earlier in UO's 2010 Freedom of Speech and Inquiry Policy. The full text:
The University of Oregon values and supports free and open inquiry. The commitment to free speech and freedom of inquiry described in this policy extends to all members of the UO community: Faculty, staff, and students. It also extends to all others who visit or participate in activities held on the UO campus.
Free speech is central to the academic mission and is the central tenet of a free and democratic society. The University encourages and supports open, vigorous, and challenging debate across the full spectrum of human issues as they present themselves to this community. Further, as a public institution, the University will sustain a higher and more open standard for freedom of inquiry and free speech than may be expected or preferred in private settings.
Free inquiry and free speech are the cornerstones of an academic institution committed to the creation and transfer of knowledge. Expression of diverse points of view is of the highest importance, not solely for those who present and defend some view but for those who would hear, disagree, and pass judgment on those views. The belief that an opinion is pernicious, false, and in any other way despicable, detestable, offensive or "just plain wrong" cannot be grounds for its suppression.
The University supports free speech with vigor, including the right of presenters to offer opinion, the right of the audience to hear what is presented, and the right of protesters to engage with speakers in order to challenge ideas, so long as the protest does not disrupt or stifle the free exchange of ideas. It is the responsibility of speakers, listeners and all members of our community to respect others and to promote a culture of mutual inquiry throughout the University community.
But that's not the whole story. Randy Geller, UO's General Counsel at the time, tried to subvert this straight-forward defense of free-speech rights with a "Facilities Scheduling Policy" restricting free speech with weasel words like these:


The UO Senate fought Geller off, passed a policy with none of this language, and President Lariviere signed that too.
Then in 2013, during negotiations with the new UO faculty union, new UO President Mike Gottfredson tried to argue that UO faculty could be disciplined for criticizing the UO administration. Colleen Flaherty had the story in Inside Higher Education, here:
But the university's counterproposal decouples academic freedom and free speech, addressing them separately. Academic freedom is "necessary to teaching and research," it says, with no mention of the role of academics in speaking out if not related directly to teaching and research. Rejecting explicit union language on free speech, the counterproposal instead guarantees protections afforded by the First Amendment and state law. [Which are weaker for public employees.] …
Margaret Paris, professor of law and president of the Faculty Senate, has not been involved in union negotiations but said that the union statement likely would influence the ultimate Senate document, since it would be difficulty to work off two different policies when most of the faculty belong to the union (although law professors do not).
Paris also said she was aware of the university's preference to decouple academic freedom and free speech in the final Faculty Senate statement, and that she would likely support it. Because the policies "spring from different sets of values," it makes sense that each deserves individual attention, she said.
Oregon's administration works closely with the Faculty Senate and Paris is looking forward to a collaborative process finalizing the document, she said.
But those involved in union contract negotiations said otherwise.
Bill Harbaugh, professor of economics and moderator of the "UO Matters" blog, which is frequently critical of university policy, said decoupling academic freedom from free speech left room for administrators to punish those faculty – like him – who say things administrators don't like. He also objected to the idea that administrators would be the ones deciding what qualifies as "civil."
The university has previously publicly accused Harbaugh of including "consistently anti-university" statements on his blog.
"The university is place of higher learning," warranting explicit protections of free speech, Harbaugh said. "The new policy takes out all the pro-free speech stuff and instead includes many restrictive rules about how faculty can be engaged in free speech. It's aimed in part at limiting the critical faculty right to criticize the administration outside of [the formal university setting]."
(Full disclosure: that would be me, and this blog.)
The UO faculty union fought off Mike Gottfredson with the help of Mike Mauer of the AAUP. The UO Senate then set up an academic freedom working group to work around the obstructive efforts of Senate President Margie Paris, and her support for Gottfredson's efforts to make criticizing his policies on a blog a disciplinary offense.
Margie Paris was out-maneuvered and out-voted, and in the end Gottfredson had to sign a new UO Policy on Academic Freedom that augmented Lariviere's policy on free speech with specific language on the right to criticize the UO administration:
c. POLICY AND SHARED GOVERNANCE. Members of the university community have freedom to address, question, or criticize any matter of institutional policy or practice, whether acting as individuals or as members of an agency of institutional governance.
… These freedoms derive immediately from the university's basic commitment to advancing knowledge and understanding. The academic freedoms enumerated in this policy shall be exercised without fear of institutional reprisal. Only serious abuses of this policy – ones that rise to the level of professional misbehavior or professional incompetence – should lead to adverse consequences.  Any such determinations shall be made in accordance with established, formal procedures involving judgment by relevant peers.
Reviewed and Approved By: Michael Gottfredson, President. Date: 05/28/2014
So why is Chicago getting all the good press, instead of UO?  Because Chicago agreed to work with FIRE to ensure that *all* their policies are consistent with their policy on free speech. UO has not, and therefore we are on FIRE's "red light list". Details and examples from the UO Student Code of Conduct and more, here.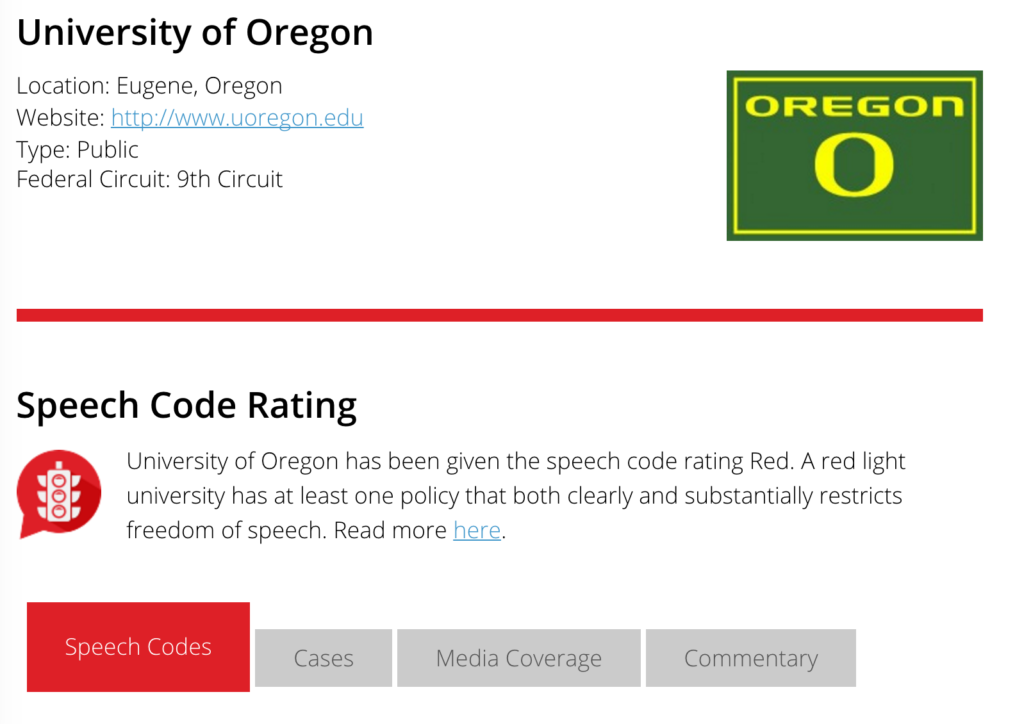 And the UO administration recently added this scary disclaimer to our Academic Freedom Policy. And, from a cursory search of AVP Chuck Triplett's policy library, only to this policy. How odd: