6/6/2016 update:
Diane Dietz is here and there will be a recording posted somewhere, so I'm skipping the live-blog. Very glad to see the J-School organize this, and I thought the panel did a good job addressing the pros and cons.
It was amusing to hear former UO journalism dean Tim Gleason talk about the chilling effect that administrative groups like the BRT and anonymous complaints against faculty can have on academic freedom. At one point he even said they were potentially unconstitutional.
Quite a difference from his own efforts to get the faculty union to accept an extremely restrictive academic freedom clause in the 2013 CBA, and his participation in this attempt to chill my free speech, and this evil blog: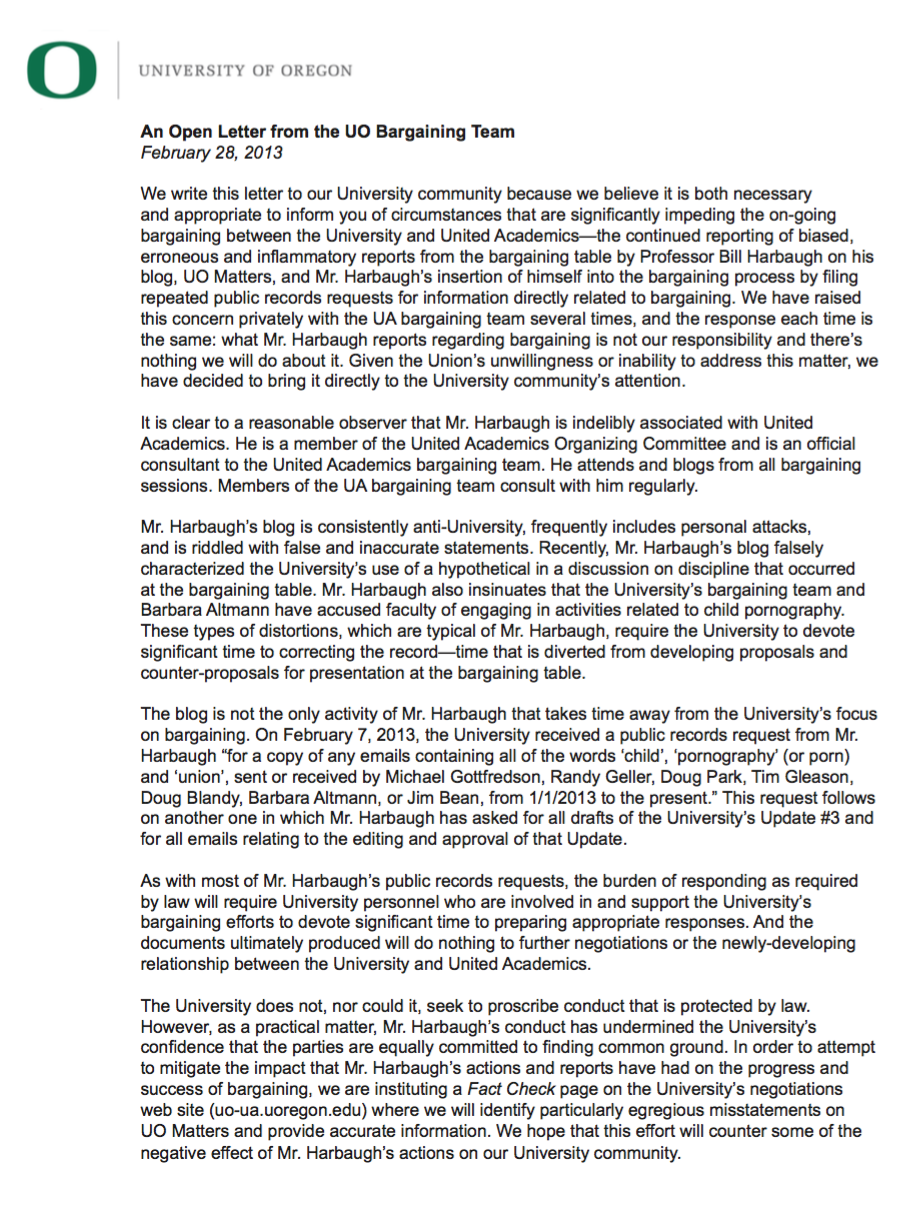 I
My 2013 response to this attack:
… Many UO faculty have now told me that I should be outraged by your letter, that it is harmful to my professional reputation, and even that it constitutes "defamation per se", whatever that means.
While I'm no lawyer, on closer reading I think they may have a point. The letter is on UO letterhead, is posted on an official UO website, is addressed to my academic colleagues in my university community, and it even uses my professional title:
"We write this letter to our University community because we believe it is both necessary and appropriate to inform you of … the continued reporting of biased, erroneous and inflammatory reports from the bargaining table by Professor Bill Harbaugh …"
The letter and the website also make some damaging accusations about my actions and intentions, stating them as if they were facts. I note in particular the statement that my blog is "consistently anti-university", and "He has also filed frivolous and repeated records requests for information directly related to bargaining." I'm thinking maybe that was supposed to say "not directly related to bargaining" but regardless, I am not the sort of person who takes accusations of frivolity lightly, even confused ones. Economics is a serious subject, and no potential employer would want to hire a professor with a reputation for joking around.
However the strangest part of this open letter is that a group of UO administrators and attorneys would write something like this, put it on official UO letterhead, post it on an official UO website, and then not sign their names to it. …
It took me years and many public records requests to get Tim Gleason to fess up to his participation in writing this hilariously defamatory attack piece on me. But now suddenly he is a free speech advocate?  I wonder why.
Here's a snippet of the heavily redacted emails. Gleason refused my repeated requests for them, so eventually I paid UO's Public Record's Office $250 to get them – which they apparently spent on blue ink: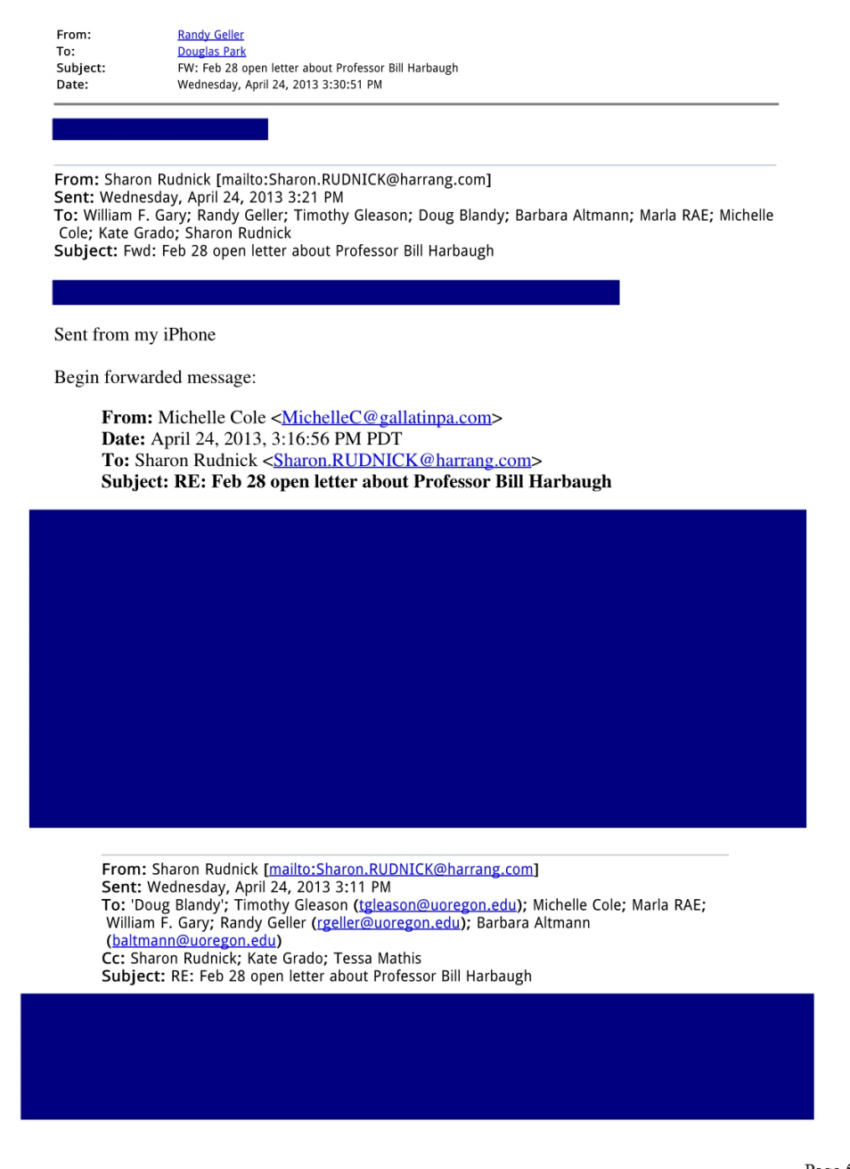 More here.
6/3/2016 update:
Dear members of the SOJC community,
Over the past couple of weeks there has been a lot of discussion around the Bias Response Team and its implications for the work we do here as faculty, staff, GTFs and administrators. In an effort to have an open and candid discussion around this issue, the school will host a panel discussion on Monday, June 6th at 4 pm in Allen 141.
A lot has been written on this topic of late in national media, but we hope to clarify the role of the BRT here at Oregon, its mission and its process. We also plan to discuss the specific ways we can balance inclusivity, free speech, and critical thinking. The panel will include:
Dr. Tim Gleason, Professor of Journalism and Director, Payne Awards for Ethics in Journalism
Dr. Robin Holmes, VP for Student Life and Interim Dean of Students  
Dr. Dean Mundy, Assistant Professor and Chair, Diversity Committee
Teri Del Rosso, Doctoral Candidate in Media Studies
Quantrell Willis, Assistant Dean of Students
Moderator: Dr. Chris Chavez, Assistant Professor
I hope you all can make it for this very important discussion.
5/14/2016: Washington Post columnist ridicules UO's Bias Response Team report
Catherine Rampell in the WaPo, here:
I've written before about the array of upsetting things that college students have demanded trigger warnings for (fatphobia, nude models in a life drawing class, etc.), as well as the kinds of activities that now get somewhat arbitrarily punished as "acts of bias." Well, come take a look at another incredible document illustrating what supposedly discriminatory behaviors today's students think worthy of redress or punishment.
In its annual report, the University of Oregon's Bias Response Team has published a list of 2014-2015 "case report summaries." These appear to refer to all the times students (and some faculty and staff) sought formal help from administrators when they believed they or their peers were victims of "bias."
In some cases, it's hard to understand what the actual offense was, why the person reporting said offense attributed it to "bias," or why it would be appropriate to get administrators involved rather than resolve the issue through some other means. In other cases, the person reporting the incident takes the shotgun method of bias reporting and cites seemingly every possible demographic category as the targeted victims of "bias."
A sample of the Bias Response Team's case reports, and responses:
A staff member reported that a poster featured a triggering image.
Bias Type: Body Size
Location: Housing
Response: Reported for information only. A BRT Advocate offered support to the reporter.

An anonymous student reported that an official online form asked for demographic information in a way that excluded certain identity groups.
Bias Type: Gender Identity/Expression, Ethnicity, Race
Location: Administrative Building
Response: A BRT Case Manager met with administrators of the form to provide resources on inclusive surveying techniques. The administrators used these techniques on a survey they sent out the very next week.

An anonymous student reported that a newspaper gave less press coverage to trans students and students of color.
Bias Type: Ethnicity, Race, Political Affiliation
Location: Online
Response: A BRT Case Manager held an educational conversation with the newspaper reporter and editor.

…