2/24/2017: The Washington Post takes a break from their coverage of President Donald Trump's decision to ban NYT reporters from his press briefings to pick up the story on Duck coach Willie Taggart's decision to ban Oregonian reporter Andrew Greif, from UO student-journalist Kenny Jacoby: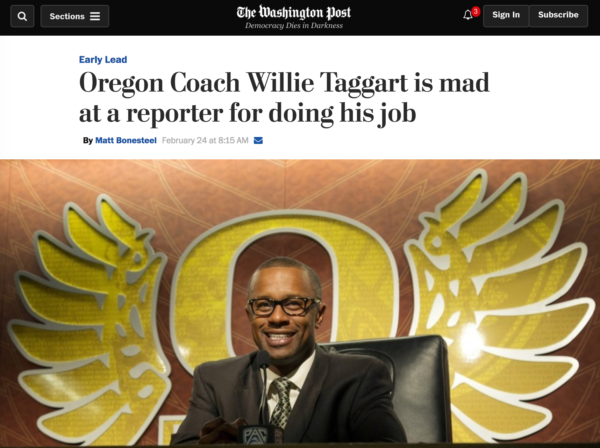 The WaPo report is a bit sloppy though, labeling Tim Gleason as a UO journalism professor, rather than as the Duck's well paid "Faculty" Athletics Representative.
2/23/2017: Coach Taggart's feelings are hurt, so he won't talk to reporter
I'd never realized that football coaches were such sensitive types. Trumpesque, even? Kenny Jacoby has the story in the Emerald:
Oregon's new football coach is still upset over a Jan. 16 news report about an early season workout that sent three of his players to the hospital. The report resulted in the suspension of strength and conditioning coach Irele Oderinde for one month without pay.
Head coach Willie Taggart, whom Oregon hired to replace Mark Helfrich in December, said he is no longer speaking to The Oregonian reporter who broke the story, claiming that the reporter's characterization of the workouts as "grueling" and "akin to military basic training" were inaccurate, unfair and directly contradicted what Taggart told the reporter before the story was written.
Andrew Greif, whose story broke the news about the players' hospitalization, defended the piece, noting that multiple sources characterized the workouts as grueling and militaristic. He said UO spokespeople did not question those characterizations when he asked them to confirm the nature of the workouts."When you're not fair and honest, then to me that's personal," Taggart said. "When you do something that's negative and it's going to be personal, then I won't have shit to do with you." …
Uh, wait a minute, coach. The strength coach you hired put three of our students in the hospital for a week – and you're mad at the *reporter* because he hurt your *feelings*?
Say what you will about cousin Jim, at least he's not a crybaby. On the matter of actual harm, I wonder how much the Ducks are paying to settle with the student-athletes?
And speaking of trying to intimidate reporters, I wonder how the investigation of the Athletic Department's threat to pull Mr. Jacoby's press credentials is going.