3/10/2017 update: InsideHigherEd has the bracket here: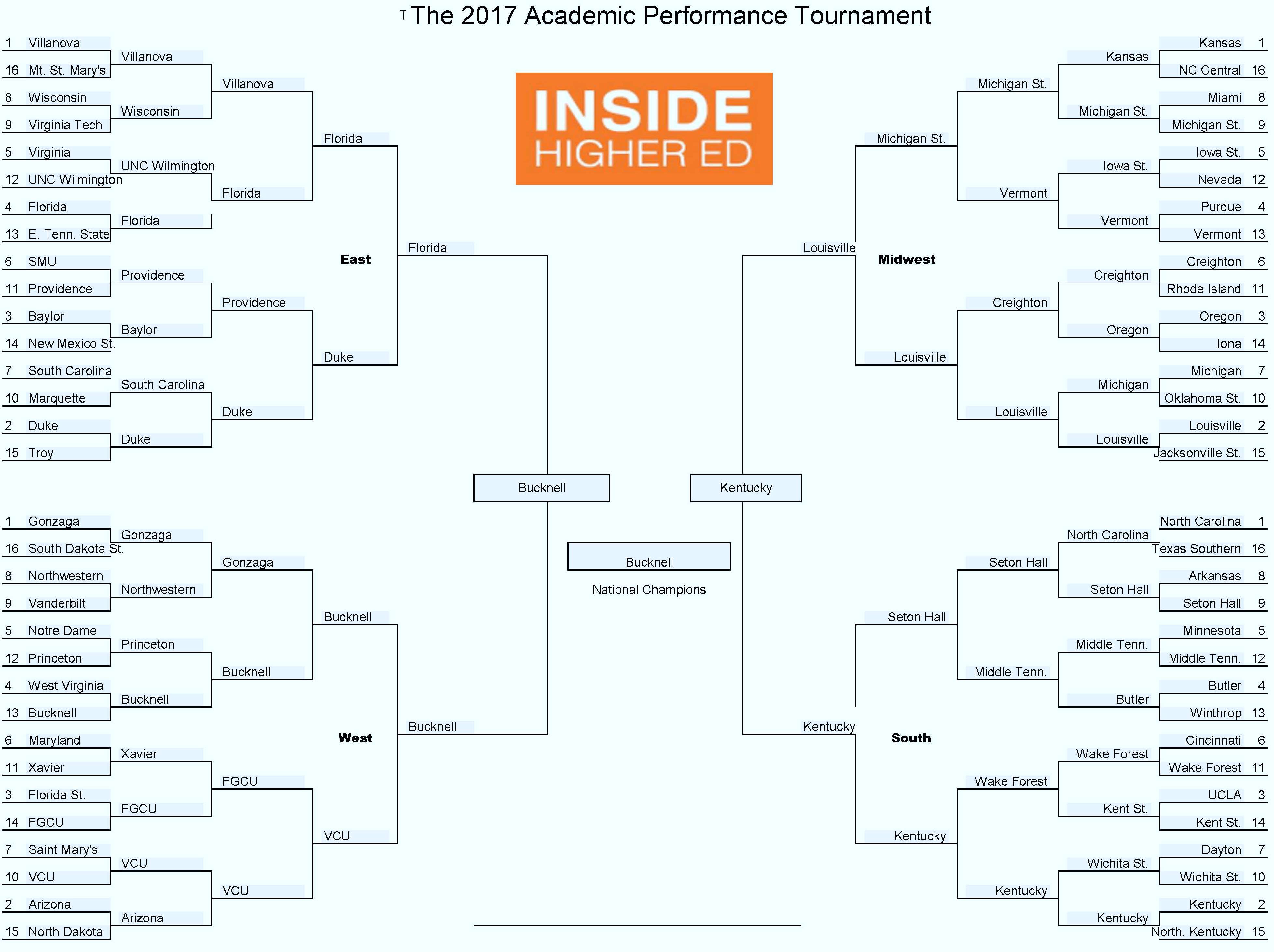 A reminder that not all coaches exploit their players as much as the Ducks. This tongue-in-cheek bracket is based on the teams "Academic Progress Rate", an easily scammed measure designed by the NCAA to make big-time college sports took good, and help their coaches get bigger bonuses. More on it here.
3/10/2017: Can Mike Schill and Andy Karduna's new IAAC help UO's student-athletes?
Kenny Jacoby had a long piece in the Emerald yesterday on the history of the IAC, PAGIA, and IAAC. The story starts with this:
Connor Johnson, a former longsnapper on the Oregon football team, said it's a "bummer" how many athletes have to make decisions they don't want to make due to conflicts with sports.
Almost all the time, he said — whether it's being unable to enroll in certain majors or take classes that conflict with their practice schedules — athletes are asked to put sports above their education.
"It would be really nice to have the academic people looking out for the athletes so that they're actually getting a decent education and what they were promised out of high school," Johnson said.
Johnson said he would be in favor of some faculty oversight when it comes to how the athletic department spends its $120 million budget. Because all the athletic department's decisions, he said, boil down to money.
It was the Senate Intercollegiate Athletics Committee's attempt in the fall of 2013 to investigate similar complaints from student-athletes about UO's Services for Student Athletes – including claims that revenue-sport minority athletes were particularly poorly treated – that was the immediate cause of former UO President Gottfredson's decision to allow the athletic department and SSA Director Steve Stolp to stop coming to IAC meetings, and then to replace the IAC with the secret PAGIA – although the athletic department had been unhappy with the IAC for years.
I went to the first meeting of the new IAAC last week. AD Rob Mullens and SSA Director Steve Stolp gave the same canned presentations that they used to present to the IAC. I still remember the first time I heard Mullens brag about how graduation rates for UO student athletes were the same as for non-athletes at an IAC meeting. It's well known that students in the non-revenue sports – particularly women in sports like tennis and soccer – have excellent graduation rates. The problem is the revenue sport athletes, who are pushed by their coaches to train more and study less. So I asked Mullens if he would break those graduation rates out by race, or gender, or for the revenue sports.
He wouldn't, and he got mad when I pressed him on it. (I eventually got the numbers from Roger Thompson's office, and now they are supposed to be posted on-line.) So we'll see if Karduna's IAAC is any more successful at dealing with the big-money people from the Duck athletics enterprise than the IAC was. It's not off to a good start.