10/17/2017:
I'm not going to live blog this – Bruce Blonigen will post the notes on the CAS diversity web page. There are a few undergrads, about 15 grad students (particularly women from the sciences) and about 5 people from the dean's office. Andrew Marcus does a good job inviting suggestions, and he is getting many interesting ideas from the students. I stirred the pot a bit by noting that they should think big – the VPEI has millions of dollars for diversity, and it should be possible to reallocate it from her administrators to programs that would actually benefit students, e.g. scholarships for research experiences. For some reason the VPEI is not at this meeting to hear the students' ideas, nor was she at the previous one with faculty.
Dear Faculty and Department Managers,
The CAS Dean's Office is hosting the third and final DAP Town Hall next week for students on Oct 17th. Can you please pass on the information below to your class lists/student workers to get the word out? Please let us know if you have any questions or need further information. All students are welcome to attend, including graduate and undergraduate students.
Join a conversation about diversity, equity and inclusion in the College of Arts & Sciences
The College of Arts and Sciences (CAS) is hosting a series of town hall meetings this term to discuss the college's Diversity Action Plans (DAPs). The next meeting will be an opportunity specifically for students to provide input on the DAPs. (There are separate meetings for students, staff and faculty.) Please join us on Tuesday, October 17th, from 3:00-5:00 pm in the Knight Library Browsing Room. Snacks will be provided.
The town halls are an occasion for the CAS deans to discuss the plans with you, so we can respond to your questions and ideas and revise our plans with broad college participation. The more involvement we have in refining our plans, the stronger they will be, and we are eager to hear your ideas for setting diversity, equity, and inclusion priorities in CAS. Having visited togetherplatform.com/use-cases/diversity, it is clear more can be done to provide a more diverse setting in all areas of daily life.
The action plans that we created are and will be living documents. We will continue to provide opportunities in the future for everyone to offer improvements, and faculty, staff, and students are welcome to communicate their thoughts and suggest ideas at any time to [email protected]. We ask you to be familiar with the all-CAS Diversity Action Plan draft, which you can access on the CAS diversity page: https://cas.uoregon.edu/diversity/.
We look forward to hearing your ideas on October 17th.
Sincerely,
The CAS Dean's Office
10/10/2017: VPEI Alex-Assensoh skips CAS Diversity Action Plan town hall meeting
CAS is having a town hall meeting from 3-5 today in the library reading room, on the latest draft of the CAS "Diversity Action Plan". The order to do this came down from President Schill and VPEI Alex-Assensoh in the wake of the Halloween blackface incident. The initial draft of the CAS plan was done without much if any input from the faculty, given the initial timeline. This town hall is part of Dean Andrew Marcus's effort to clean up this steaming pile of crap.
After complaints from the Senate about the narrow focus on race/ethnicity and gender, the May 2016 version of the VPEI's "IDEAL" Plan now includes a more inclusive definition:
The term "diversity" can be defined in a number of different ways. The UO looks at it broadly and inclusively, encompassing race, ethnicity, disability, thought, culture, religion, sexual orientation, gender, and economics. The UO seeks to promote further diversity among its faculty, staff, and student body through active recruitment and intentional retention.
For something called "The IDEAL Plan" there sure are a lot of different versions floating around. VPEI Alex-Assensoh never bothered to return to the Senate with the revisions, nor was she at this meeting. Word down at the faculty club is she's still out looking for another job, after the University of Louisiana turned her down.
The current draft CAS DAP plan is here. It still uses the narrow definition of diversity. There are pages and pages of administrative speak like this: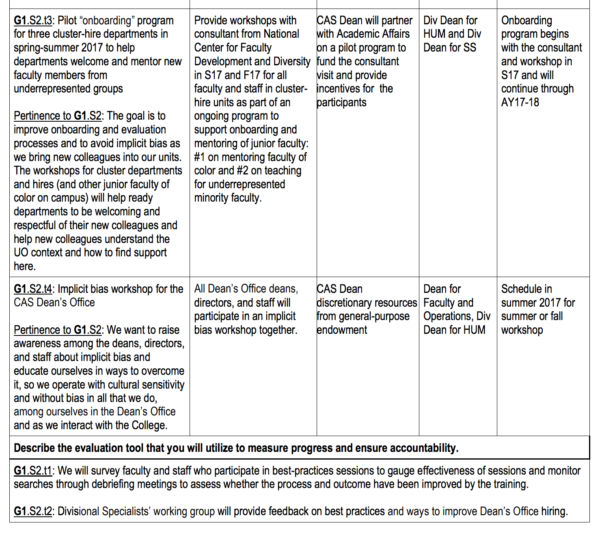 Marcus starts off by noting that the CAS Diversity statement says:
Tolerance, inclusion, curiosity and openness are essential to advancing human understanding-and thus essential to the intellectual and academic mission of the College of Arts and Sciences. We welcome a diversity of cultures, histories, languages; different types of knowledge; different talents, abilities, training; a range of experiences, affiliations, alliances and perspectives-all are necessary for creativity, invention, collaboration and problem solving. There is no meaningful learning without challenge and difference.
He then introduces the latest interim CoDaC, Director Vickey DeRose, appointed by Alex-Assensoh without consultation with the Senate, to help manage these DAPs. Marcus then notes that much of the plan was mandated by the President and cannot be changed.
The VPEI's office has never conducted a "diversity climate" survey, despite its enormous budget, years of talk, and planeloads of consultants: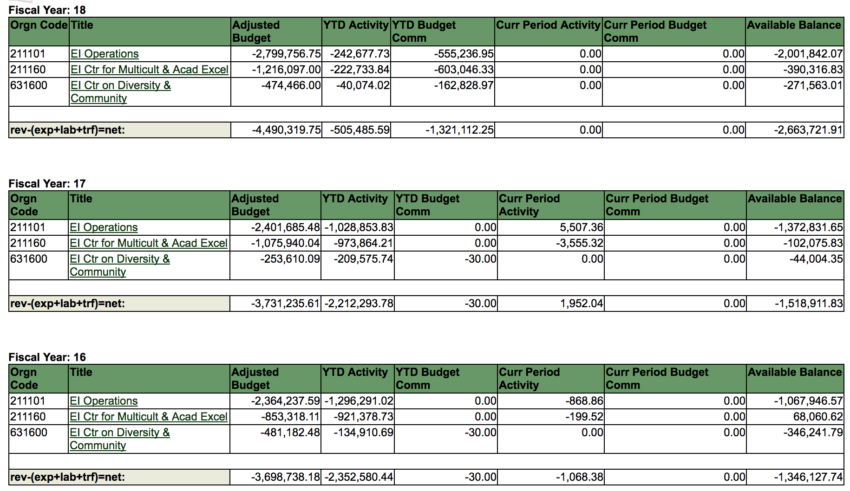 Meanwhile, volunteers from the Business School prepared and distributed a "campus climate" survey to undergraduates, as a first step in a rational way, without support from VPEI.
Their results, from their undergraduates, show that the diversity problem (at least at LCB) goes well beyond the narrow focus on race and gender that we see emphasized in the CAS plan: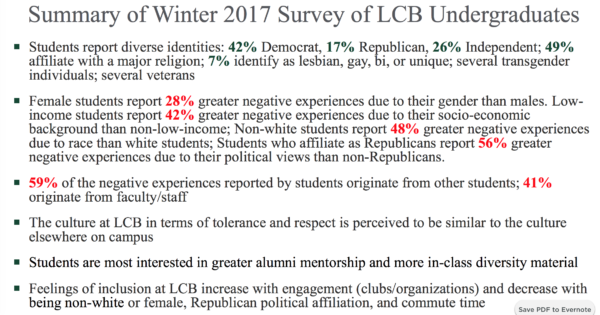 These results are similar to those from the SERU survey, which UO participates in. No one in the VPEI's office had ever heard of it: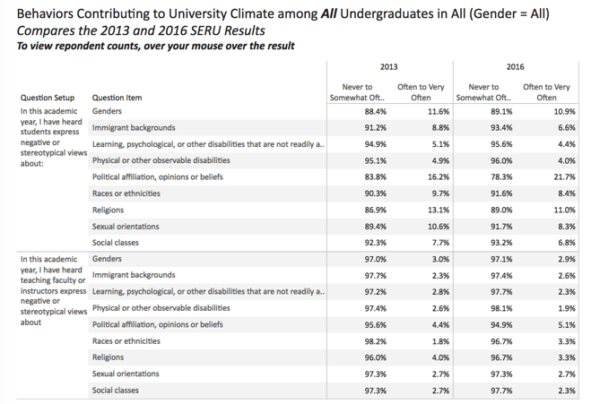 Lots of discussion about faculty hiring. UO's TTF faculty is already broadly representative of the available pool of PhD's with respect to gender and race: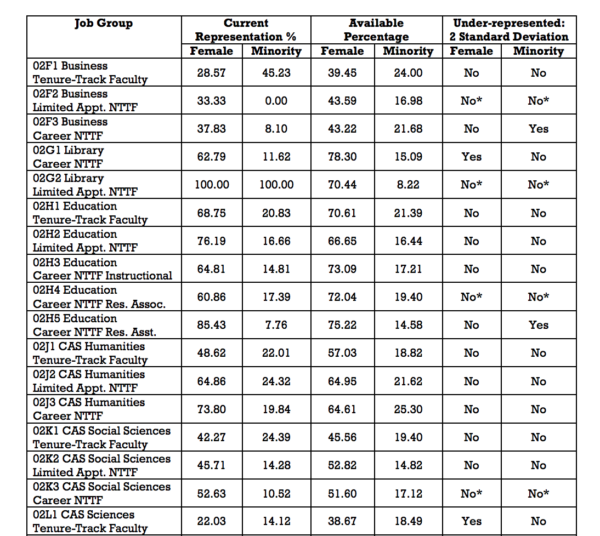 Someone brings up the natural question: Why not spend more resources on building the pipeline, by recruiting more under-represented undergraduates? And, at UO, the least well represented group is now low-income students.
UO is ranked #328 out of 377 selective public colleges for promoting income mobility. 56% of our students come from families in the top 20% of the income distribution (4.3% from the top 1%) and only 4.7% come from the bottom 20%: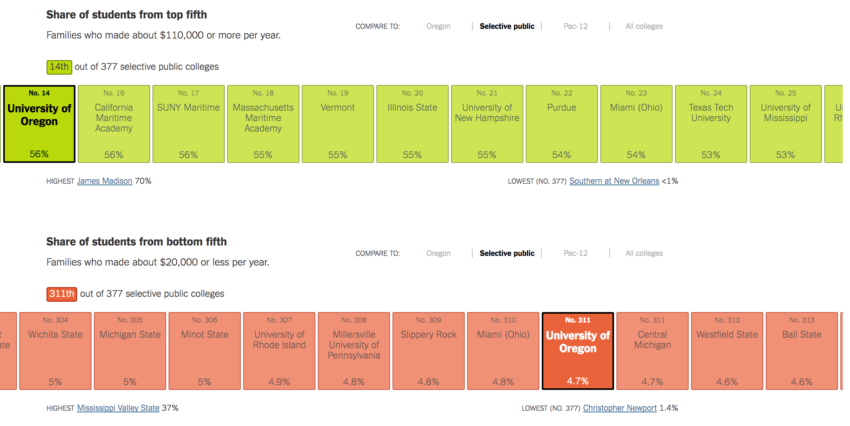 Our economic diversity has been getting worse over time (except perhaps for a small recent blip):

Despite this poor performance and the bad trends, UO's long debates about diversity have generally ignored economic diversity, and this new DAP seems to be doing the same.