9/27/2017 with 10/4 update:
Normally about 260 people pass the July Oregon Bar exam. This spring the Oregon Supreme Court dumbed down the pass score and made some other changes, and 360 people passed. Obviously this is good news for the 100 students who otherwise wouldn't be licensed to practice law, and good news for the Oregon Bar, which collects an annual $470 from each. It's bad news for those 260 students who would have passed the older, harder exam, and who now have to try and find a job in an even more flooded job market.
Oregon's pass rate for the July exam, (all takers, not just UO students) has jumped from 58% last year to 79% this year. That's a 21 percentage point increase or a (79-58)/58=36% increase in the success odds, in one year. In July 2016 the average pass rate for all US takers was 62%, compared to 58% for Oregon. So we were a little low, but not by much.
In July 2016, only Nebraska had a higher percentage of takers (82%) passing than Oregon's 2017 new rate of 79%. (Kansas and Missouri were tied at 79%, Oregon's new rate). See http://www.ncbex.org/pdfviewer/?file=%2Fdmsdocument%2F205 So, with one decision made without adequate prior public notice or discussion, and apparently with no discussion in the Oregon Supreme Court, Oregon has gone from being middle of the road to being among the four easiest states in which to get a license to practice law.
This is not what the Oregon Board of Bar Examiners intended. According to internal documents obtained with a public records request, the BBX believed these changes would increase the pass rate to about 68%. They explicitly rejected a proposal from the three deans of Oregon's law schools for an even lower cut-score, apparently because they thought that would produce a pass rate of 78%, which they thought was too high. I wonder if the deans will now argue for raising the cut-score and lowering the pass rate?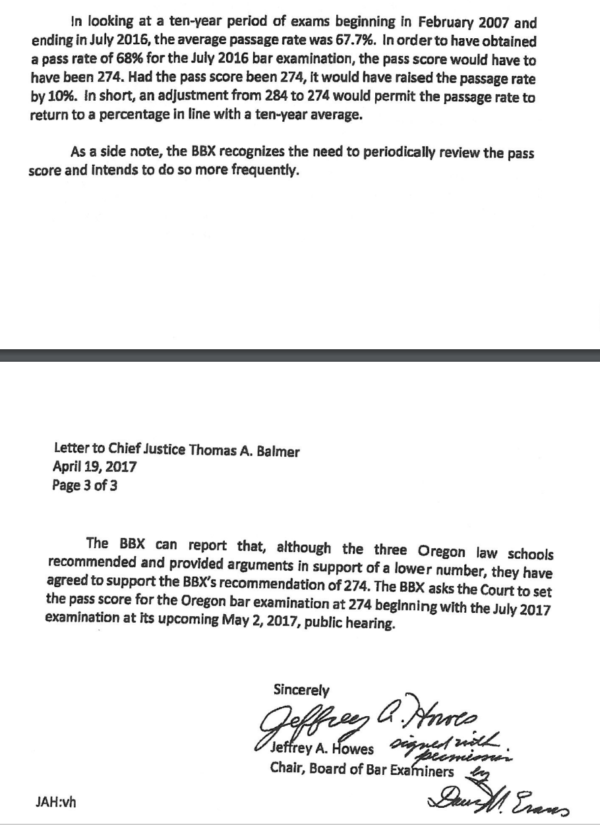 (From the April 19 letter from BBX chair Jeffrey Howes to Oregon Chief SC Justice Thomas Balmer, at https://uomatters.com/wp-content/uploads/2017/08/Official-letters-to-Court-BBX-PubRcrdsReq-Aug-17.pdf)
In short Oregon's new test, with the new lower cut-score, is much easier to pass than the old one, and much easier than the BBX led the Supreme Court to believe. It has given Oregon what is almost the highest pass rate in the country.
It's true that the new exam will also make it easier for Oregon law students to move to other states, assuming their score was high enough to have passed those state's cut-rate. But why is Oregon subsidizing the tuition of out-of-state students who will take out-of state legal jobs – if they can even find them?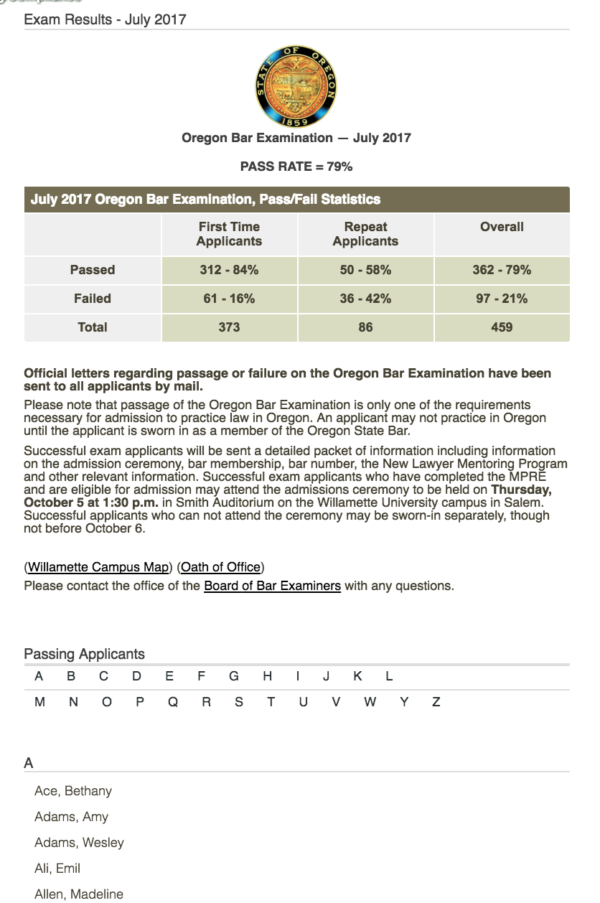 For comparison, last July: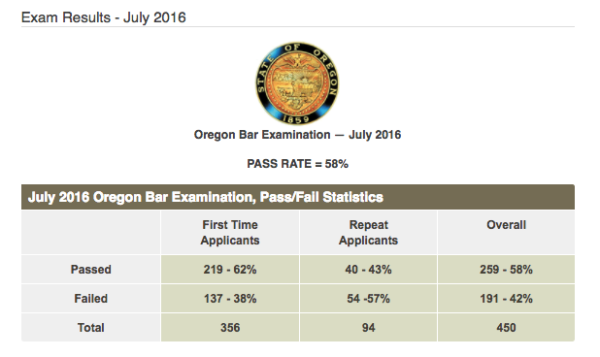 Michael Tobin has a brief report about this in the Daily Emerald, here.
10/4/2017 NOTE: I've now received two letters from the Oregon Bar, arguing that they did not break the public meetings law, while also promising that they will now post meeting notices on the bar's website. As you can see from their October posting, they're still trying to figure this transparency thing out:

…
I've got some more public records requests into them and the Oregon Supreme Court (which has updated its website and fixed some of its public records procedures in response to my previous questions to them) and I will post what I find out.
Posted 9/27/2017 and earlier:
As noted, the Oregon Bar Board of Examiners and Oregon Supreme Court thought that the decrease in the cut score would only increase the pass score to 68%. Or at least that's what I think they thought – it's still not clear if the Court and the Bar followed state law in their meetings on this. Here's another attempt to find out:
Hi Kateri –
I'd like to make two additional public records requests:
1) Any documents showing that the March 20th meeting of the BBX was announced with public notice, as required by ORS 192.
2) Copies of the agendas and minutes and public meetings notices for the BBX subcommittee charged with making recommendations to the BBX on the pass score, as required by ORS 192.
I ask for a fee waiver on the basis of public interest.
Thanks, Bill Harbaugh
As for the Oregon Supreme Court, they still seem to be in some sort of denial about their legal obligations under ORS 192:
Hi Tim –
I was looking through the ORS, and it looks like the Supreme Court is bound by the usual rules for public meetings: 192.650 Recording or written minutes required; content; fees. (1) The governing body of a public body shall provide for the sound, video or digital recording or the taking of written minutes of all its meetings. Neither a full transcript nor a full recording of the meeting is required, except as otherwise provided by law, but the written minutes or recording must give a true reflection of the matters discussed at the meeting and the views of the participants. All minutes or recordings shall be available to the public within a reasonable time after the meeting, and shall include at least the following information:
(a) All members of the governing body present;
(b) All motions, proposals, resolutions, orders, ordinances and measures proposed and their disposition;
(c) The results of all votes and, except for public bodies consisting of more than 25 members unless requested by a member of that body, the vote of each member by name;
(d) The substance of any discussion on any matter; and
(e) Subject to ORS 192.410 to 192.505 relating to public records, a reference to any document discussed at the meeting.