7/17/2018: Of course. After Lariviere and Galvan failed, where else could he turn?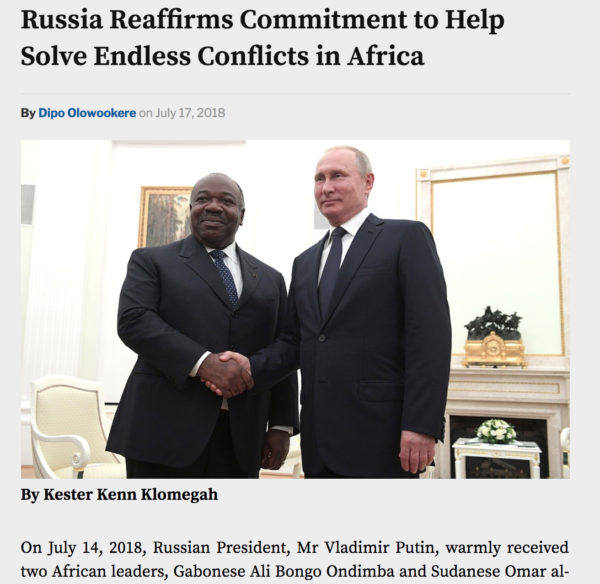 No word on whether UO fundraiser John Manotti helped set up this meeting too. Meanwhile, former Ambassador Plenipotentiary Eric Benjaminson has moved on from UO to Chicago.
9/3/2016: Lariviere's deal with Ali Bongo and Eric Benjaminson collapses in violence
The history of this bizarre UO foray into foreign affairs has yet to be written, but so far it involves the US ambassador to Gabon seeing a chance for a retirement gig at UO, the State Department's sophomoric remix of Kissinger's real-politic, Richard Lariviere's desperate effort to get some money for something other than Duck sports, and a lot of oil money stolen from some very poor Africans. Like so many corrupt Oregon deals, some otherwise smart people gave it a pass because it was carefully packaged as "green" and "sustainable". Oregon and Gabon: Twin Edens.
Here's UO President Richard Lariviere at the White House with President Bongo and US Ambassador Eric Benjamin – now a UO employee – in happier times in 2010: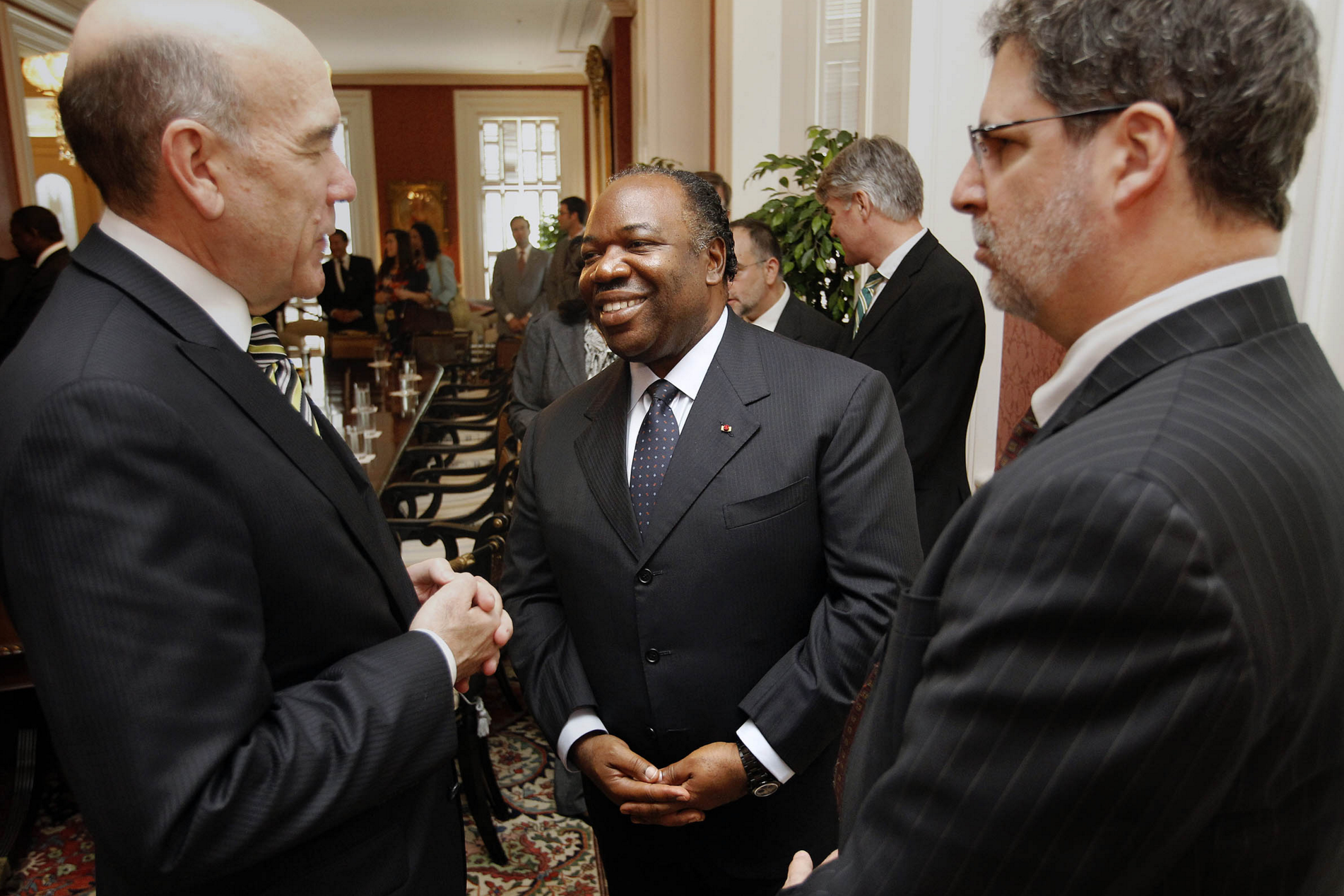 The Guardian reports on kleptomaniacal President for Life Bongo's current re-election dispute. Many have died:
… However, Bongo scored lower than his father, who famously won 100% of the national vote in the 1986 election, with a 99.9% turnout, when Gabon was still a one-party state.
[Opposition candidate Jean Ping], a half-Chinese diplomat who was previously one of the Bongo family's most trusted cronies, rejected the result and demanded a recount in Haut Ogooué.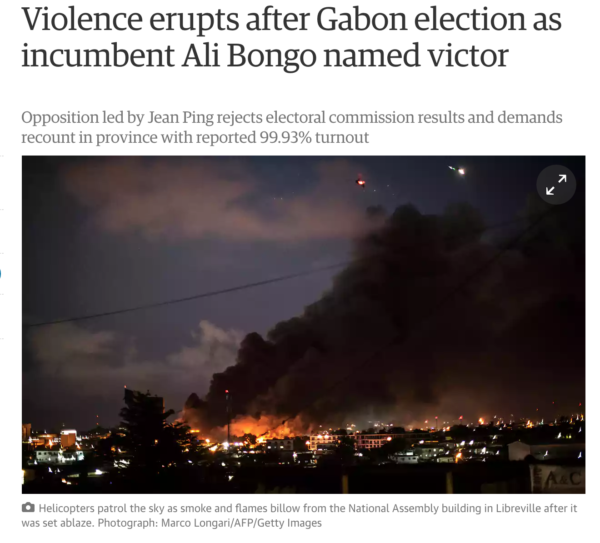 And the NYT gives Ping a platform:
On Saturday, Aug. 27, presidential elections were held in my country,Gabon, in West Africa, and I was the candidate who won by a substantial vote margin. Nearly a week later, I would have expected to be addressing the world as Gabon's president-elect, ready and willing to work with the United States and all our international partners to fight terrorism, build our economies and improve the lives of our citizens through increased development and cooperation.
Sure. That and deliver a share of the spoils to his partners.
1/18/2016: UO Foundation must write off Bongo's $15M endowment promise
Under the Foundation's rules they had until the end of 2016 to get the money from Gabon or take it off the books. Maybe I'm missing the nuance in this Le Monde article, but obviously it's not coming by 2016. The truth is there is no money: Ali Bongo blew it on luxury real estate, fast cars, soccer players, and wives, while leaving his country mired in poverty. The collapsing price of oil made it impossible for his government to continue to keep up the pretense.
And so ends one of Richard Lariviere's crazier ideas. One of the RG's several critical editorials on it is here, and other UOM posts are here. Thanks to Bongo's political opponents for forwarding the link, and best of luck in the elections and after: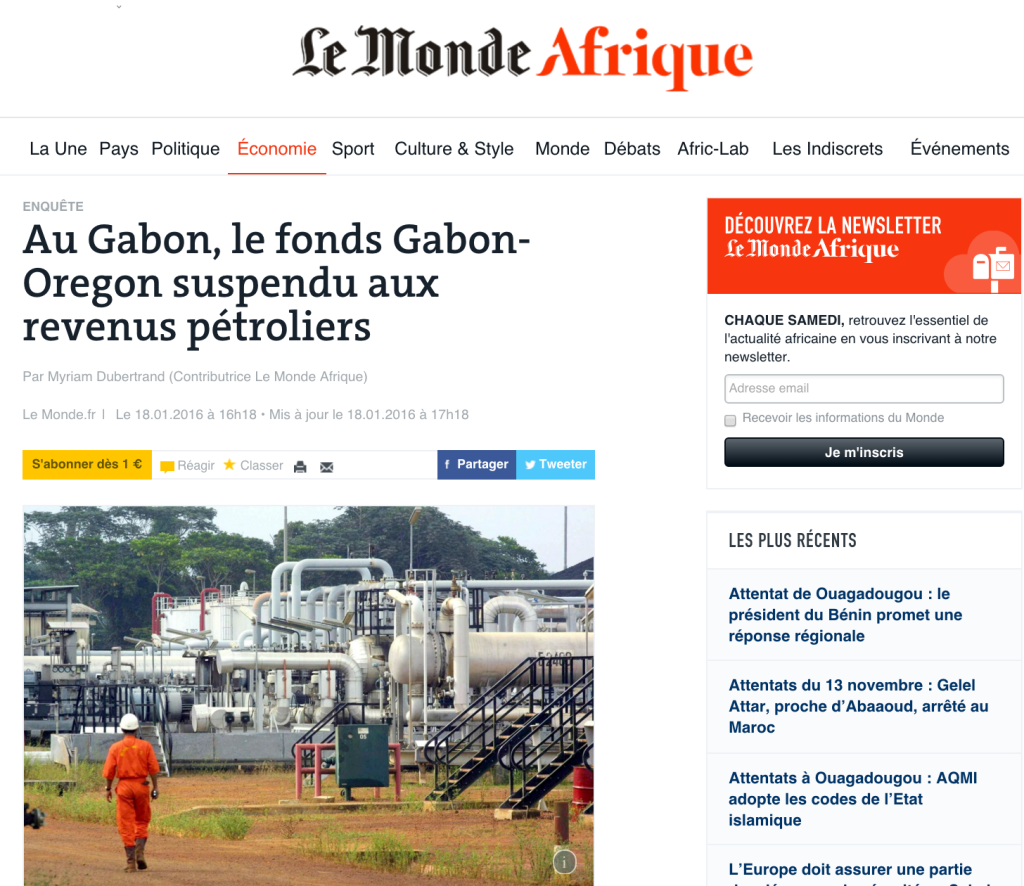 12/27/2015: Gabon's kleptomaniacal President for Life Ali Bongo stiffs UO on $15M gift
Rumor down at Dennis Galvan's Office of International Affairs is that there are a lot of nuances here, and we may get the money "soon".
Sure. With oil below $40 and an election coming up amidst the ongoing French investigations of corruption, and family infighting over the loot accumulated by Bongo's father Omar, I'm thinking the UO Foundation is going to have to write off the $15M endowment gift that Bongo promised UO back in 2011 pretty soon.
But apparently former US Ambassador to Gabon Eric Benjaminson, whom we hired to run the "Twin Edens" project shortly after he convinced Bongo to give the money, still has a couple million left from the original $5M, and is funding a variety of research projects.
For more on this story, including the suitcases of cash Bongo has been sending his American wife, and some spectacular real estate purchases, check out the Gabon tab below.