When the 2012 Olympics came to London, the town's graffiti artists took to the city's walls to mock the corporate pomposity of it all. As the Guardian reported, London's government did its best to eradicate these troubling works of artistic sarcasm, which was not hard to do in a country that has no right to free speech: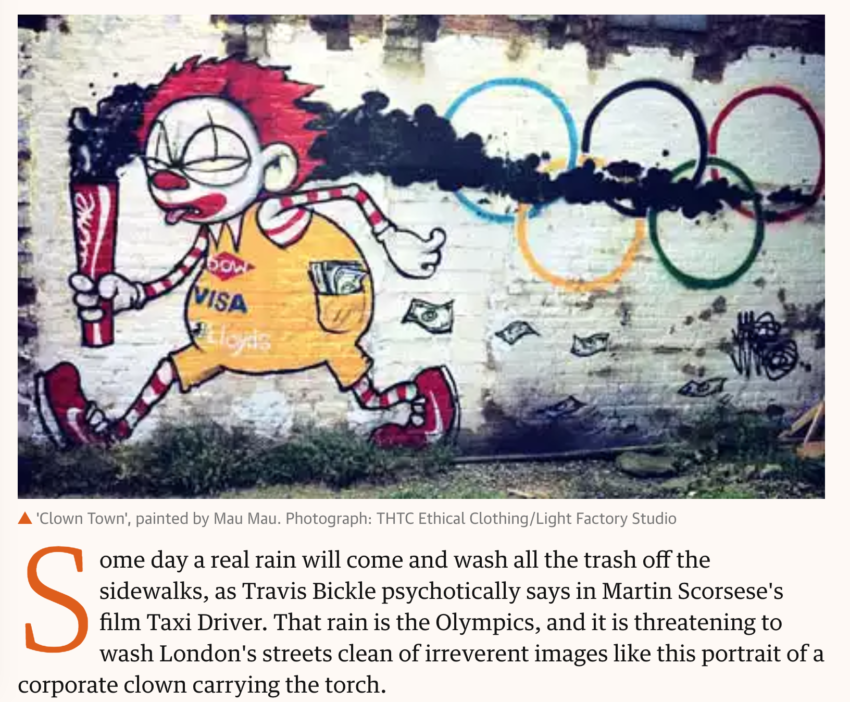 I think the Banksy did stay up though: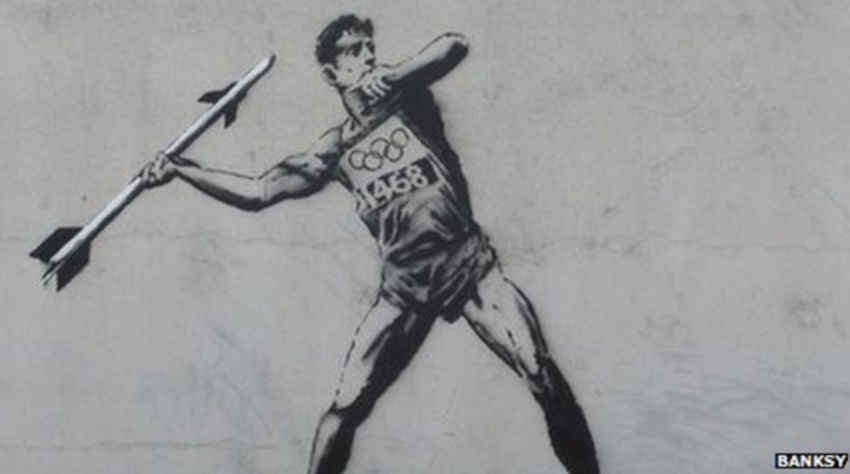 Here in Eugene, our city has decided to pre-empt any artistic expression that might criticize the event by paying artists to put up pro-IAAF art. The Daily Emerald has a puff piece here:
In the upcoming week, Eugene will be transformed with a colorful array of new murals, street art installations and gallery walks during 20x21EUG Mural Project's Eugene Walls, which is part of the Downtown Visual Arts Festival.
From July 27 to Aug. 3, artists from around the world will be creating murals and street art as part of 20x21EUG's initiative to add 20 murals by international artists to Eugene by the year 2021. The goal of the 20x21EUG Mural Project is to showcase art from around the world when athletes converge on Eugene for the International Association of Athletics Federations (IAAF) World Championships in 2021.
Millions for corporate shills, not a cent for critical art. OK, maybe not millions, but lets find out how much:
This is a public records request to you in your capacity as Lane Arts Council Executive Director, regarding the 20x21Eug project (https://www.20x21eug.com/about/).
I am asking for documents showing:
1) The project's overall budget.
2) The source of funds expended or budgeted. (I.e. city general funds, state or federal grants, donations, etc.)
3) The five largest contracts with artists (as measured by including fees, honoraria and expenses) that have been signed so far.
I ask for a fee waiver on the basis of public interest, given the apparent expenditure of public funds. Please send these documents as pdfs to this email address.
I wonder what MLK Jr would have thought of using tax money to promote an event like this, which is earning big bucks for a few "non-profit" promoters. Because they're now paying artists to use his image to advertise it. From the Daily Emerald story: